EC Scenarios
·
Thursday, December 15, 2016
·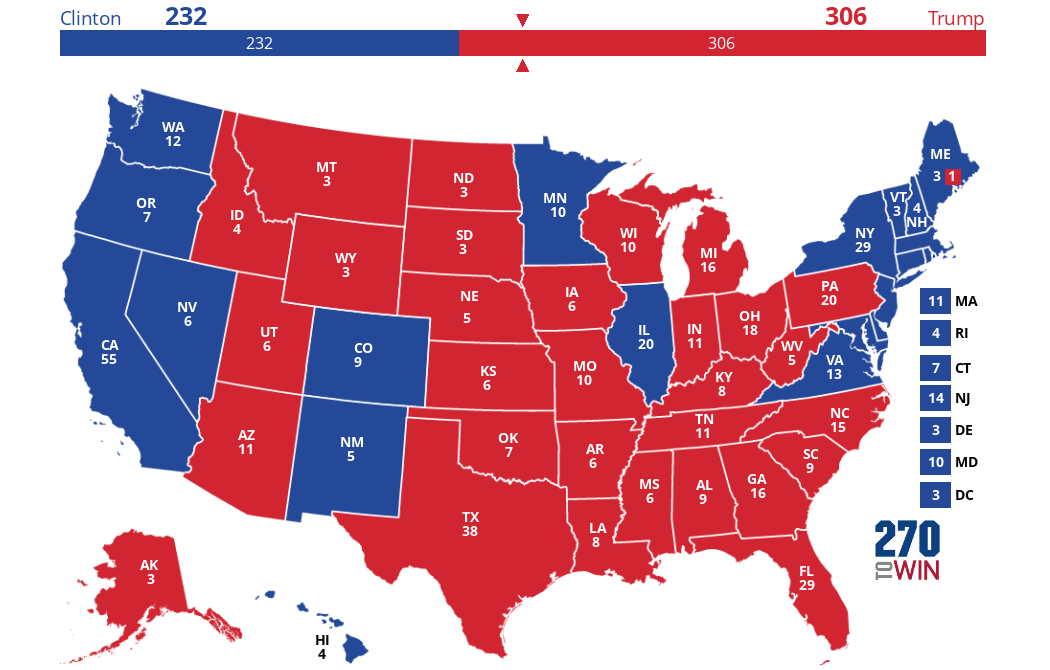 Click the map to create your own at
270toWin.com
I have noted in various places some confusion over what can, and cannot, happen with the electoral vote.  Here are the options:
 The electors act as messengers, delivering to their state capitals the electoral votes corresponding to the candidate who won the given state (as per the above, with 306 going to Trump and 232 to Clinton).
 The same as the above, but with a handful of faithless electors who wish to make a political point, but with nowhere close to enough to threaten the 270 Trump needs to win.
Thirty-seven, or more, electors could defect from Trump to vote for neither Clinton nor Trump, but instead for Candidate X (or splitting the 37 votes for X, Y, Z, etc.).  This would throw the election to the House of Representatives (with the top three vote-getters as the choices for the chamber).
Thirty-seven Trump electors could vote for Clinton, tying the contest at 269-269, which would throw the election to the House of Representatives.
Thirty-eight, or more, Trump electors could defect to Clinton.  If she could hold her 232 in that case she would have the 270 needed to be elected president.
Two-hundred and seventy electors defect and choose Candidate X.
Of these scenarios, #2 is the most likely.  We already know of one confirmed faithless elector, and given the nature of this election, I expect more (but, at a wild guess still stays at maybe three or four tops).  Scenario #1 is the next most likely (it is certainly the historical norm).
Scenarios 3 and 4 would send the contest to the House.  In the case of #3 the contest would be Trump v. Hillary v. Candidate X.  The likelihood is that Trump would prevail (at this late date, finding a candidate that House delegations would support over the candidate their state voted for is highly unlikely).  Certainly in scenario #4, Trump wins.  Note that the House cannot choose a candidate other than one of the ones voted on by the EC (despite what I have heard a number of people assert).
Scenario #6 is a fantasy to make Rogue One look like a documentary.  Coordinating that outcome is nearly impossible.  In truth, coordinating any non-standard scenario (i.e., 3-6) is pretty much impossible.  By "coordinating" I mean getting enough electors working together to produce a specific outcome.
Scenario #5 is the only viable (and I use the term liberally) scenario to stop Trump.  If there was truly a serious movement to avoid a Trump presidency, this is the only even semi-possible way for it to happen.  And, of course, the notion that 38 Republican electors are going to switch to vote for the Democratic candidate is difficult to accept as realistic.  Indeed, the likelihood of one Trump elector voting Clinton seems highly improbable, and the likelihood that 38 would do so seems almost infinitely improbable.
Related Posts: