1/3 Of Americans Admit To Mooching Off Neighbor's Wi-Fi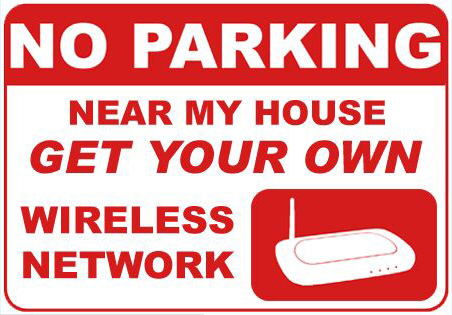 None dare call it stealing:
It's the digital equivalent of mooching a cup of sugar, only without asking. Some 32% of respondents to a recent national survey admitted borrowing a neighbor's unencrypted Wi-Fi connection. That's nearly double the 18% who said they borrowed Wi-Fi in a 2008 poll.

"The reality is that many consumers have not taken the steps to protect themselves," said Kelly Davis-Felner, marketing director at the Wi-Fi Alliance, a non-profit trade group that commissioned the surveys.

Sharing an open Wi-Fi hookup might seem neighborly. But a nosy neighbor could use eavesdropping software to monitor your online haunts. A free, easy-to-use eavesdropping tool called Firesheep has been downloaded more than 1 million times since last year.

"With Firesheep, almost anyone can effectively hack into your Facebook, Twitter and other accounts," says Randy Abrams, director of technical education at anti-virus firm ESET. "Almost anyone has the skill to use Firesheep to be a nosy neighbor."

You can repel moochers and snoopers by taking a few simple steps while configuring your wireless network. "But much like the seat belts in your car, you won't get protected unless you use it," Davis-Felner says.
So, secure your networks people !
Via Twitter