2010 Census: Republicans Win
Red States should gain 10 seats while Blue States should lose eight.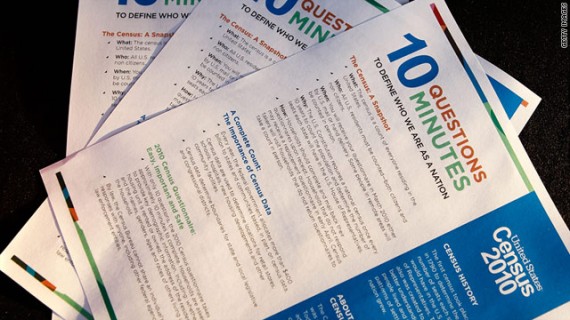 The 2010 Census results are in and the big news seems to be slower than usual growth.  AP:
Census estimates provided this month based on birth and death records place the 2010 count somewhere between 305.7 million and 312.7 million, up from 281.4 million in 2000. That range means U.S. growth over the previous decade would be at a slower pace than the 13.2 percent increase from 1990 to 2000.
Demographers believe the official 2010 count will be 308.7 million or lower, putting U.S. growth at around 9 percent, the lowest since the 1940 census. That is the decade in which the Great Depression slashed the population growth rate by more than half, to 7.3 percent.
The U.S. is still growing quickly relative to other developed nations. The population in France and England each increased roughly 5 percent over the past decade, while in Japan the number is largely unchanged and in Germany the population is declining. China grew at about 6 percent; Canada's growth rate is roughly 10 percent.
But, of course, the main reason we conduct a Census is to apportion seats for the House of Representatives.  (The secondary original purpose, allocating for the head tax, being obviated by the 16th Amendment.)  CNN projects:
Texas is expected to be a big winner in the process.

An estimate by Election Data Services, a political consulting firm that specializes in redistricting, suggests that Texas will likely gain four congressional seats, with Florida adding as many as two, and Arizona, Georgia, Nevada, South Carolina, Utah, and Washington state possibly each gaining a seat.

According to the estimate, Ohio and New York could be the big losers, with each state likely losing two seats.

Illinois, Iowa, Louisiana, Massachusetts, Michigan, Missouri, New Jersey, and Pennsylvania may each lose a seat.
This should be good news for Republicans, since all the gaining states but Nevada and Washington are pretty solidly Red and all the losing states but Louisiana and Missouri are solidly Blue.  Ohio and New York are a wash.
What matters isn't so much the way the states typically go in presidential elections but rather which party controls their state legislatures.  The outcomes in last month's elections, though, more closely align the two, with Republicans taking control of otherwise Red states long after they'd gone that way in presidential and senatorial contests.
UPDATE: Here's a more interesting depiction of the winners and losers, adapted from a giant interactive graphic at the NYT.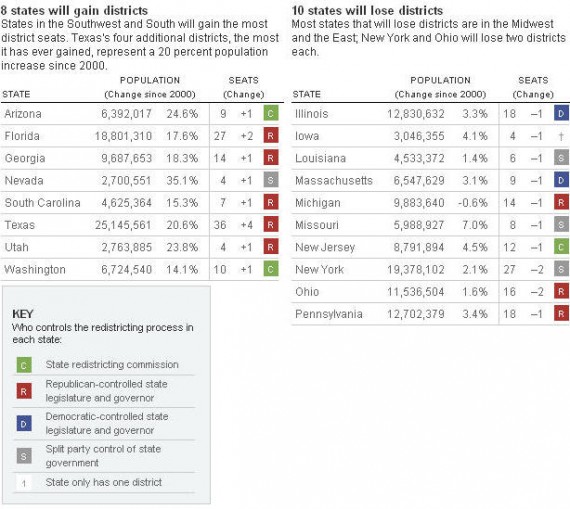 The upshot: Texas, Florida, Georgia, South Carolina, and Utah all have GOP control of both the governorship and state legislature. For that matter, so do Michigan, Ohio, and Pennsylvania — meaning they'll draw the lines to skew Republican notwithstanding losing seats.