Pro-Democracy Voters Send A Strong Message To Beijing On Hong Kong
Hong Kong voters send a strong message to Beijing, and the world.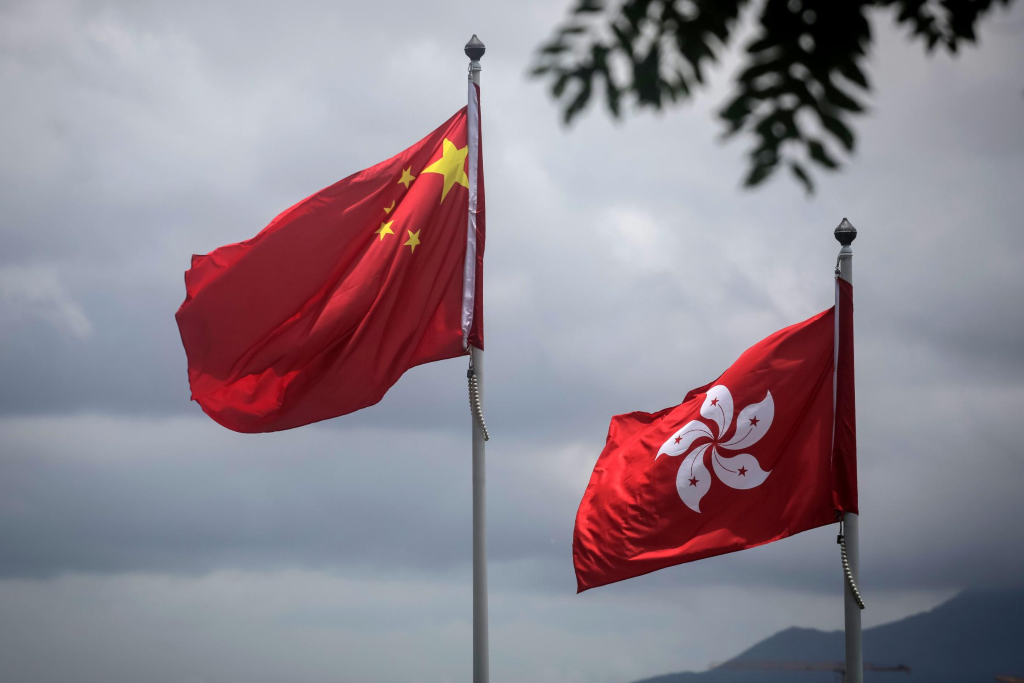 In a development that is likely to embolden the protesters who have taken to the streets since the spring of this year, yesterday's elections in Hong Kong resulted in an overwhelming win for pro-democracy forces and an overwhelming rebuke of candidates back by the central government in Beijing:
HONG KONG — Election posters promoting the candidate for Mongkok North left no doubt about his affiliations: wearing all black clothing, a yellow hard hat, respirator and goggles, he was firmly aligned with protesters seeking full democracy.

"Five demands, not one less," read the banner, the mantra of the grass-roots uprising countering China's tightening grip on Hong Kong.

In defeating the incumbent establishment candidate, Lucifer Siu contributed to a landslide win for the democracy camp in Hong Kong's district council elections. A similar story unfolded citywide: A 23-year-old graduate beat a three-time incumbent in an establishment stronghold; a 25-year-old who crowdfunded his campaign ousted the vice-chairman of the main pro-Beijing party.

More than 2.9 million voters — a record turnout — delivered the pro-democracy camp 17 of 18 districts and more than 80 percent of contested seats, the biggest electoral victory for the movement since Hong Kong's handover from British rule in 1997. But it was also a rare chance for people within China to send their leaders a clear electoral message — that they want democracy, not overbearing control by Beijing, and they were prepared to look past protesters' violence.

With this rebuke of its affiliates in the city, Beijing faces a tough choice: whether to open up politics as promised in Hong Kong's mini-constitution, extend a crackdown on the pro-democracy protesters by the city's police force and government, or try to navigate a delicate middle path.

Beijing can continue to dig in, but it would risk escalating and prolonging the conflict now that the electorate has spoken, said Ho-Fung Hung, an expert on the Chinese political economy and Hong Kong politics at Johns Hopkins University's School of Advanced International Studies.

"A wiser path is to replace Carrie Lam and reset the conversation," he added, referring to Hong Kong's chief executive.

Reacting to the outcome on Monday, Chinese state media accused foreign forces, particularly the United States, of interfering. "China will respond tit-for-tat and resolutely counter any move by the U.S. that undermines China's interests, and will never let them act willfully on Hong Kong affairs," the official Xinhua News Agency said in an editorial.

In a commentary, the nationalist Global Times tabloid called for "rational analysis," noting that Hong Kong's recent unrest helped the democracy camp to mobilize support. "It is crucial to rationally interpret" the results, it said, "lest mobs should be emboldened by misreading them."

The vote's outcome surpassed even the most optimistic predictions among the pro-democracy camp, which had barely held 30 percent of district council seats previously.

By midday Monday, pro-democracy parties had won 344 district council seats to the pro-Beijing camp's 58, with independents winning 41 seats, and nine constituencies still to declare, according to figures compiled by the South China Morning Post.

The district councils get to nominate 117 members to the 1,200-member election committee that chooses Hong Kong's leader. That panel is typically dominated by pro-Beijing forces and sympathetic business interests, but pro-democracy forces will now have considerably more influence to add to their existing support.

"It gives them probably not a majority but a meaningful chunk, and puts them in a position to be kingmakers," said Antony Dapiran, a lawyer and author of books on Hong Kong's protest movement.

Lam, Hong Kong's embattled leader, said in a statement Monday that her government respects the election results and acknowledged "various analyses and interpretations."

"Quite a few are of the view that the results reflect people's dissatisfaction with the current situation and the deep-seated problems in society," Lam said. "The Hong Kong government will listen to the opinions of members of the public humbly, and seriously reflect."

Susan Shirk, a China expert and former official in the Clinton administration who is now at the University of California at San Diego, said it was possible that Chinese leader Xi Jinping had not been receiving accurate information from lower-level officials on the public dissatisfaction in Hong Kong, despite months of protests.

"No one has wanted to give him bad news," she said, describing the vote as a plebiscite on Beijing's management of the financial hub. "The more than 70 percent of the Hong Kong public who voted in this election sent him a message he can't ignore."

More from The South China Morning Post:
The anti-establishment reverberations from almost six months of street protests swept through polling stations across Hong Kong on Sunday, as voters in record numbers roundly rejected pro-Beijing candidates in favour of pan-democrats.

The tsunami of disaffection among voters was clear across the board, as pan-democrats rode the wave to win big in poor and rich neighbourhoods, in both protest-prone and non-protest-afflicted districts and, in downtown areas as well as the suburbs.

Less immediately obvious was whether there was a generational divide in the way people voted, but ousted pro-establishment district councillors suggested that young, first-time voters had been instrumental in dislodging them from their perch.

The final election results were confirmed at 1pm on Monday when the vote count was completed at Lam Tin constituency of Kwun Tong District Council.

Among the 452 seats up for grabs, the pan-democrats were victorious in 347, the independents – many of them pro-democracy – won 45, while the pro-establishment camp had to make do with 60.

The pro-democracy camp now has control of 17 out of 18 district councils. It won all elected seats in Wong Tai Sin and Tai Po district councils.

The only council held by the pro-establishment camp was the 18-member Islands district, where eight seats were handed out automatically to pro-establishment rural chiefs.

Before Sunday, all councils had been under pro-establishment control since the 2015 elections.

In a statement on Monday, city leader Carrie Lam Cheng Yuet-ngor promised to reflect on the voters' message.

"There are various analyses and interpretations in the community in relation to the results, and quite a few are of the view that the results reflect people's dissatisfaction with the current situation and the deep-seated problems in society," the statement read.

It added that the government would "listen to the opinions of members of the public humbly and seriously reflect".

(…)

Although the district councils handle local matters and have no direct say over the chief executive's programme, the elections were seen as a barometer of support either for the anti-government protest movement or for the embattled leader Carrie Lam Cheng Yuet-ngor and her handling of the roiling unrest.

With the thrashing suffered by the pro-Beijing camp, the government's allies, it would appear Lam's position was becoming increasingly untenable, even as she herself on Sunday tried to frame the elections as being about district-level matters.
As I noted yesterday, these elections were for the Hong Kong District Councils, which largely have jurisdiction over local issues in various areas of the city and do not hold the levers of power in the city. That power lies with the legislative council, which is still dominated by pro-Beijing officeholders and, ultimately, by Beijing itself. That being said, these results are a strong signal of whether the public mood stands after more than six months of protests that have drawn an increasingly violent response from authorities and which have continued to grow notwithstanding those crackdowns. They may also be an indication of where next year's elections for the central government could go, and while those results won't change the fact that ultimate authority over the city still lies in Beijing, it could mean that Beijing will have to take these pro-democracy protests more seriously at least for the short term.
The most immediate impact of these results, of course, is that they will likely provide a significant morale boost for pro-democracy protests and is likely a sign that the protests themselves will continue for the foreseeable future. This is especially true given the fact that Hong Kong is an international city where any crackdown is likely to undermine Beijing's effort to present itself as a serious world power. Another factor motivating China to restrain itself in Hong Kong, of course, is the fact that the leadership is wise enough to know that doing so would be a disaster both in terms of the widespread coverage it would receive from the western media, which is well-established in the city, and internationally. Even in this era where prosperity is becoming more widespread in China a whole, Hong Kong remains the goose that laid the golden egg and the leadership in Beijing is obviously too smart to mess that up. There's always the possibility that they will lose patience in one of these situations and that they will overreact to the protests in Hong Kong as they did in Tiananmen. At that point, though, they may find that they've bitten off more than they can chew.