22% Of Americans Still Unwilling To Vote For A Mormon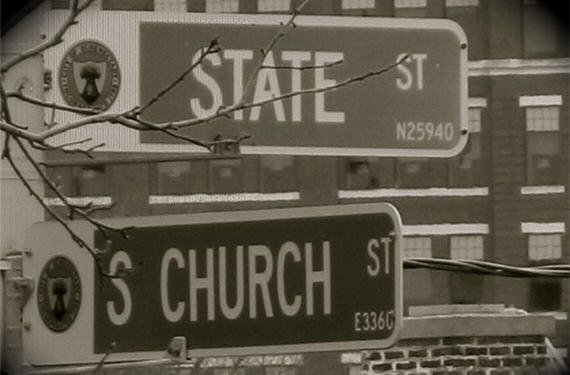 Two weeks ago, I asked whether Mitt Romney's religion was still an issue that could hobble his Presidential campaign. Today, Gallup releases a poll that seems to say that the answer is possibly yes:
PRINCETON, NJ — Though the vast majority of Americans say they would vote for their party's nominee for president in 2012 if that person happens to be a Mormon, 22% say they would not, a figure largely unchanged since 1967.

The new Gallup poll, conducted June 9-12, finds nearly 20% of Republicans and independents saying they would not support a Mormon for president. That is slightly lower than the 27% of Democrats saying the same.

The largest differences in opposition to voting for a Mormon for president are by educational level, with adults who have not attended college more resistant than those with some college experience or college graduates. This educational pattern is seen in attitudes about voting for someone from almost all of the specific religious or demographic groups tested in the poll.

There are no significant differences on this question by gender, age, region of the country, or religious preference. Additionally, the views of Americans who attend their place of worship weekly are no different from those of less frequent attenders or non-attenders.
Most interestingly, this 22% figure isn't significantly different from where it has been for the past 44 years: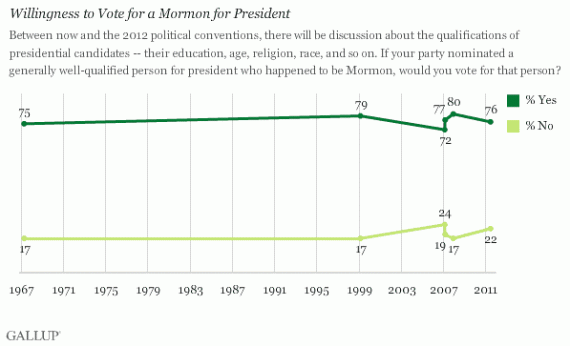 Interestingly the figure is also nearly identical to where anti-Catholic sentiment among voters was in the years immediately before John F. Kennedy was elected in1960: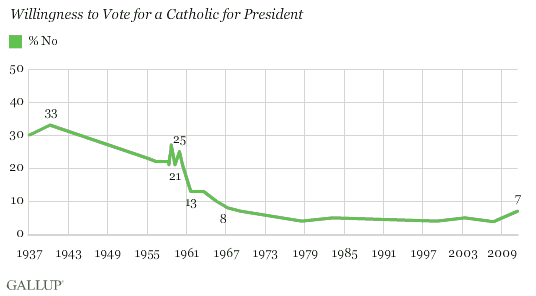 It's worth noting that, only 32 years before Kennedy was elected, another Catholic ran for President and was soundly defeated not the least because of bias against his religion. Ten years after that election, a full 1/3 of the population said they were unwilling to vote for a Catholic, one can only assume it was higher in 1928.
It's also worth noting that there are a few groups that are less popular with the voting public: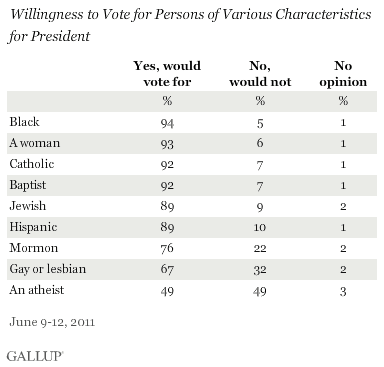 They didn't even both to poll Muslims here, but I'd bet they'd be down the bottom of the list near homosexuals and atheists. In any case, the second chart above is instructive because it shows that bias against Catholics in office plummeted in the years after Kennedy was elected. Presumably, when America does finally elect a Mormon, or a gay, or a Muslim, or an atheist President, the public discomfort with voting for such people will also decline once people realize that it's not the end of the world if one of them takes office.