40 Percent of Americans Identify as Independents; 10 Percent Actually Independents
A record number of Americans don't consider themselves a member of either party.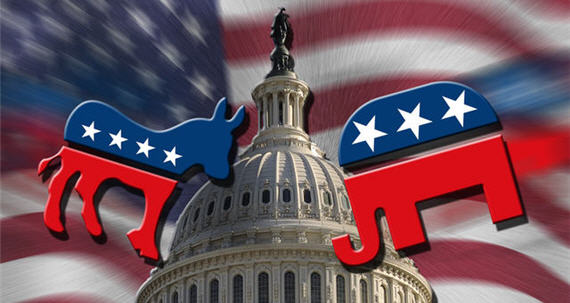 A new Gallup poll proclaims "Record-High 40% of Americans Identify as Independents in '11."
The percentage of Americans identifying as political independents increased in 2011, as is common in a non-election year, although the 40% who did so is the highest Gallup has measured, by one percentage point. More Americans continue to identify as Democrats than as Republicans, 31% to 27%.
Now, this trend is interesting: Not only do more Americans identify as Independents than at any time since Gallup started asking the question in 1951, but more Americans now identify as Independents than as members of either of the two political parties that have run the country since 1861.
But what does this mean, exactly?
It's reasonable to conclude that, as both parties have effectively become ideological/programmatic parties rather than the centrist catch-all parties that they had been historically, they no longer do a good job of representing those of us in the broad center. Additionally, for that reason and others, Americans are likely simply more comfortable thinking of themselves as free agents rather than duty bound to identify themselves with a party.
At the same time, however, "Independent" has no effective meaning at the ballot box. While a large swatch of people–myself included–are likely to be unhappy with voting for either Barack Obama or the eventual Republican nominee (probably Mitt Romney) come election day, those will likely be the only meaningful options on the ballot.
Yes, there are various "third" parties out there. The Libertarians, Greens, Constitution Party, Reform Party, Socialist Party, and others will be on the ballot in many states. But none of these parties have benefited from the trend in "Independent" identification because the fact of being enthusiastic about neither the Republicans nor Democrats doesn't translate into being enthusiastic about some fringe party.
A new centrist group calling itself Americans Elect will also field a candidate this cycle and may even be able have enough money to entice a credible politician to be its standard bearer and run substantial television advertising. Maybe they'll even siphon off some votes from the major party candidates this year. In states that are non-competitive in the Electoral College, especially, there may be a strategic rationale for casting such a protest vote.
Beyond that, though, while many of us are increasingly disenchanted with the party for whom we've traditionally voted, there's a strong inertia pulling us to support their candidate for president, anyway. For those of us in competitive states, our only real choices are Obama and his Republican opponent; not voting or casting a protest vote is, in effect, a vote for our least favorite of the two viable candidates.
Gallup acknowledges this in their write-up:
[W]hen independents' party leanings are taken into account and combined with the party's core identifiers, the parties end up tied. In 2011, 45% of Americans identified as Republicans or leaned to the Republican Party and 45% identified as Democrats or leaned Democratic.
In essence, the true number of "independents" isn't the 40 percent who identify themselves as such but the 10 percent who don't lean toward either party. The other 90 percent of likely voters are in the orbit of one party and have to be siphoned off; that's much harder.
That's not to say it can't be done. While I'm increasingly moving from being a strong Republican to a mere leaner, I can't at this juncture imagine voting for Newt Gingrich or Rick Santorum. Whether I could make the move in one cycle to voting for Obama or instead stayed home or cast a protest vote for a third party candidate, I can't say.
Thankfully, I don't think I'll be forced into that position, since Romney is easily the most likely nominee.