48% Of Americans Don't Care Who Controls Congress
Public cynicism about politics at its very best.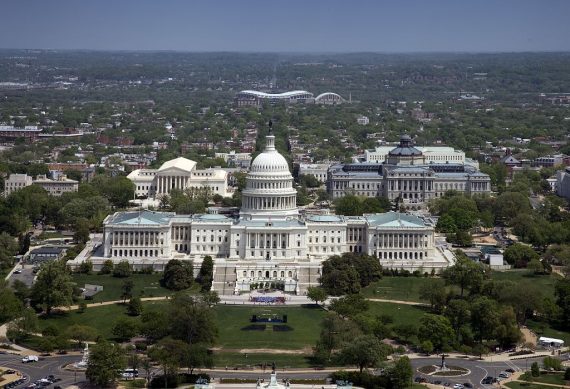 According to a new poll, nearly half of all Americans don't care who ends up controlling Congress after the 2014 midterms:
WASHINGTON (AP) — Who cares which party controls Congress? Only about half of Americans. The other 46 percent, not so much, according to an Associated Press-GfK poll.

Ask people whom they would rather see in charge on Capitol Hill, and Republicans finish in a dead heat with "doesn't matter."

Democrats fare only a little better: 37 percent would prefer their leadership, compared with 31 percent each for the GOP and whatever.

"I've never really noticed any difference in my life depending on which party is in," said Bob Augusto, 39, an oil refinery worker in Woodstown, New Jersey. He doesn't expect to vote in this fall's midterm election.

Nationally, Democrats have gained a modest edge since the previous AP-GfK poll in March, but it's not because people are liking them more. Support for Democratic leadership stayed essentially unchanged in the new poll, while Republicans lost some ground to the idea that it makes no difference who wins this November.

"I think that in general people who are in Congress and people who have enough money to run for Congress are only in it for themselves," said Jill Narushof, 52, a mother of two and part-time math tutor in Albuquerque, New Mexico, who says she'll vote but hasn't decided for whom. "I don't see very many who are really interested in serving."

Parts of the poll bode well for the GOP.

Republicans, whose party has successfully deployed its House majority to block President Barack Obama's policies, are significantly more likely than either Democrats or independents to value control of Congress. And their base is more excited, too: Conservative Republicans are more concerned about party control than liberal Democrats are.

With Republicans making a strong push to seize control of the Senate, only a slim majority of Americans, 53 percent, say they care a good deal about which party wins.

A vast majority appear united around one thing: They're fed up. Nearly 9 out of 10 disapprove of Congress. Two-thirds want their current representative voted out, the AP-GfK poll shows.

And most — 56 percent — disapprove of the way Obama is doing his job.

Still, history suggests most people won't go to the polls to decide who runs Congress during the last two years of a presidency marked by remarkably bitter standoffs between the two political parties. Midterm elections usually draw about 40 percent of eligible voters.

Most incumbents won't face a serious threat for re-election. The Republican Party is widely expected to keep control of the House. A handful of hot races are likely to determine whether Republicans take the Senate away from Obama's party.
This is hardly surprising, of course.
Voter turnout for non-Presidential elections is traditionally low, and this is as much true for midterm elections where control of Congress is up for grabs as it is for off year elections where generally only state and local offices are on the ballot. Traditionally, this lower turnout in midterm elections has tended to help Republicans, but its worth noting that it was in off year elections in years like 1986 and 2006 that the GOP lost control of one or both Houses of Congress, so that isn't always true. What this ends up meaning, of course, is that control of Congress often ends up being decided on the margins in particular states and Congressional Districts, and it often depends on which candidates was best able to get their base to the polls on Election Day. Of course, this is a large part of what leads to the sharp ideological divisions that we know have in Congress that are a huge contributor to the gridlock and pointless partisan battles that have become par for the course over the past several decades.
Added into the generally low turnout for midterms, of course, is the fact that the American people generally have a very low opinion of Congress. Some recent polling has put Congressional job approval as low as nine percent  While one might think that this would lead people to vote against incumbents, the fact that incumbents continue to get re-elected in vast numbers seems to provide evidence for the "everyone hates Congress, but loves their Congressman" hypothesis. While there may be some truth to that, I'd suggest that what low public opinion of Congress really leads to is the kind of cyncism that just causes people to tune politics out and, of course, not show up on Election Day. Quite honestly, I can't say that I blame them.