70% Of Americans See Religion's Role In Life Declining
A new Gallup poll reflects the declining role of religion in American public, and private, life.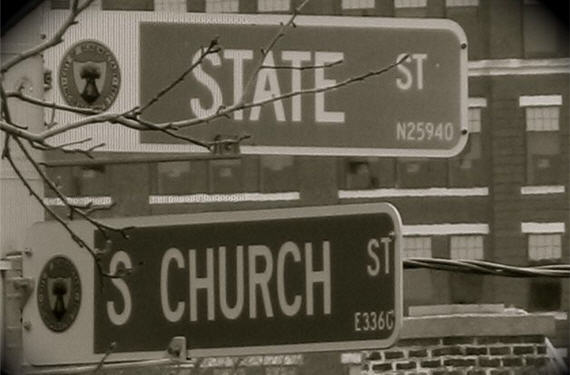 An interesting new poll from the folks at Gallup that reflects the ongoing secularization of American life:
Seven in 10 Americans say religion is losing its influence on American life — one of the highest such responses in Gallup's 53-year history of asking this question, and significantly higher than in the first half of the past decade.

Americans' views of the influence of religion in the U.S. have fluctuated substantially in the years since 1957, when Gallup first asked this question. At that point, perhaps reflecting the general focus on family values that characterized the Eisenhower era, 69% of Americans said religion was increasing its influence, the most in Gallup's history.

Views of the influence of religion shifted dramatically in the mid-1960s. By 1970, in the midst of the protests over the Vietnam War and general social upheaval, a record 75% of Americans said religion was losing influence in American society. These views moderated in the years thereafter. At several points during the Reagan administration, a plurality of Americans returned to the view that religion was increasing its influence. By the early 1990s, Americans became more convinced again that religion was losing its influence. These views persisted until a sharp reversal after the Sept. 11, 2001, terrorist attacks, when a number of social and political indicators, including presidential and congressional approval and overall satisfaction with the way things were going, showed substantial increases.
As usual, the chart tells the real story: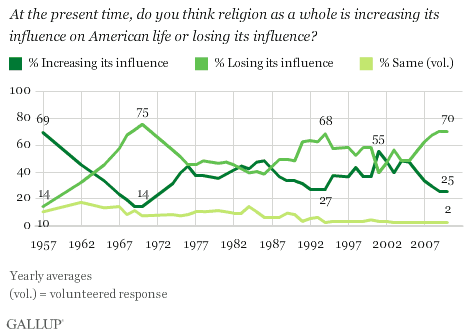 The poll also found adults saying that the personal importance of religion in their life has steadily declined: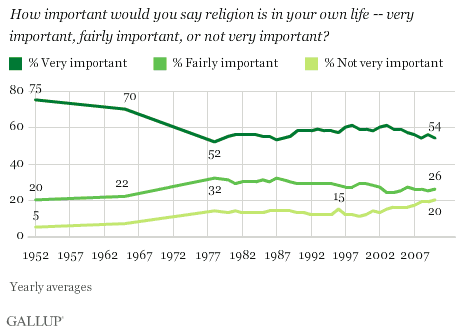 This is isn't entirely surprising, of course, we can see signs of secularization all around us in everything from the near-total elimination of Sunday "Blue Laws" that restricted the ability of businesses to open on the Christian Sabbath to church attendance itself, which has steadily declined over the years to the point where a majority of Americans are no longer regular church goes. Will we end up like Britain, where a majority of citizens now see themselves as non-religious ? Because of the different role that religion has played in American life, it's likely to take some time before that happens but I think it's pretty clear that there's no going back.