8% US Births To Illegal Aliens
A staggering 8 percent of all babies born in the United States in 2008 were offspring of illegal aliens. What are the public policy implications?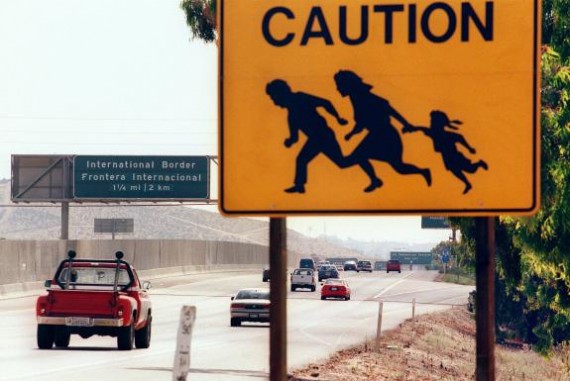 A staggering 8 percent of all babies born in the United States in 2008 were offspring of illegal aliens, Pew Hispanic Center reports.
An estimated 340,000 of the 4.3 million babies born in the United States in 2008 were the offspring of unauthorized immigrants, according to a new analysis of Census Bureau data by the Pew Hispanic Center.

Unauthorized immigrants comprise slightly more than 4% of the adult population of the U.S., but because they are relatively young and have high birthrates, their children make up a much larger share of both the newborn population (8%) and the child population (7% of those younger than age 18) in this country.

These figures are based on data from the U.S. Census Bureau's March 2009 Current Population Survey, augmented with the Pew Hispanic Center's analysis of the demographic characteristics of the unauthorized immigrant population using a "residual estimation methodology" it has employed for the past five years.
When Mark Ambinder tweeted this figure yesterday afternoon, I was extremely dubious.  It struck me as an implausibly high figure.
But, while I haven't studied the full report (a PDF of which is available at the first link) I do trust Pew as a high caliber, honest survey research firm.  So, I take their figure seriously.   Truth of the matter is that we really have no way of getting precise information, since the very nature of illegal immigration requires doing one's best to stay off the grid.   But I trust that the Census Bureau's estimate is the best possible and that Pew has used quality analysis to arrive at their guestimate.
I'm not sure knowing this factoid does for us.
Kevin Johnson, Dean and Professor of Law and Chicana/o Studies at UC Davis, implies that this vindicates Senator Lindsey Graham's call for hearings on the birthright citizenship policy.  But, while I don't have a problem with hearings to gain a better understanding of the issue, it's unclear what changing the policy — which may well require Constitutional amendment — would do for us.
We have a key missing piece of information here:  How does this 8% differ from the other 92% as adult citizens?  Are they any less productive or law-abiding?
New York magazine's Nitasha Tiku seems to suggest that these 8 percent are a potential voting bloc that Graham and others should be wary of crossing.
At the other pole, TWI's Elise Foley has perhaps the best unintentionally funny analysis of the information:
[W]ithout automatic citizenship for children born in the U.S., many of these children, like their parents, would be undocumented, adding to the illegal immigrant population in the U.S.
Aside from whatever  lure automatic U.S. citizenship might have in attracting illegal immigration, the notion that you can solve a problem by defining it away is bizarre.   Why, if we granted automatic U.S. citizenship to anyone who set foot on our soil, we'd solve the problem altogether!