88,000 Missing in Japan?
The damage in Japan from today's quake is dramatic and heartbreaking.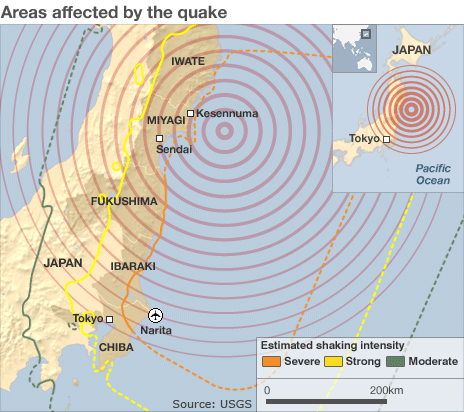 That is what ABC New (Monster 8.9 Quake and Tsunami Slam Japan, Threaten Region) is reporting that the Kyodo News Service is reporting (I cannot find a direct reference to that story).
The confirmed numbers:
Japanese officials have already found 200 to 300 bodies in a northeastern coastal city of Sendai. Another 137 people have been confirmed dead and at least 627 people are injured, the Associated Press reported.
Kyodo does report a deal toll currently near 1,000:   Japan, triggers tsunami, fires: Over 1,000 feared killed as megaquake strikes
If, like me, you have only been hearing about this on the radio/reading about it today, I would recommend the following video:
Having been in smaller quakes in both California and Colombia, I cannot imagine the horror of a quake going on for ~5 minutes.