92 Air Force Officers Suspended For Cheating On ICBM Exam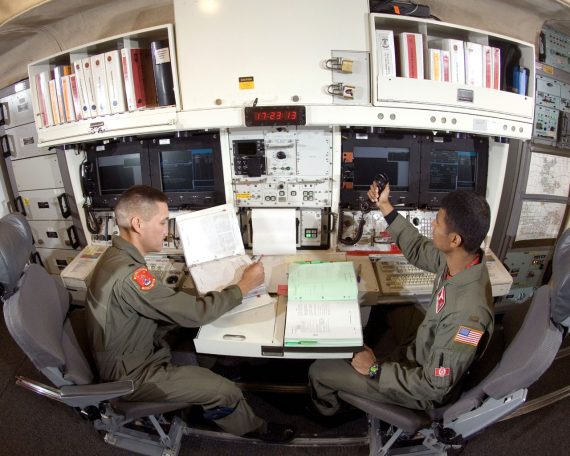 For more than a year now, we've seen problem after problem make its way through the Air Force's corps of officers charged with manning the underground bunkers from which Intercontinental Ballistic Missiles are launched. Entire squadrons have been relieved of duty for extended periods of time, and commanding officers have been forced into retirement. Now, nearly 100 officers have been suspended due to suspicion that they cheated on a test related to their job duties:
WASHINGTON — The Air Force said Thursday that it had now suspended 92 officers at Malmstrom Air Force Base — nearly half of the nuclear launch crew there — in a cheating scandal, and it acknowledged a "systemic problem" in the culture of the team that is entrusted to launch intercontinental ballistic missiles.

The Air Force secretary, Deborah Lee James, said a "climate of fear" that was pervasive in the ballistic missile force might have encouraged launch officers to share answers to monthly proficiency tests. She said the nation's nuclear arsenal remained safe.

For now, the 92 officers who have been suspended and decertified are barred from the underground missile capsules from which ICBMs are launched. The remaining launch crew members at the Montana base — just under 100 — will now perform extra duty on 24-hour standby, Defense Department officials said, and will spend at least 10 days a month in the missile capsules, up from eight.

"This situation remains completely unacceptable," Ms. James said in her second news conference in two weeks to discuss the case.

The cheating came to light during an inquiry into illegal drug possession, when investigators discovered that test answers were being sent in text messages to the missile launch officers' cellphones.

The cheating is only the latest in a series of scandals for the Air Force, but is particularly alarming. "You know what the bumper sticker says, 'one nuclear weapon can ruin your whole day,' " said Loren B. Thompson, a military expert and the chief executive of the Lexington Institute, a research group.

Malmstrom, near Great Falls, is one of three bases that oversee the country's arsenal of 450 intercontinental ballistic missiles. Air Force officials say they have retested about 500 launch officers at the three bases, and that all but 22 of them passed, with an average score of 95 percent. Lt. Gen. Stephen W. Wilson, commander of the Air Force Global Strike Command, said that Defense Department officials do not believe the cheating at Malmstrom extends to the country's other nuclear launch sites because the tests at each base are different.

But both current and former missileers, as the launch officers are known, say that cheating has been a fact of life for decades. Ms. James said that during her visits to all three bases last week, crew members — while not admitting to cheating — told her that they felt pressure to score 100 percent on the proficiency tests. While 90 percent is considered a passing score, they said that their commanding officers would not promote them unless they scored 100 percent.

"I heard repeatedly from teammates that the need for perfection has created a climate of undue stress and fear," Ms. James said. "Fear about the future. Fear about promotions. Fear about what will happen to them in their careers.

"The irony is that they didn't cheat to pass, they cheated to get 100 percent. This is not a healthy environment," she added.

Ms. James also said that the drug investigation that led to the cheating scandal has been widened to include 13 airmen, up from the 11 initially reported by the Air Force. Three of the 13 are missile launch officers.
Clearly, there are some serious cultural problems going on in this part of the military.