99 Democratic House Seats in Danger?
Politico says 99 Democratic House seats are "in play." They're not. But dozens are.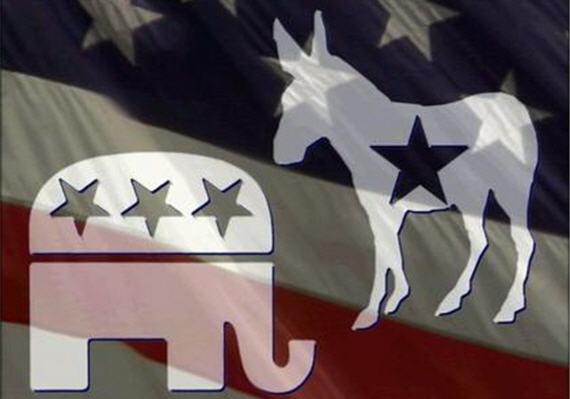 Politico's Alex Isenstadt is raising eyebrows with a piece headlined "Republicans put 99 Democrat-held House seats in danger."
With two weeks remaining until Election Day, the political map has expanded to put Democrats on the run across the country — with 99 Democratic-held House seats now in play, according to a POLITICO analysis, and Republicans well in reach of retaking the House.

It's a dramatic departure from the outlook one year ago — and a broader landscape than even just prior to the summer congressional recess. As recently as early September, many Republicans were hesitant to talk about winning a majority for fear of overreaching.

Today, however, the nonpartisan Cook Political Report predicts a GOP net gain of at least 40 House seats, with 90 Democratic seats in total rated as competitive or likely Republican.

"When Chairman [Pete] Sessions and Leader [John] Boehner said that 100 House seats were in play, Democrats scoffed," said Ken Spain, the National Republican Congressional Committee's communications director. "Today, they aren't laughing anymore."
Okay, we've been seeing a Republican wave coming for weeks now. But, seriously, 99 seats? Apparently, Rothenberg Report has 91 Democratic seats "in play," whatever that means. But here's how the 99 number was arrived at:
The assessment by POLITICO is based on a review of TV media-buy information from those independent groups and the party committees in more than 80 districts; internal and public polling in individual races; Federal Election Commission fundraising data for incumbents and challengers; and reporting on the districts.

While the level of competitiveness among the 99 seats varies widely, they share a common denominator: all of them show some serious sign of vulnerability to takeover by the GOP. Factors included a Democratic incumbent's unpopular legislative votes, the quality of opposition, the partisan breakdown of the districts or the huge sums of money dedicated to Democratic defeat — or some combination of all those factors — to place them "in play" ahead of Nov. 2.
So, basically, 99 is a ridiculous outside number. That's the total number of seats held by Democrats where there's any ammunition at all for Republicans to use.
Still, the trends are interesting. Jeff Zeleny has an interesting piece for NYT titled "Democrats' Grip on the South Continues to Slip."
From Virginia to Florida and South Carolina to Texas, nearly two dozen Democratic seats are susceptible to a potential Republican surge in Congressional races on Election Day, leaving the party facing a situation where its only safe presence in the South is in urban and predominantly black districts.

[…]

This year, retirements of Democrats have left the party scrambling to retain four open seats in Arkansas and Tennessee that have been in their control for most of the last century. Those districts, along with others held by incumbents in Alabama, Georgia, Mississippi and North Carolina, are central to the Republican strategy to win the House.

For the first time since Reconstruction, Republicans also are well-positioned to control more state legislative chambers and seats than Democrats in the South, which would have far-reaching effects for redistricting.

"It's not a good prospect for the Democratic Party in the South," said Glen Browder, a former Democratic congressman from Alabama. "It should be a moment of reflection for Democrats. When you forfeit the South, your sights tend to drift too far left."
Browder is also an emeritus political science professor from my alma mater, Jacksonville State, and represented the district where my mom still lives.
There are 59 Democrats in House seats across the South from the 11 states of the old Confederacy, totaling 43 white representatives and 16 black ones. Of those seats in predominantly white districts, nine are leaning Republican, eight are tossups and at least five more are competitive, according to the latest rankings by The New York Times, creating the prospect of the biggest Democratic losses since 1994, when 19 seats fell.
That the South is vulnerable isn't exactly new news. It's been that way since before I was born. But Zeleny's colleague, Raymond Hernandez, sees a more intriguing trend in "Half-Dozen N.Y. Races May Help G.O.P. Win House."
New York has turned into a major battleground over the future of the House of Representatives, with Democrats forced to defend at least a half-dozen Congressional seats from unexpectedly strong Republican challenges.

Aided by third-party expenditures and President Obama's sagging popularity, Republicans believe they are in a position to pick up seats in upstate and suburban swing districts that will help them retake control of the House.
Of course, if the Republicans win these seats, they'll be the most easy targets for Democratic pickup in 2012.  But they could be part of a tidal wave in 2010.