Author Herman Wouk Dies At 103
Herman Wouk, best known for works such as The Caine Mutiny, The Winds of War, and War and Remembrance, has died at the age of 103.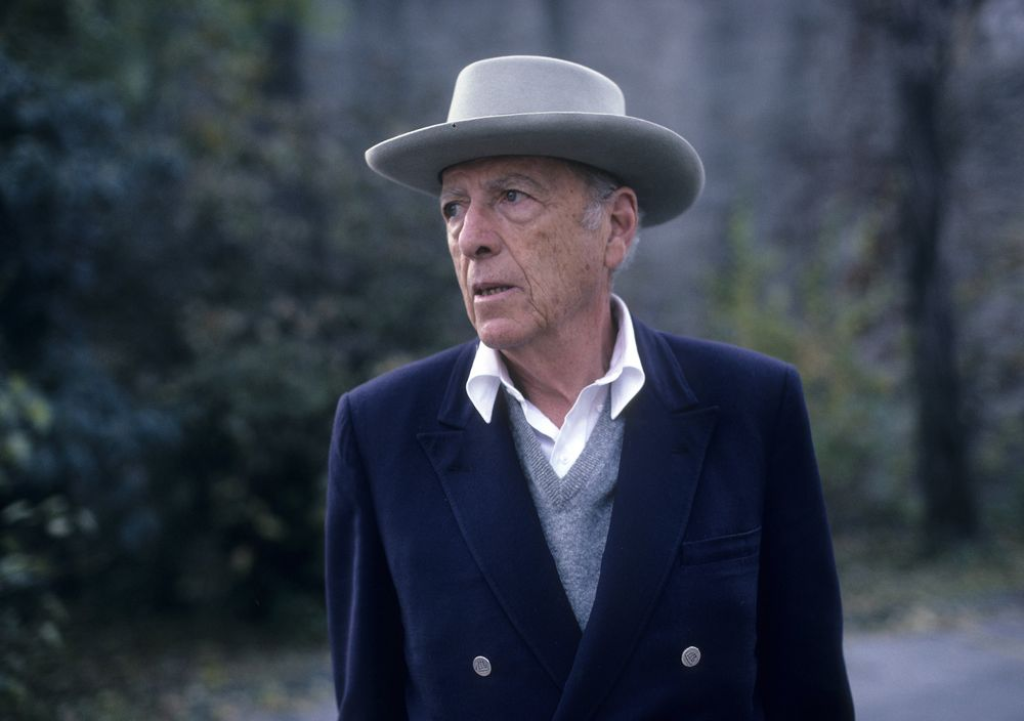 Herman Wouk, who wrote two of the most widely-read fiction novels about the Second World War, both of which were turned in highly successful television miniseries, died late last week at 103:
Herman Wouk, whose taut shipboard drama "The Caine Mutiny" lifted him to the top of the best-seller lists, where he remained for most of a career that extended past his 100th year thanks to page-turners like "Marjorie Morningstar," "Youngblood Hawke" and the World War II epics "The Winds of War" and "War and Remembrance," died early Friday at his home in Palm Springs, Calif. He was 103.

His death, just 10 days before his 104th birthday, was confirmed by his literary agent, Amy Rennert. She said he had been working on another book when he died, although, as was his custom, he had declined to discuss its subject until it was finished.

A whipping boy for reviewers who at best grudgingly acknowledged his narrative skill, Mr. Wouk (pronounced woke) enthralled millions of readers in search of a good story, snappy dialogue and stirring events, rendered with a documentarian's sense of authenticity and detail.

The critics could be brutal. "He can compete with the worst of television because he is the worst of television, without the commercials," Stanley Edgar Hyman wrote in 1966, describing Mr. Wouk's readers as "yahoos who hate culture and the mind."

His place in the literary universe was difficult to pinpoint. Did he belong with the irredeemably middlebrow James Gould Cozzens and Thomas B. Costain, or popular but respectable writers like John P. Marquand and James Michener? His novels provided ammunition for both sides.

"I've been absolutely dead earnest and I've told the story I had in hand as best as I possibly could," he told an interviewer for the New York Public Library in the 1970s. "I have never sought an audience. It may be that I am not a very involved or a very beautiful or a very anything writer, but I've done the level best I can."

He did so for a very long time. His first novel, "Aurora Dawn," was published in 1947. When "The Lawgiver," his comic novel about the making of a film dealing with the prophet Moses, was published in 2012, his career was well into its seventh decade and he was approaching the century mark.


Mr. Wouk immediately began writing his next book. "What am I going to do?" he said in an interview with The Times in November 2012. "Sit around and wait a year?"

(…)

Herman Wouk was born on May 27, 1915, in the Bronx, to Abraham and Esther (Levine) Wouk. His father, an immigrant from Minsk, had started out sorting and marking laundry for $3 a week but rose to become president of an industrial steam-laundry business. Herman, the middle child of three, excelled at school and earned a place at Townsend Harris High School, an accelerated three-year public institution for gifted students in Manhattan.


At Columbia University, where he majored in comparative literature and philosophy, he studied with Irwin Edman, a philosopher whose conservative skepticism temporarily led him away from the Orthodox Judaism in which he was raised and that later became a mainstay of his personal life and the subject of a best-selling nonfiction book, "This Is My God" (1959), and a follow-up, "The Language God Talks" (2010).


While at Columbia he wrote a humor column for The Spectator, the campus newspaper; edited The Jester, a humor magazine; and dreamed of a career writing farces for the Broadway stage. Through a classmate, he found work after graduation as an apprentice radio gag writer. The job, to his dismay, entailed cataloging old comedy routines and cleaning up salty vaudeville jokes for reuse.


In 1936 he became a staff writer for the radio comedian Fred Allen. One of his duties was to rustle up oddballs like a goldfish doctor and a worm salesman for a segment called "People You Didn't Expect to Meet." Within a few years he was earning $500 a week — the equivalent of close to $9,000 today, a very impressive salary during the Depression.

Mr. Wouk enlisted in the Navy immediately after Pearl Harbor, entered midshipman's school and was posted as a radio officer to the U.S.S. Zane, a destroyer-minesweeper operating in the South Pacific.

He told an interviewer for The New York Post in 1956 that his time in the Navy had been the greatest experience of his life. "I had known two worlds, the wiseguys of Broadway and the wiseguys of Columbia — two small worlds that sometimes take themselves for the whole world," he said. "In the Navy I found out more than I ever had about people and about the United States."


While aboard ship he read "Don Quixote," a book that turned his ambitions from the stage to novel writing. He sent four chapters of "Aurora Dawn," a satire about radio admen, to Mr. Edman, his college professor, who placed it with Simon & Schuster. Published in 1947, the book sold reasonably well despite tepid reviews, as did his semi-autobiographical novel "The City Boy" (1948).


With "The Caine Mutiny," Mr. Wouk struck gold. A crackling drama on the high seas leading up to a riveting courtroom scene, it introduced readers to the unforgettable Capt. Philip F. Queeg, a seething blend of paranoia and incompetence, constantly fiddling anxiously with two steel ball bearings in his left hand. When he steers the ship toward certain disaster in a typhoon, his junior officers remove him from command, an act for which they later face court-martial.

The book, which sold more than three million copies in the United States alone, won the Pulitzer Prize for fiction in 1952 and was made into a movie in 1954 with Humphrey Bogart as Queeg. Mr. Wouk adapted the courtroom sections of the novel into a hit Broadway play, "The Caine Mutiny Court-Martial," which opened the same year as the film, with Lloyd Nolan in the starring role.


He had already made his Broadway debut in 1949 with "The Traitor," about a scientist who delivers atomic secrets to the Soviets. He would later return to Broadway with a forgettable comedy, "Nature's Way," in 1957.
Wouk's fame grew, though, came with the publication of two of his most well-known novels:
In the end he wrote two war novels: "The Winds of War" (1971), which covered the period from the signing of the Nazi-Soviet pact in 1939 to the attack on Pearl Harbor, and "War and Remembrance" (1978), which carried the story forward through the great military campaigns of the war, concluding with the liberation of the concentration camps and the dropping of the atom bomb.

Like "War and Peace," whose sweep and ambition served as a model, "The Winds of War" and "War and Remembrance" jumped back and forth from the battlefield to the home front. Historic events and domestic life intersected in the experiences of one American family, headed by the naval commander Victor Henry, nicknamed Pug.


In returning to the world of "The Caine Mutiny," Mr. Wouk won back many of the critics who had written him off. His two war novels, totaling nearly 2,000 pages, gave a rousing account of great events, informed by painstaking research. If Pug Henry seemed to show up, unaccountably, at the elbow of every great leader in the war at one historic turning point after another, Mr. Wouk's breathtaking narrative pace, skillful stage management and flair for wide-screen spectacle tended to drown out the criticism.


With Mr. Wouk's help, both novels were translated into successful television mini-series starring Robert Mitchum as Pug Henry. The first installment of "The Winds of War," broadcast in 1983 on ABC, attracted 80 million viewers, and more than half the available television audience tuned in as it unfolded over seven days. "War and Remembrance," an even more lavish production extending over 30 hours at a cost of more than $110 million, was broadcast in 1988 but attracted a smaller audience.
In an appreciation published in The New York Times, Adelle Waldman notes that while Wouk's novels often focused on a fiction-based take on historical events, the real focus of his work was moral weakness:
At the beginning of Herman Wouk's novel "The Winds of War" (1971), the book's hero, Victor "Pug" Henry, is offered a post as the United States Navy's attaché in Berlin. The year is 1939.

Pug discusses the job with a fellow naval officer, a man named Tollever who previously held the position. "Hitler's a damned remarkable man," Tollever says over drinks in Pug's elegant Washington, D.C., living room. "The Germans do things in politics that we wouldn't — like this stuff with the Jews — but that's just a passing phase, and anyway, it's not your business."

Tollever tells Pug that the worst of it was Kristallnacht, "when Nazi toughs had smashed department store windows and set fire to some synagogues." But, he says, "even that the Jews had brought on themselves, by murdering a German embassy official in Paris." Besides, the whole thing was exaggerated by the press; as far as Tollever knew, "not one" Jew "had really been physically harmed." In sum, Tollever had enjoyed the post immensely: "I haven't drunk a decent glass of Moselle since I left Berlin."

When I read this, I wanted to throw the book at the wall.

That an American, a person of some authority, could be so cavalier about the Nazis in a story set after the Nuremberg Laws stripped Jews of equal rights, not to mention after Hitler had imprisoned his political opposition and eliminated the free press — was both mind-boggling and infuriating.

Of course, this was the point. A canny novelist, Wouk — who died on Friday, just shy of his 104th birthday — had the good sense to let his characters hang themselves with their own words.


Wouk's best books have aged surprisingly little. Among these are his impeccably researched World War II novels, "The Winds of War" and its sequel, "War and Remembrance" (1978). Even decades after they were published, these novels continue to have something to teach us.

Wouk is often grouped with middlebrow writers of popular historical fiction — James Michener and Leon Uris, say — but his novels are better understood as pointillistic character studies in historical settings. The World War II books follow the Henry family — Pug, his wife, Rhoda, and their three grown children — through the war years, providing a framework in which the era's most prominent figures, from F.D.R. and Churchill to Stalin and Hitler, plausibly make cameos. Although sweeping, the novels aren't melodramas. They are the kinds of books in which an attractive young woman in a doomed love affair comes down with a cold — and doesn't die. She doesn't even become seriously ill. She takes some aspirin and goes to bed early.


These are also novels in which you can't immediately tell whether a character will turn out to be mostly admirable or mostly not. With Wouk, it takes hundreds of pages of seeing the character in action before you can decide — and even then, your verdict is liable to remain uncertain and subject to change. Even in literary fiction, this kind of authorial restraint and fidelity to human complexity is surprising.

But the main reason the novels still feel urgent has to do with the nature of Wouk's ambition. He didn't set out merely to write a family saga or to smuggle a history lesson into a story. Wouk wanted to know how so many people in Europe and America allowed the Holocaust to happen.

He uses the tools of the novel to anatomize the various psychological mechanisms and sociopolitical rationalizations that enabled intelligent, generally well-meaning and well-informed individuals to justify or ignore what was right in front of them.


As a novelist, Wouk could do things a historian couldn't: enter not only the living rooms but the minds of a diverse range of characters. Take Rhoda, for instance. She is a little frivolous, easily distracted, occupied more by her private life than by politics. In other words, she is a lot like many of us. When she and Pug arrive in Berlin, she at first refuses to walk in the Tiergarten: "It was far more clean, pretty and charming than any American public park, she admitted, but the signs on the benches, juden verboten, were nauseating." But with time, her resistance wears down: "Day by day, she reacted less to such things, seeing how commonplace they were in Berlin, and how much taken for granted. … It seemed silly to protest … she insisted that anti-Semitism was a blot on an otherwise exciting, lovely land." As such, her resistance primarily took the form of playfully chastising high-ranking Nazis at booze-filled dinner parties.


This feels sadly right to me, the way someone with good intentions, someone not consciously monstrous, becomes nonetheless inured to cruelty and injustice in a context in which these evils are normalized. This is also the way we tend to feed our self-esteem but accomplish nothing, by railing against an injustice from a position of personal safety.

(..,)

By far the most chilling point of view Wouk presents is that of a German general, a man who is not himself especially anti-Semitic but who serves Hitler to the end, and writes a memoir after the fact. General Armin von Roon forces us to look at the "problem" of the Jews from the perspective of the German military, as horrific as this is: "11 million dispersed inhabitants of Europe had been designated as our nation's blood enemies. In Germany the Nuremberg decrees had expelled them from civic, business and professional life. The Third Reich, once it began its armed drive to normalize Europe, therefore had to reckon at the outset with this closely knit community branching all over the continent, with powerful connections and substantial resources overseas." In other words, having persecuted the Jews for years, the Nazis, once the war began, felt besieged by the presence of so many potentially hostile actors in their midst.


The Reich planned to keep the Jews in ghettos until they died naturally of starvation and exposure, von Roon says. But humans have a remarkable ability to adapt even to the direst conditions. "The slow rate of attrition became worrisome," he says. "Plagues broke out, and plague germs do not distinguish between captors and prisoners. The weakened Jews therefore became a standing menace to the local populations and to our armed forces." In this context, von Roon describes the "switch to euthanasia" (that is, the advent of the gas chambers) as merciful: "Since these people were in any case condemned to death, would not a quick, unexpected, painless end free them from long woes?" For him, Auschwitz and the other death camps emerged out of "essentially humane considerations."


This defense of the indefensible, coming from an individual with a veneer of civilization, is as disturbing as anything I've ever encountered in a novel. It's a reminder that human reasoning can be used toward many ends, including rationalizing whatever is expedient



As with many people I suppose, I first encountered Wouk via The Winds of War miniseries, which was broadcast over the course of a week on ABC, That miniseries, of course, was notable for the performances of a number of well-known actors, such as Robert Mitchum as Pug Henry, John Houseman as Aaron Jastrow, a Jewish-American living in Italy when the war starts who ends up becoming a victim of the Holocaust, and Ali McGraw as Natalie Jastrow, Aaron's niece who is also married to one of Pug Henry's sons.
After the miniseries ended, I went on to read both The Winds Of War and War and Remembrance, which was also made into a miniseries that aired in two separate blocks in November 1988 and 1989. The two novels stretch over the pre-war years and the beginnings of American involvement in the war effort, which is the main subject of the first novel, to the war itself, the Holocaust, D-Day, and the end of the war in Europe and Japan.
Of the two, it was War and Remembrance that was perhaps best known for a portrayal of the Holocaust, from the point of view of Jastrow and other characters, that included wrenching scenes of executions at Auschwitz that rival those that we saw in Schindler's List and in the 1976 miniseries Holocaust. I haven't seen either miniseries in some time, but they still stand out as among the best television miniseries ever made. I have also seen, and read, The Caine Mutiny, which most people remember as the movie starring Humphrey Bogart as the paranoid Captain Queeg. In all these cases, Wouk's characters shined through the performances of the actors in the roles.
In any case, as I've said before in the case of people who die at an advanced age this isn't really a time for sorry but a time to appreciate what Wouk has left us.