A Bipolar Night At The Democratic Convention
Depending on what time you watched any of last night's proceedings in Charlotte, you got a very different experience.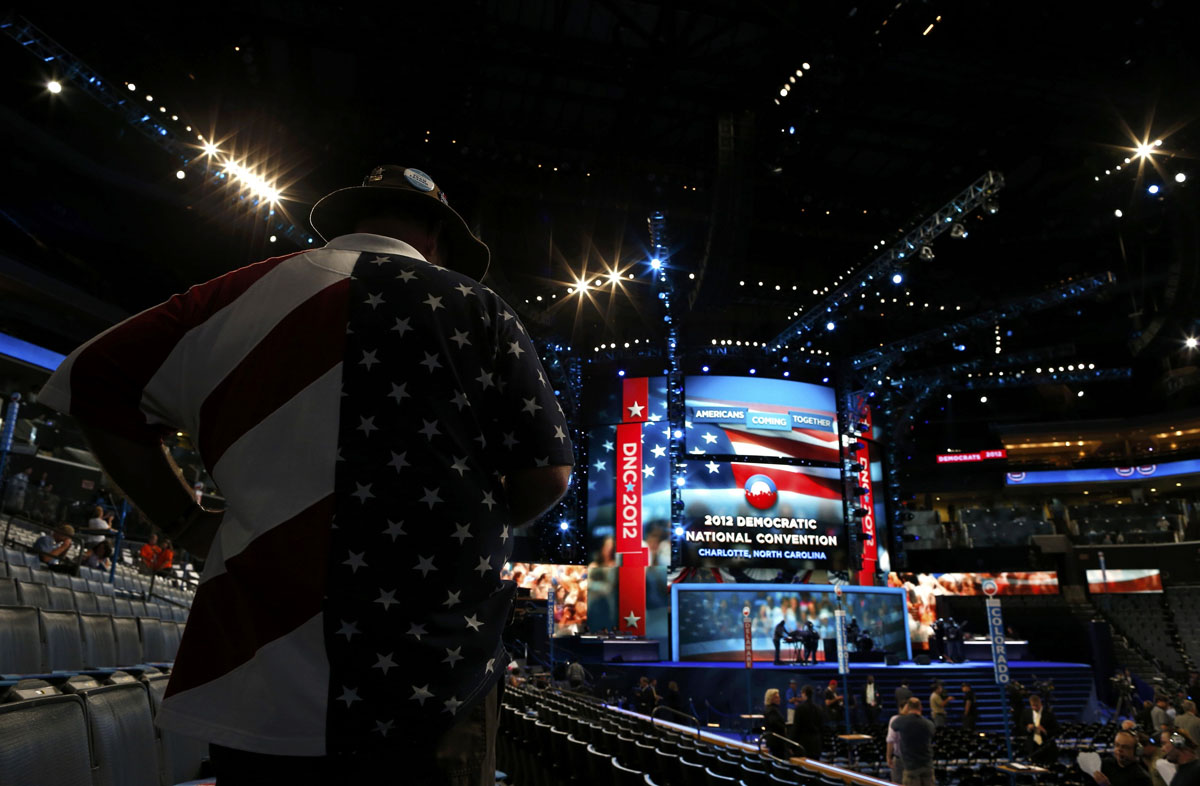 As Zeke Miller points out, for anyone who didn't watch much of last night's Democratic Convention before the 10pm hour that featured Julian Castro's keynote and the speech by Michelle Obama, Day One of the Democratic National Convention must have seemed just a little bipolar:
CHARLOTTE, N.C. — Some time around 10:00 p.m. Tuesday's Democratic National Convention transformed itself abruptly: The volume came down, the soft focus came on, and the party switched its focus from one audience to the next.

The switch into prime time marked a Democratic effort to run two parallel conventions: One hard-edged pitch to the party's base; and one broad, warm appeal to swing voters. The beginnings of Tuesday's convention were marked by fiery, shouted denunciations of Mitt Romney's wealth and and by relentless warnings about Republican views on women's health and quips like former Ohio Gov. Ted Strickland's: "If Mitt was Santa Claus, he'd fire the reindeer and outsource the elves." The program swerved when prime time hit and broadcast viewers arrived, however, quickly becoming conciliatory and emotionally warm, closed by Michelle Obama's personal speech.

And that split in messaging — structured around the different audiences of cable and broadcast television — reflects the Obama campaign's basic challenge: They must re-animate a party base whose interest and engagement have faded since 2008, and who they believe are watching the convention closely, whether inside the Time Warner Arena or on MSNBC or another cable news outlet; and they must answer a week-long Republican effort to court the less-engaged swing voters in Ohio and Virginia who will ultimately decide the election, and who will come across the convention, at best, for its hour of prime time.

In the first track of the convention, an unapologetic, full-throated Democratic assault on from figures like Strickland and Senate Majority Leader Harry Reid showed little restraint toward Mitt Romney, who was criticized for withholding his tax returns, for his Swiss bank account, and for his trouble connecting with average Americans. It was designed to be replayed countless times on cable TV and YouTube — the home of the political junkies who devote time and money to the Obama effort. Inside the Time Warner Arena, each attack drew the crowd of party faithful to their feet, cheering or booing as the moment demanded.

"Mitt Romney says we should take his word that he paid his fair share," Reid shouted. "His word? His word? Trust comes from transparency, and Mitt Romney comes up short on both."

And it included a broad defense of some of Obama's most liberal, and least popular, policies. The beginning of the night dwelled not just on attacking Romney but on President Obama's signature progressive policy move, the 2010 health care overhaul. "I am shocked how much we are talking about ObamaCare," a Democratic operative noted.

(…)

Any surprise at the intensity of Democratic appeals to the party base Tuesday, however, turned abruptly into the realization at 10:00 p.m. that the party had begun a second act. There Julian Castro, the young San Antonio mayor, spoke in broad terms about opportunity and a contrast of visions. Then second, First Lady Michelle Obama offered a heartfelt depiction of her husband's private side.

The second convention more closely mirrored the Republican effort in Charlotte last week. There, a central goal seemed simply to rebrand the party as young, diverse, and ultimately moderate, a vision embodied by figures like former Secretary of State Condoleezza Rice and New Mexico Gov. Susana Martinez. Republicans will rely on Obama to rally their base, and they eschewed the shouted attacks that dominated the opening of the Democratic Convention.

Democrats, by contrast, have chosen not to choose. Battling over disillusioned Obama 2008 voters, the Republican message in Tampa was simple: In Charlotte the dual message is that Republicans are unacceptable to moderates, and that the dream of 2008 should still be alive for partisan Democrats.
By all accounts, that final hour of last night's proceedings went off fairly well. Both the young Mayor of San Antonio and the First Lady delivered what by all regards were very well delivered speeches that were likely very well received by not only the partisan Democrats in the hall, but also any independent voters that may have been watching last night. It's hardly surprising, though, that it differed so clearly in tone from the hours that proceeded it. Not surprisingly, vast segments of those hours were broadcast with little interruption on MSNBC (a sharp contrast to the way they covered the Republican Convention) whereas CNN only seemed to show the speeches by well-known people like Rahm Emanuel. I have no idea how Fox covered those hours. Obviously, the two parts of the night were aimed at quite separate audiences, although one wonders what independent voters who may have been watching on C-Span must have thought of the whole affair.
The other interesting thing about last night was the extent to which the Democratic Party, in rather sharp contrast to the GOP, chose to emphasize social issues:
At times it seemed as if almost every speaker on the first night of the Democratic National Convention was touting same-sex marriage.

"When it comes to letting people marry whomever they love, Mitt Romney says no," Mayor Julián Castro of San Antonio said of the Republican nominee.

"Today in Massachusetts, you can also marry whomever you love," said that state's governor, Deval Patrick.

Kal Penn, the actor and former White House aide, praised Mr. Obama for being "cool with all of us getting gay-married."

The two back-to-back conventions are highlighting an interesting role reversal between the political parties. The Republicans, who in the past eagerly waged a culture war, tried to emphasize economic issues, while the Democrats, stuck with a bad economy, were no longer running away from social issues that once petrified their strategists.

Same-sex marriage was the most obvious example of that, although not the only one. Democrats were eager to talk about abortion rights and contraception, issues they hope will rev up their liberal base and paint Mr. Romney's Republican Party as out of the mainstream. A speaker scheduled for Wednesday night is Sandra Fluke, the Georgetown Law graduate whose support for Mr. Obama's mandate for insurance coverage of contraceptives has made her a party favorite.
TPM's Evan McMorris-Santoro noticed the same phenomenon:
In speech after speech, Democratic heavyweights took the stage to laud their party for backing marriage equality and slam the other side for continuing to oppose it — all to wild enthusiasm from the crowd. In the stands in the convention hall and the streets in the city around it, same sex marriage has become a rallying cry for Democrats and something they're ready to put right out in front during a closely contested election.

Compare that to the Republicans, who mentioned their defense of traditional marriage on stage but certainly didn't hold full press conferences about it. The party that leveraged gay marriage in 2004 to help boost President George W. Bush to re-election is much more toned down about the topic.

Some conservatives want to have the conversation — a small ad buy by a conservative group opposing gay marriage bracketed the start of the Democratic convention — but for the most part, Team Romney and the GOP don't put their opposition to same-sex marriage front and center.

It's the same story with abortion. In Tampa, Romney immediately distanced himself from his party's anti-abortion plank (which makes no mention of exceptions for rape, incest or the life of the mother), placing himself to the left of the official Republican Party stance.

Romney also tried to back out and away from abortion entirely in the wake of the Todd Akin blowup, which put Republicans on the defensive about their strict anti-abortion stance. After being pressed on his party's platform, Romney finally tried to end the conversation by saying there's nothing he could do about abortion rights as president anyway.

Abortion got mentioned on the Tampa stage, but the GOP clearly wanted to talk about something else. Not true for Democrats, who proudly put the president of NARAL, Nancy Keenan, before a roaring crowd in Charlotte.
While it seems puzzling for a political party convention to spend so much time concentrating on social issues in an election season where poll after poll shows that the economy and jobs are the top issues of concern for voters, and especially for independent voters in swing states, it does make some amount of sense. These are the kinds of issues that appeal to the Democratic base, to women, and to young voters, all three of whom have shown signs of not being particularly enthusiastic about this election. Appealing to the issues that concern them may be one way to make sure they get to the polls and support the campaign. Of course, one has to wonder if a young voter who has graduated college, isn't working, and has student loan debt to repay is going to care all that much about same-sex marriage when their own life isn't exactly going well. Those are the kind of disaffected voters who are just as likely to stay home no matter how many speeches people like Kai Penn make.
All that said, it does seem as though last night was a successful night for the DNC, and tonight is likely to be as well with Bill Clinton's nominating speech as the climax of the night heading into tomorrow's finale. Of course, with the Giants and the Cowboys on the field over on NBC at the same time, I've got to wonder how high the viewership is going to be even for Clinton. I know what I'll be watching, and it won't be Bill.