A Close Election That's Not Close
It's Obama's race to lose, not a coin toss.
On the surface, Obama has a tiny lead over Romney that could flip any instant. Upon closer examination, though, it's Obama's race to lose, not a coin toss.
RealClearPolitics shows Obama with 221 Electoral votes to Romney's 191, with an additional 10 states and 126 Electors as toss-ups. But look closer: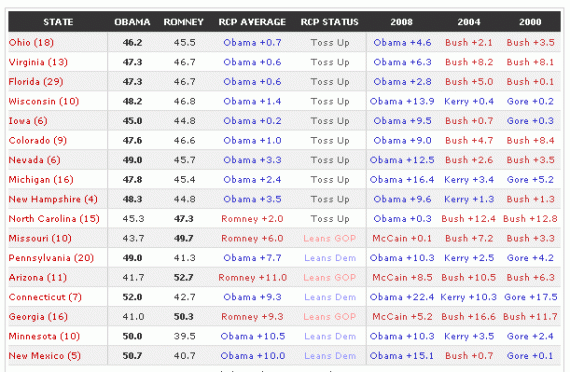 Obama leading in 9 of 10 tossup states and his convention isn't even factored into the results yet.
He's leading in more of these states than George Bush did in 2000 or 2004. The only silver lining for Romney here is that Obama's lead in all of these states is much smaller than it was in his landslide four years ago.
Could Romney reverse the situation? Sure. He doesn't need a whole lot at all to pick off Ohio, Florida, and Virginia. Indeed, by definition, he's within striking distance in all ten states.
Let's say, for the sake of argument, that Obama gets essentially no bounce from the convention. Given that Bill Clinton's speech will be subsumed by the kickoff to the NFL season (I know which one I'm watching and it ain't Clinton) and that the expectations for Obama's oratorial skills are sky high, that's certainly possible.  Romney is still going to have to do something to turn the tide and he's running out of chances.
Obama would seem to have a natural advantage in the debates; it seems highly unlikely that Romney's going to mop the floor with him.
Romney does have a pretty strong advantage in terms of fundraising, especially if we factor in SuperPAC money. But it's not as if Obama and the Democrats don't have a boatload of money. Is the marginal utility of the billionth dollar in TV advertising above zero?
Otherwise, we're down to voter enthusiasm, turnout, and the like. Obama won't have the same degree of excitement in his favor as last time. But it's not obvious that Romney will have it, either.