A Dose Of Reality About The Florida Straw Poll Results
While pundits continue to draw conclusions about the Florida GOP's Presidential 5 Straw Poll over the weekend, this chart (via Wikipedia) is worth considering: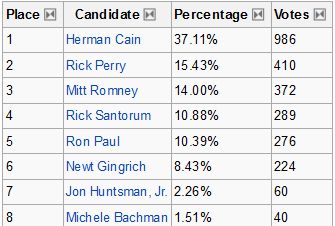 A few thoughts:
Herman Cain got 986 votes. That's hardly an indication of a surging campaign.
Rick Perry, Mitt Romney, Rick Santorum, Ron Paul, and Newt Gingrich all fall with a 186 vote margin
There were only 2,657 votes.
Before we draw vast national conclusions from this thing, it's worth keeping this in mind.