A Few Observations about Occupy UC Davis
The calendar favors waiting out the occupiers, not confronting them.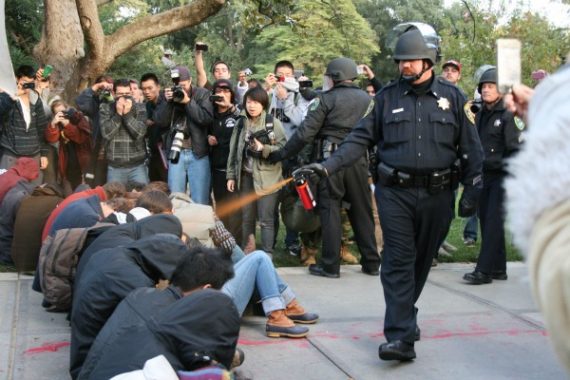 In my first post on the police confrontation with UC Davis students, I pondered the notion that it might have been better for the administration to allow the occupation to die of inertia, rather than sending in the police.
Since then I have learned (as noted in another post) that the events of Friday had been preceded by police violence (with batons) against peaceful protestors on Tuesday, which in turn inspired students to continue their protests).  As such, the Chancellor and campus police were acting in  a fashion that any reasonable observers could have seen was likely to escalate the situation (which it has) rather than deescalating it.  These events suggest that, indeed, it might have been wiser to let inertia win out, rather than trying to force the hand of the students.
Another fact hit me a little while ago:  next week is Thanksgiving Break, which is a week during which college campuses become ghost towns.  While some dedicated occupiers might stay during the holiday, the odds are quite good that a lot of them would have abandoned their tents for the chance to go home to family, food, and football (indeed, the families in question would likely have been more persuasive in getting their children to return home than the police have been to date).
Beyond that, in consulting the UC Davis calendar, the Fall Quarter is about to be over.  Classes end on December 2nd, and final exams are over on the 9th.  Again:  college students tend to very much like vacating campus for the holidays.  Even if some of the occupiers are die-hards, the rest of the student body (i.e., the audience for the occupiers) isn't going to stick around (meaning some substantial amount of the incentive to occupy will be gone).
While it is reasonable to assume that some of the occupiers might stick out the holidays, it is highly unlikely that large numbers would do so.  Just let these things run their course—it is a wiser policy than bringing out the batons and the pepper spray (especially since those actions appear to have motivated the occupiers, rather than having dissuaded them).  And while it does not get as cold in California, it is the rainy season in December, and in general there are a number of reasons  to think that time could solve the occupy issue better for UC Davis than police action.
At a minimum, there are now more people upset with UC Davis than was the case before the week started.  As policy/administrative moves go, Davis Chancellor Katehi laid an egg here.