A Flawed Legal Argument
Peter Berkowitz has presented a flawed legal argument for attacking Iran.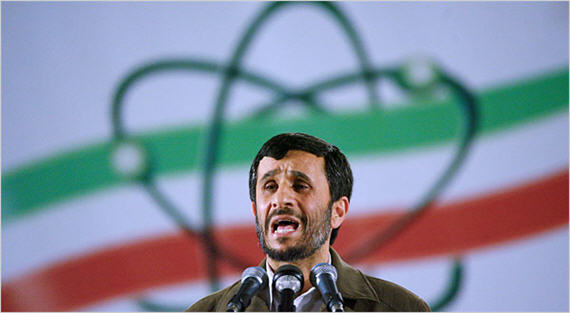 After a lengthy exposition of the history of preemptive war, culminating with the extension of the definition of "imminent" to include preventive war by George W. Bush and the apparent acceptance of that extension by the Obama Administration in September 2011, Peter Berkowitz finally gets to the meat of his defense of the legality of an attack on Iran:
Because even a single nuclear weapon can inflict horrific damage and deal a small state like Israel a crippling blow, because of the variety of quick and covert ways Iran and its terrorist proxies have for delivering such a weapon, and because their brand of radical Islam undercuts the assumptions on which our cold war models of deterrence rest, Israel's right of self-defense extends to preventing Iran from acquiring nuclear weapons.

Under international law, the right of self-defense encompasses a right to assist others to defend themselves. Israel's vulnerability to surprise and devastating attack by a nuclear-armed Iran and its terrorist partners permits the United States, whose capacities to search out and destroy Iran's nuclear facilities considerably exceed those of Israel, to also lawfully use force to prevent Iran from acquiring nuclear weapons.
I think that's a flawed legal argument. The relevant section of the UN Charter is:
Article 51: Nothing in the present Charter shall impair the inherent right of collective or individual self-defence if an armed attack occurs against a member of the United Nations, until the Security Council has taken the measures necessary to maintain international peace and security. Measures taken by members in exercise of this right of self-defence shall be immediately reported to the Security Council and shall not in any way affect the authority and responsibility of the Security Council under the present Charter to take at any time such action as it deems necessary in order to maintain or restore international peace and security.
Mr. Berkowitz refers to Daniel Webster's definition of "imminent", articulated during the Caroline incident for more about which see here:
instant, overwhelming, and leaving no choice of means, and no moment for deliberation
There are several points that need to be made. First, when the Caroline incident took place there was no relevant international body of law governing preemptive force. There is now in the form of the United Nations charter, the United States remains a signatory to that charter, and the United States is a permanent member of the Security Council.
Second, Iran's nuclear weapons development program, whatever it may be, manifestly does not meet Daniel Webster's standard quoted above. That both Israel and the United States are deliberating the issue is prima facie evidence that it does not meet the Daniel Webster standard. An attack would also fail to meet the Noah Webster standard for defense. There remains ample time for the UNSC to take "the measures necessary to maintain international peace and security" and we have obligated ourselves to that standard.
Third, the extension of the definition of "imminent attack" to include preventive attacks made in the absence of solid evidence that what is feared actually exists is an extension too far. If that is the standard for legal self defense, it suggests that fear alone is a sufficient justification. In that case we'd best get ready. The U. S. has the most powerful military in the world by any reasonable assessment, there are a lot of people who fear us, and if Mr. Berkowitz's argument is correct they'd be legally justified in attacking us.
In his address to the AIPAC meeting over the weekend, President Obama made the clearest statement to date of his unwillingness to allow Iran to develop a nuclear weapon. He added to the "no option is off the table" diction he has been using since he began his presidency the words "military force". I find no reason not to take him at his word and I also see no way that Iran can assuage the fears that we and Israel have of its developing nuclear weapons. Legalities aside, it appears that we will go to war with Iran.