A Follow-Up On Burying Power Lines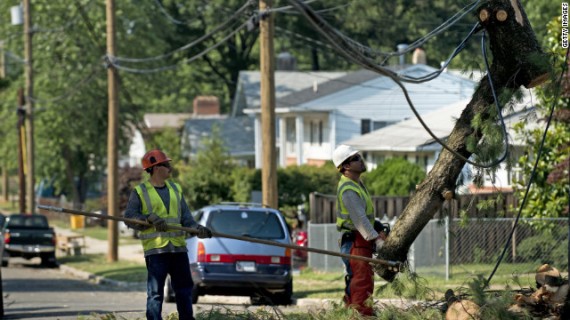 After last month's dercecho event knocked power out for some two million people in the Washington, D.C./Baltimore, many people wondered why more of the power lines that provide electricity to our communities are buried underground where they'd be far less likely to be effected by inclement weather. As I noted at the time, the logistical and cost issues associated with such a project were far larger than most people anticipated. Yesterday, the U.S. Energy Information Administration released a study that explained just how expensive the project could be, and how much it differs depending on the type of area you're talking about, as reflected in this chart: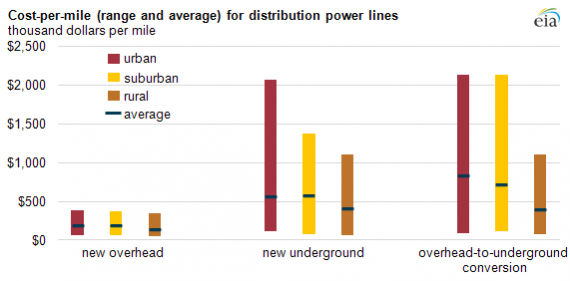 Not surprisingly, just putting up new overhead lines is the cheapest alternative. However, we've seen in most parts of the country that new developments, whether commercial or residential, typically end up having their power and other lines buried for the simple reason that it's considered wiser to invest the extra cost of burying the lines to avoid the additional costs that would be incurred in the future by having to maintain and repair overhead lines. The costs differences between urban, suburban, and rural areas aren't surprising either and are most likely related to issues of population density and having to deal with existing infrastructure. Indeed, based on the chart, it appears that it costs about as much to do a conversion in a rural area as it would to install new underground lines. Conversions in suburban and urban areas are far more expensive, quite obviously, because such a project would involved tearing through existing neighborhoods, digging up streets, and being careful not to interfere with underground gas lines and other such items. At $2,000,000 per mile, completely converting an area like Suburban Maryland would be almost cost prohibitive, for example.
Additionally, it's worth noting that these costs are averages and that the project is likely to be far more expensive in some parts of the country:
The cost ranges shown for undergrounding represent wide variation around a number of factors, including customer density (urban vs. rural), labor costs, and the type of ground—consider Colorado's granite bedrock, or Florida's high water table. Each construction project is unique and costs from one utility's study may not be easily comparable with another. The chart above shows the cost to the utility, which may or may not flow through to consumers in its entirety. For example a regulated utility may not be allowed to transfer all of the costs to their customers' electricity bills. Or, a municipality might provide funds, land, or materials for the project, avoiding costs transferred directly to consumers. If individuals want their own connections put underground, they are typically responsible for the cost.
Ezra Klein comments, and notes that there are alternatives to burying the lines that utility companies have available to them:
All told, the Edison Electric Institute estimates (pdf) that some 18 percent of the country's distribution lines are buried. For the transmission system, only about 0.5 percent of lines sit beneath the surface. "Undergrounding an entire power system," says EIA, "is considered cost prohibitive." Instead, most utilities will just try to bury a few key lines.

Yet there are also other options, the EIA notes, from hardening above-ground infrastructure at crucial junctures to "vegetation management" to smart grid technology that reroutes power when lines go down. Burying power lines isn't the only way to respond to a storm — and often it's not even the most effective strategy.
Of course, as I noted last week, "vegetation management" becomes a problem when you have residents who yell and scream every time a utility comes by to trim a tree. The point, though, is that there are ways to deal with the problems created when storms knock out power lines that are far cheaper than burying the lines, and that we ought to be looking at those methods rather than jumping on the supposedly "easy" solution of putting the lines underground.