A Futures Market In Election Results?
Could traders soon be betting on the outcome of the Presidential elections? Should they be?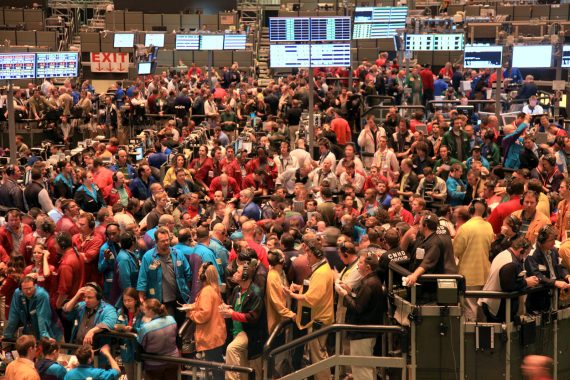 A Chicago firm is seeking permission from Federal regulators to start what amounts to a Futures Market in Presidential elections:
More Americans may soon be able to openly wager in the markets about whether President Barack Obama wins re-election or Republicans gain control of the Senate.

Political junkies have previously placed "bets" on the presidential race through the Iowa Electronic Markets and the Irish exchange Intrade. But the federally regulated market being set up by Chicago-based Nadex has a major difference – they could cash in.

Nadex said it plans to file a request Monday with the Commodity Futures Trading Commission to list contracts on the victor of the 2012 presidential race and the majority parties in the House and Senate.

If the federal regulator has no objections, trading could start as early as January 4, the day after the Iowa caucuses, Nadex executives said. The CFTC — which could hold up the listing for further analysis — declined comment on its procedures.

Introducing these so-called "prediction markets" to the broader public could end up giving a better read of the horse race than traditional polls.

"We believe when someone puts his money where his mouth is, it will be more accurate," said Nadex chief executive Yossi Beinart. "It's not just a game necessarily."

Similar prediction markets are already valued tools for political observers.

Forecasts from the Iowa Electronic Markets in the last week of four presidential elections have proven to be more accurate than the final Gallup polls.

Intrade volume on the Republican presidential nominee has already topped 3.2 million shares this cycle, compared to just 1.9 million in 2008, according to Carl Wolfenden, the exchange's operations manager.

The Nadex contracts would be valued on a scale of 0 to 100, which lets the market determine the percentage likelihood of, say, Obama winning.

If the contract on Obama costs $51—meaning a 51 percent chance of a November 6 triumph for the president—and he cruises to victory, the owner would earn a $49 profit, minus a transaction fee. The person betting against Obama would be out $49.

Or, if a fan of the new Newt Gingrich Civil War novel "The Battle of the Crater" buys shares in the former House speaker at $10 and sells him for $40, he pockets a $30 profit—and covers the sticker price of the book.
As the article notes, these kinds of betting markets have been around for many years, although they seem to be receiving much more attention from mainstream political pundits during this election cycle. The argument behind these types of "markets" has always been the idea who are putting their money behind a particular Presidential selection, or the outcome of some other domestic or international political event, is going to have some kind of special guidance that leads them to that choice, and that the "market price" that results from the decisions of these various "investors" will somehow lead to a better guide to how the race is going, and how it's likely to end, than mere polling and political punditry.
Intrade and the IEM are small examples of what Nadex has in mind. While the people who participate at both sites do put up real money for the predictions they are making, the amounts are relatively small ($500 at most at IEM and $10 at InTrade) and since both are still technically part of research projects they are not regulated by the Federal Government they don't have the same features that a real futures market has. Nadex would change all that and have investors betting on "Newt Gingrich" futures in the same manner in which they bet on Pork Bellies. The difference, of course, is that futures markets in commodities serve a useful purpose in the economy, and particularly in industries like farming where they have served as the clearing markets for buyers and sellers for a century, a practice that has its roots in thousands of years of international trade. What's unclear, though, is what purpose a market in Presidential purpose would serve beyond the merely academic.
I've found these electronic futures markets interesting for awhile now, mostly using them as just another tool to watch various races over the years. I've been skeptical, though, of their ability to provide any special insight that one cannot garner from watching the polls and, since 2008, the poll averages compiled by RealClearPolitics and other entities. After all, the people who invest in these markets generally are acting on the same information that all the rest of us have access to. Granted they may be paying more attention to it because they have a (small) financial stake in the outcome, but it's not clear that this provides the electronic markets with any more predictive value than any other indicator.
For an example of what I mean, let's take a look a few Intrade charts.
First, here's Mitt Romney's chart over the past 90 days:

Is what we see here really any different than what you can garner from looking at your average polling graph? Coming off a September in which he was beating off a challenge from Rick Perry, Romney once again rises to the level of presumptive nominee (notwithstanding the rise of Herman Cain, who nobody viewed as a serious contender of the nomination). Then, when Newt Gingrich rises in late November, Romney plummets only to rise again when the Gingrich bubble bursts. As we stand now, Intrade is giving Romney a 70+% chance at being the Republican nominee. If anything, that seems conservative.
Now, look at Gingrich's chart for the past 90 days:

And Perry's for the past 120 days:

Again, what do either of these charts tell us that polling didn't at the time? As one blogger noted back in 2008, it's fairly obvious that these electronic markets don't provide any special insight into political races, or into the various news events that they also "bet" on. All they really are is information aggregators:
Prediction markets are just an information aggregation mechanism (and also a collective anticipation mechanism), which highly depends on what the experts on the ground can discover. Prediction markets are not a magical tool. Event derivative traders are like bees; they harvest information and the expert consensus out there.
Precisely. For the most part, these "investors" are looking at the same information that anyone else who follows the news closely is looking at. Perhaps the "closing price" one gets from such a system is helpful in getting an overall picture of where a particular race stands, but it's hardly a substitute for real analysis.
As for Nadex's proposal for a real futures market in this sort of thing, I've really only got one question. How exactly would a  futures market that bets on the outcome of elections or news events be any different from sports betting? Quite frankly, I don't see the difference.