A Hole In The Sun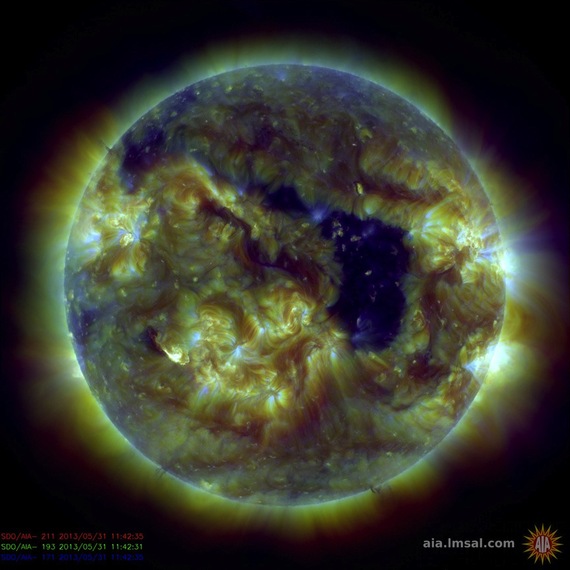 Astronomers recently captured some photos of the Sun that make it appear as if there's a hole on the surface of the Sun:
Coronal holes are areas on the sun's corona that are darker, lower-density, and (relatively) colder than the rest of the plasma on the surface of our nearest star. They're the source of the kind of solar wind gusts that carry solar particles out to our magnetosphere and beyond, causing auroras (and, less awesomely,geomagnetic storms) here on Earth.

When coronal holes are captured in extreme ultraviolet light images, they reveal themselves as dark spots that appear, to human eyes, to be plasma voids.

Well, last week — between May 28 and 31 – one of those coronal holes rotated toward Earth. It was a big one: "one of the largest," NASA says, "we have seen in a year or more." And the Solar Dynamics Observatory's Atmospheric Imaging Assembly, fortunately, got a shot of the thing. Above, via a combination of three wavelengths of UV light, is an image of the hole. It's pretty gorgeous, as holes go.
Pretty fascinating what's going on that the naked eye can't see.