A Lot Of Europeans Are About To Get Sick While On Vacation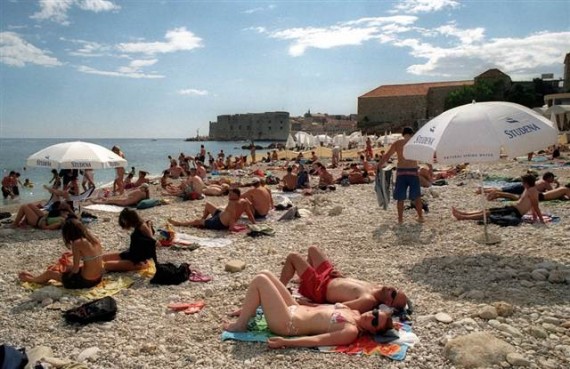 European nations are already famous for mandating exceedingly long summer vacations for private and public workers, a concept that in an of itself is unfamiliar to most Americans. Several years ago when I was dealing with a case that involved a company in Italy, I was told in June that I needed to have my witnesses for a trial in September lined up by mid-July because the entire nation would essentially be going on vacation for a month and a half and there'd be nobody to talk to. Needless to say, this made my job rather difficult, although I'm sure the employees in question enjoyed their extended vacation immensely. Now, a European Court has come down with a decision that seems guaranteed to make those mandatory vacations even longer:
BRUSSELS — For most Europeans, almost nothing is more prized than their four to six weeks of guaranteed annual vacation leave. But it was not clear just how sacrosanct that time off was until Thursday, when Europe's highest court ruled that workers who happened to get sick on vacation were legally entitled to take another vacation.

"The purpose of entitlement to paid annual leave is to enable the worker to rest and enjoy a period of relaxation and leisure," the Court of Justice of the European Union, based in Luxembourg, ruled in a case involving department store workers in Spain. "The purpose of entitlement to sick leave is different, since it enables a worker to recover from an illness that has caused him to be unfit for work."

With much of Europe mired in recession, governments struggling to reduce budget deficits and officials trying to combat high unemployment, the ruling is a reminder of just how hard it is to shake up long-established and legally protected labor practices that make it hard to put more people to work and revive sinking economies.

The workers originally won their case in a Spanish court, where they argued that collective bargaining agreements made a distinction between annual leave and sick leave that was recognized by Spanish law. The National Association of Large Distribution Businesses, known as Anged, appealed to the Supreme Court in Madrid, which then asked the Court of Justice for a ruling on how to apply European law covering working times.

The Court of Justice had previously ruled that a person who gets sick before going on vacation is entitled to reschedule the vacation, and on Thursday it said that right extended into the vacation itself.

"The point at which the temporary incapacity arose is irrelevant," the court found.

The ruling applies across the European Union of 27 countries.
The incentive that this kind of ruling creates should be rather obvious. I think European employers should expect many of their employers to suddenly develop some illness or another over the upcoming summer vacation period, and plenty of doctors willing to verify their "illness."  Of course, this ruling doesn't apply to those that are unemployed, they're on a permanent vacation these days.
H/T: Marginal Revolution
Photo via MSNBC