A Nations of Immigrants with a Dumb Immigration Policy
Canada is much friendlier than the United States with regard to immigration.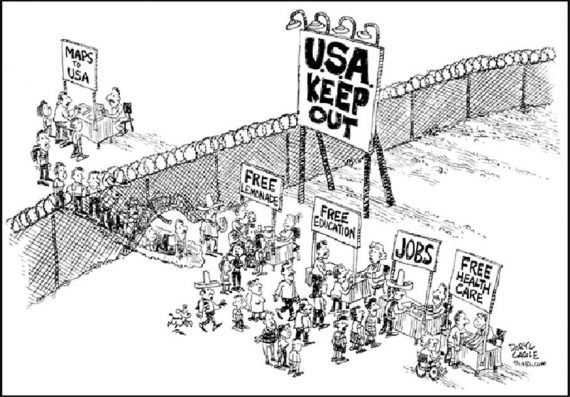 A blogger for The Economist notes that Canada is much friendlier than the United States with regard to immigration.
AS A matter of national policy, Canada actively solicits immigrants and has done so for years. The public supports this and the default political assumption is in support of continued immigration. According to a recent poll, only a third of Canadians believe immigration is more of a problem than an opportunity, far fewer than any other country included in the survey. Rather, Canadians are concerned about "brain waste" and ensuring that foreign credentials are appropriately recognised and rewarded in the job market? Being an immigrant is also no barrier to being a proper Canadian; in parliamentary elections earlier this month, 11% of the people elected were not native. This warm embrace isn't just a liberal abstraction; 20% of Canadians are foreign-born.

It's well-known that Canada is an outlier among immigrant nations, but it is nonetheless interesting to consider in reference to the ongoing and heated debate about immigration in the United States. Why is Canadian public opinion so different from views in United States?

At a conference yesterday, Jeffrey Reitz, a sociologist at the University of Toronto, cited two big explanations for the difference. The first was that Canadians are convinced of the positive economic benefits of immigration—to the extent that towns under economic duress are especially keen to promote immigration, because they believe immigrants will create jobs. Even unemployed Canadians will stoutly insist that immigrants do not take work away from the native born. This makes sense, as most immigrants to Canada are authorised under a "points" system tied to their credentials and employment potential. About half of Canadian immigrants have bachelor's degrees. They may have a higher unemployment rate than native-born workers, Mr Reitz said, and they benefit from programmes and services created specially for immigrants, such as language training. But the preponderance of evidence suggests that Canada's immigrants, being high-skilled, are net contributors.

Mr Reitz's second explanation was that Canadians see multiculturalism as an important component of national identity. In one public opinion poll, Mr Reitz said, multiculturalism was deemed less important than national health care but more important than the flag, the Mounties, and hockey. Irene Bloemraad, a sociologist at the University of California at Berkeley, picked up this theme. There wasn't such a thing as a purely Canadian passport, she said, until 1947. Canada was, psychosocially, very much a part of the British commonwealth until quite recently. When it came time to create a distinctively Canadian identity, the country included a large and vocal Francophone minority (as well as a considerable number of first peoples). The necessity of bilingualism contributed to a broader public commitment to multiculturalism, which persists today.
The next paragraph deals with the most obvious rejoinder in rather amusing fashion:
Other factors allow Canada to be more inviting. The country has little reason to worry about illegal immigration. Like the United States, it shares a long southern border with a country suffering from high levels of crime, unemployment and income inequality. But there aren't millions of Americans yearning to get into Canada. To put it another way, the United States's buffer zone from the eager masses is a shallow river. Canada's is the United States. That reduces unauthorised migration to Canada and eases public anxiety about it. Canada also has a smaller population and lower birth rate than the United States—it needs immigrants for population growth. [emphasis mine]
American resistance to immigration mostly comes in the form of resentment over flows from Mexico and Central America, not Sweden. It's notable, too, that the United States has nine times Canada's population (307 million vs. 33.7 million) in roughly the same territory. And we grant American citizenship to over a million people a year through the process of naturalization–so it's not like we're averse to immigrants by nature.
What is true, however, is that we go about the process strangely as compared to the Canadians and most other developed countries. We place a very high priority on family connections and a very low priority on skills. Some of the best and brightest from around the world come here for college and graduate school and then face major obstacles and staying here and contributing their skills to our society. Not only does a student visa not automatically confer the right to full-time employment but American firms have to justify hiring them through an elaborate process requiring certification that no Americans are available for the job. That's just crazy.