A New Conservative Party?
Some marginal Republican formers are thinking about maybe doing somethingoranother.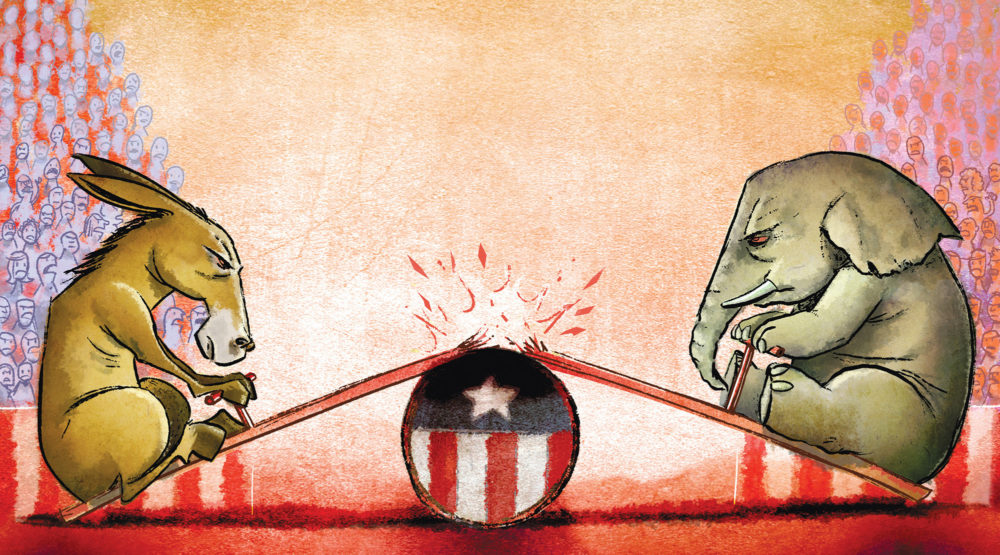 CNN ("Former Republican officials float possibility of forming 'center-right' party"):
A group of more than 100 former Republican officials have discussed the possibility of forming a conservative party due to their unhappiness with the direction of the GOP under former President Donald Trump and the likelihood he'll be acquitted at the end of his second impeachment trial, according to Republicans who participated in the conversation.

Former Republican House Rep. Charlie Dent confirmed to CNN that he and about 120 Republicans held a conversation last Friday about whether to form a new party or a new faction within the Republican Party that would operate independently from the GOP."

Clearly, there are a number of Republicans like myself and other Republican leaders, who want a clean break from President Trump, and we are kind of rallying around some core founding principles like truth and honesty, and democracy, and rule of law," the former Pennsylvania congressman, who is a CNN contributor, told CNN's Chris Cuomo Thursday.

The remarkable move would exemplify how fractured the Republican Party is, but Trump still has a high approval rating among Republican voters and the two-party system has dominated the US political system for centuries.
Well, for 160 years, anyway.
Regardless, there are some 100-120 people who would like to do somethingoranother about this.
Evan McMullin, a former House GOP aide and current executive director of Stand Up Republic, confirmed to CNN that he organized the virtual meeting and argued that "there's a need for something new, whether it's in the Republican Party or outside of it."

"The current direction of the party is destructive, both for its own interests, but most importantly, for the interests of the country," he told CNN's Fredricka Whitfield on Sunday, adding, "So as extreme as some members of Congress are getting on the Republican side, as the party deals with those related issues, there's also an opportunity for renewal and rebirth, and that's what we spoke about."

He said that if a new faction is formed, they would put forth their own Republican candidates and even, in some cases, support Democratic candidates for election.

McMullin, who ran as an Independent for president in 2016, acknowledged that the Republican Party is still largely under Trump's control.

"What we're about is a new direction for the party, and we're trying to unite people who are committed to our foundational values, to democracy, and to who are desiring that, regardless of who they supported in the past, and the fact our numbers are growing is the most exciting thing about it," he said.
This isn't a plan but a venting of frustration.
Running "True Conservative" candidates in the Republican Party is theoretically a winning strategy. It's essentially the Tea Party model. The problem, however, is that it's pretty clear there aren't enough True Conservatives in the Republican nominating electorate to win Republican primaries. That's possibly changeable but it's not at all clear what message McMullin and company propose to use to defeat the Tea Party/Trump/Patriot/populist agenda.
Supporting Democrats serves the purpose of defeating Trumpists but the best vehicle for doing that is the Democratic Party. Indeed, under current circumstances, it's more plausible that center-right erstwhile Republicans could make inroads in influencing the Democratic platform and nominating center-right candidates in that party than in the GOP.
Running independent candidates just muddies the waters, almost certainly yielding worse results from a conservative perspective than trying to influence the Republican Party from within.
Forming a permanent alternative party carries the same pitfalls. Even if True Conservatives constituted, say, 15 percent of the voting population—and I suspect that's a high estimate—and could actually convince all of them to "waste" their vote on True Conservative Party candidates, one imagines the outcome would be to elect more Democrats to the House and Senate, since the TCP would almost certainly draw more votes away from would-be Republican voters than would-be Democratic voters. Aside from possibly Utah, I can't imagine the state where the TCP candidate would win the plurality for President or Senator in a statewide contest.
If the TCP platform were written to appeal directly to me—indeed, if the organizers crafted the platform by offering me policy options and saying, "James, which one should we go with?"—I'm not sure that I would vote for its candidates. Under our system, I'm better off casting my vote strategically in primary elections and casting my general election ballot for a candidate who can win.