A No Vote On Manchin/Toomey Is Unlikely To Hurt Any Senator
The odds that any of the Senators who voted no on Manchin/Toomey will pay a political price for doing so is low.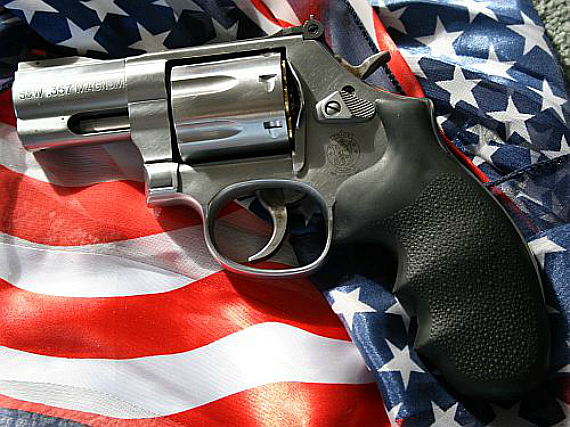 In his Rose Garden remarks yesterday afternoon after the defeat of the Manchin/Toomey background checks bill, President Obama exhorted the American people to make sure that the politicians who voted against the bill heard from them. In addition to being delivered a far more strident and angry tone than we're generally used to seeing from the President, this was an obvious appeal to the 2014 midterms, which are still some 19 months away. After all, it's fairly obvious after yesterday that gun control is dead as an issue in the 112th Congress, and Senate Majority Leader Reid acknowledged as much this afternoon when he announced on the Senate floor that he was withdrawing the overall gun control bill from Senate consideration at this time. There's always a possibility that the bill may be brought up some time between now and December 2014, but the odds of that happening are exceedingly low. Besides, even if the Senate did somehow managed to pass some kind of bill, it's fate in the House would be doubtful at best. Instead, it would appear that Democrats and gun control advocates are going to rely on a strategy of keeping up the momentum that started with Newtown and hoping that this somehow leads to political success in 2014.
As Chris Cillizza notes, the political calculus isn't very easy for gun control advocates:
The question is whether Obama and OFA really can change the political dynamic surrounding guns. A look at the 2014 electoral map suggests it will be a very tough lift.

First of all, of the 14 Republican seats up next November, only one sits in a state that President Obama won in 2012. And, that state's Senator — Maine Sen. Susan Collins — was one of four Republicans who voted for the expanded background check amendment.

Second, of the four Democrats who voted against the background check amendment, three are up for for re-election in 2014 (Max Baucus, Mark Pryor and Mark Begich).  It's hard to imagine President Obama or his political organization going after three of their own given that the battle for the Senate majority in 2014 is expected to be very, very close. (Also worth noting: There are seven Democratic-held seats — including Baucus, Pryor and Begich — up in 2014 in states that President Obama lost in 2012.)

What can — and likely will — be different going forward is that groups lobbying for more gun control laws will be far better financed and better organized, posing a genuine opposition voice to the National Rifle Association's long-held dominance on the issue of guns. (New York City Mayor Michael Bloomberg and former Arizona Rep. Gabby Giffords have both formed pro-gun control groups.)

But, more money and better organization don't necessarily translate to urgency and intensity, which is the most critical advantage that gun rights supporters currently enjoy over those who favor more strictures on guns.   And, it's not clear whether anything that happens in the country or that President Obama (or OFA) can generate  passion on the gun control side of the argument that comes anywhere close to matching that which exists on the other side.
This is essentially what I argued in my posts yesterday — here and here — regarding the seeming discontinuity between public support for some gun control measures and the fact that politicians who vote against those measures don't get voted out of office is because of the fact that gun control is a low priority issue for most voters, especially given the fact that it competes for attention in their decision making with issues like jobs and the economy. While there are certainly some one-issue voters out there, and indeed many of them can be found among the most passionate gun rights supporters, most Americans tend to vote for candidates based on what be called a "market basket" approach. No candidate is ever going to be 100% in alignment with every person that votes for them. That means that voters generally engage in some kind of balancing test where they have to decide what issues are most important to them. If there's a candidate that Voter X agrees with on everything except gun control, and that voter thinks that the economy and jobs are the most important issues in a given election, then does anyone really think they're going to vote against they candidate that they mostly totally disagree with because of their position on an issue that they don't even consider very important? Of course they're not going to do that. Unless and until gun control advocates find a way increase voter intensity on these issues far beyond the levels that they have been historically, the odds of them making people like the 46 Senators who voted against Manchin/Toomey are essentially non-existent.
The other problem that the gun control crowd faces in the coming months is the inevitable fact that public attention, and the attention of the pundit class, will inevitably move on to other things now that gun control is dead for another Congressional cycle. Lost in the busy news cycle of this week, for example, is the fact that the so-called "Gang of 8" released the text of it's version of comprehensive immigration reform. Although the Senate is scheduled to head into another recess soon that will push any further legislative business until the beginning of May, this is the topic that will be the focus of Washington for the next several weeks if not months. Congress also needs to begin focusing on the Fiscal Year 2014 budget and the debt ceiling, which will start to become an issue again in about a month or so. Though it has drifted off the front pages, North Korea continues to huff and puff out in Southeast Asia. Finally, the Boston attacks could lead to a renewed focus on international or domestic terrorism with all the implications that entails. And that just covers the issues we know we'll be  likely be dealing with between now and the end of the summer. The number of things that can or might pop up on our radar between now and November 2014 are uncountable and largely unknowable. The odds that public attention will remain focused on guns, even tangentially, strikes me as implausible. Add into this the fact that, historically, the party holding the White House tends to lose seats in Congress in a 6th year midterm election, and the prospects that any of the Senators who voted against Manchin/Toomey will "pay" for their vote strikes me as being exceedingly unlikely.