A Pacific Time Convention in an Eastern Time Election
I question the timing of the Republican Convention.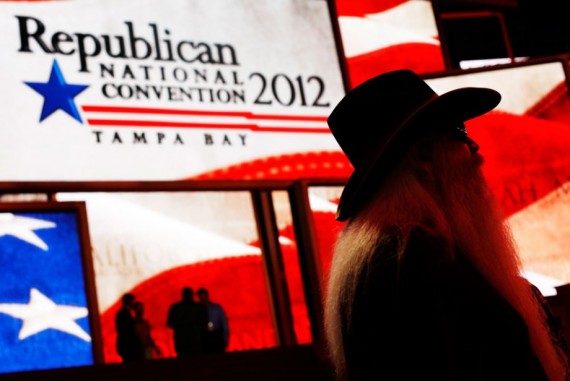 Despite the Republican convention being truncated to three days, they managed to lose my interest last night within the first ten minutes of prime time and hadn't gotten to the headliners yet before I went to bed. With all of the swing states in either the Eastern or Central time zones, why is this thing being staged for those on Pacific time?
Even having lopped off the opening night, it's not as if the remaining schedule was action-packed. Here's the line-up up speakers for prime time (all times Central):
7:00 p.m. Reconvene
Remarks by Speaker John Boehner
Remarks by RNC Chairman Reince Priebus
Video and remarks by Mayor Mia Love (Saratoga Springs, UT), U.S. congressional candidate
Remarks by Janine Turner
Remarks by former U.S. Senator Rick Santorum
Remarks by Host, U.S. Rep. Cathy McMorris Rodgers
8:00 p.m. Remarks by U.S. Senator Kelly Ayotte (NH), accompanied by Jack Gilchrist
Remarks by Governor John Kasich (OH)
Remarks by Governor Mary Fallin (OK)
Remarks by Governor Bob McDonnell (VA), accompanied by Bev Gray
Remarks by Governor Scott Walker (WI)
9:00 p.m. Remarks by Governor Brian Sandoval (NV)
Remarks by Sher Valenzuela (small business owner, candidate for DE Lt. Governor)
Remarks by Senate Republican Candidate Ted Cruz (TX)
Remarks by Artur Davis
Remarks by Governor Nikki Haley (SC)
10:00 p.m. Remarks by Mrs. Luce' Vela Fortuño
Remarks by Mrs. Ann Romney
Remarks by Governor Chris Christie (NJ)
Benediction by Sammy Rodriguez
Adjournment
I follow politics much, much more closely than most and I don't know who half those people are. Now, okay, a lot of them are from swing states. That makes some sense. But the candidate for lieutenant governor of Delaware?! A congressional candidate from Saratoga Springs, Utah, where the Republican nominee automatically wins? 
Let's stipulate that I'm an unusual case. It's a good night for me if I get awakened only once, and I'm seldom up much past 10 accordingly. But I nonetheless tuned in at 8 to CNN's coverage (I'll be tuning in to C-SPAN from now on) and was treated to the Oak Ridge Boys singing "Amazing Grace" and several other annoying time-wasters as the prime time opener. Fifteen minutes in, they still hadn't gotten to anything interesting and I decided to watch the season finale of "The Newsroom" via DVR-delay instead. And it's not even a particularly good show. (The characters are getting better but the idyllic "news" program that's at the heart of the show remains farcical.)
The RNC has been given three hours of prime time for three nights to target their message to undecided voters and they give us . . . the Oak Ridge Boys? At precisely whom is this being aimed? How many voters in Florida, Ohio, and Virginia were thinking to themselves, "If they start right in with the speechifying, I'm voting for Obama! Give me some of that old time Gospel music!"  And how better to send a subliminal message about the Grand Old Party than using a singing group whose last hit was the year Ronald Reagan was inaugurated?
Anyway, after my DVR interlude, I flipped back to the convention. Rick Santorum was on, so I hit mute and went to check email. After a while, I went up to read before turning in and flipped it on to see if Ann Romney was on yet; I was instead treated to a fellow with a high-pitched voice and an MC Hammer haircut called Artur Davis, who's actually a rather impressive fellow but not much of a speechmaker. I went back to ESPN the Magazine for a bit and turned up to see Nikki Haley who, while a nice looking lady, wasn't worth staying up for and I turned off the TV.
By this point, it was well past 10 pm on the East Coast. Granted, people have been known to stay up well past that. Once football season mercifully rolls around this weekend, I'll stay up past midnight occasionally for a game involving my Crimson Tide or Cowboys. But what percentage of the people who might have been interested in hearing Ann Romney's speech—much less Chris Christie's keynote, which presumably ended after 11—had given up by the time they came up?
Of course, people living out in California were still at work during "Amazing Grace" and the boring speeches. But I don't think they even bother holding elections out there, since a Republican hasn't won an electoral vote from that time zone in a quarter century.*
___________________
*That's a bit tongue in cheek. In fact, Nevada went Republican once.