A Peek Inside North Korea Paints A Grim Picture
A recent defection from North Korea gives us a peek inside the DPRK, and it's not pretty.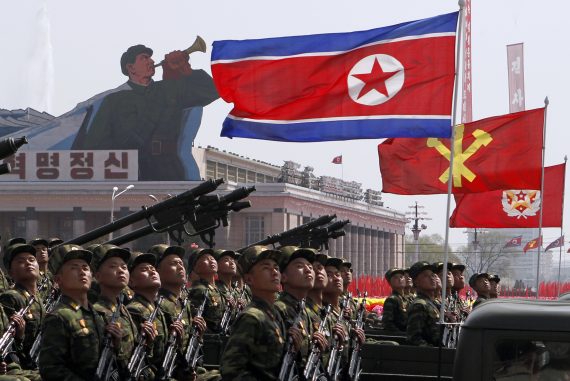 Early last week, in a story that only got minimal coverage here in the United States, a North Korean soldier defected to South Korea via a daring run across the Demilitarized Zone marking the border between the two countries. As he tried to escape, he was shot at by North Korean troops but managed to make it across anyway, at which point he was taken into custody by South Korean forces and appeared by all accounts to be safe in the Republic of Korea. Over the weekend, though, we learned that he was suffering from serious medical problems that could point to serious problems inside the North Korean military:
SEOUL, South Korea — A North Korean soldier's bold attempt to defect by crossing the heavily guarded border with South Korea galvanized attention this week.

But perhaps more surprising was the disclosure by surgeons struggling to save his life of what they found while repairing his intestinal wounds: dozens of parasitic worms, some as long as 11 inches.

"In my 20 years as a surgeon, I have only seen something like this in a medical textbook," said Dr. Lee Cook-jong, a lead surgeon.

The discovery opened a window on the dire conditions in North Korea, including poor hygiene and nutrition. The news shocked many people in prosperous South Korea.

Surgeons raced to save the North Korean soldier, whose name and rank have not been released, who sustained serious bullet wounds racing across the border while his own troops fired on him.

"We have found dozens of fully grown parasitic worms in his damaged intestines," said Dr. Lee Cook-jong, a lead surgeon. "It was a serious parasitic infection."

During a news briefing this week, Dr. Lee showed photographs of worms as long as 10 or 11 inches.

Experts in parasitic worms were not surprised, however. They said that the finding was consistent with the broad sense of conditions in the isolated, impoverished North.

Defectors to the South have cited the existence of parasites and abysmal nutrition. Because it lacks chemical fertilizers, North Korea still relies on human excrement to fertilize its fields, helping parasites to spread, the experts said.

In a 2014 study, South Korean doctors checked a sample of 17 female defectors from North Korea and found seven of them infected with parasitic worms.

The soldier's condition was particularly noteworthy because North Korean soldiers, especially those deployed near the border with South Korea, receive priority in food rationing. Yet, in addition to the parasitic worms, doctors found kernels of corn in his stomach.

South Korea itself was afflicted with widespread parasitic infections through the 1970s, when more than 80 percent of the population carried parasitic worms. After a 9-year-old girl died in 1963 and doctors found more than 1,000 parasitic worms in her body, the country launched a national campaign to eradicate parasites.

Schools collected stool samples from students and distributed anti-parasitic pills. The campaign succeeded: Parasitic infections have become rare in South Korea as hygiene and economic conditions have improved.

More than 30,000 North Koreans have fled to South Korea since a famine killed more than a million people in the North in the 1990s. Since then, international relief agencies have reported widespread malnutrition and stunted growth among many children in the North.
More from The Guardian:
Parasitic worms have been found in a North Korean soldier critically injured while defecting to South Korea, highlighting nutrition and hygiene problems that observers believe have plagued the isolated country for decades.

Dozens of flesh-coloured parasites, one of which was 27cm (11 inches) long, were found in the man's digestive tract during life-saving operations, according to the lead surgeon, Lee Cook-jong.

"In my over-20-year-long career as a surgeon, I have only seen something like this in a textbook," Lee said.

The parasites, along with kernels of corn in his stomach, appear to confirm what many experts and defectors have said about the food and hygiene situation for many North Koreans.

Prof Choi Min-ho of Seoul National University's college of medicine said: "Although we do not have solid figures showing health conditions of North Korea, medical experts assume that parasite infection problems and serious health issues have been prevalent in the country.

"[The man's condition is] not surprising at all considering the North's hygiene and parasite problems."

The soldier was flown to hospital by helicopter on Monday after his escape to South Korea under fire from North Korean soldiers.

He is believed to be an army staff sergeant in his mid-20s who was stationed in the Joint Security Area in the UN truce village of Panmunjom, said Kim Byung-kee from South Korea's ruling Democratic party. North Korea has not commented on the defection.

While the contents of the defector's stomach do not necessarily reflect the wider population, his status as a soldier with an elite assignment suggests he would at least be as well nourished as an average North Korean.

(…)

Parasitic worms were also common in South Korea between 40 and 50 years ago, Lee said, but disappeared as economic conditions improved.

Their continued prevalence in North Korea could be linked to the use of human excrement as fertiliser, often referred to as night soil.

Lee Min-bok, a North Korean agriculture expert, said: "Chemical fertiliser was supplied by the state until the 1970s, but from the early 1980s, production started to decrease.

"By the 1990s, the state could not supply it any more, so farmers started to use a lot of night soil instead."

Doctors said the soldier's height was 1.7 metres (5ft 7in) and his weight 60kg (9st 6lb). Use of the corn found in his stomach, which is cheaper than rice but less popular, has increased in years when North Koreans are more worried about harvests.

Between January and September, China exported nearly 49,000 tonnes of corn to North Korea, compared with 3,125 tonnes in 2016, according to figures from Beijing.
Malnutrition in North Korea is hardly a new thing, of course. The country has long been unable to feed itself without aid from China and the West, and it was just twenty years or so ago that several years of failed harvests led to famine that reportedly led to widespread starvation and death to an extent that the government never publicly acknowledged and which even today isn't fully known. One can also see the evidence of the inferior diet in the North in medical facts. For example, it's been reported that this soldier, who is believed to be in his late 20s is 5 feet three inches tall and weighs 132 pounds. By contrast, the average male high school age senior in South Korea is 5 feet 8 inches tall and weigh 154 pounds. There are similar statistics for the North Korean and South Korean populations as a whole that demonstrate the extent to which more than seventy years of dictatorial rule have had on that country.
As noted, the fact that a member of the North Korean military stationed at one of the most heavily militarized spots in the world was in such dire medical condition raises real questions about just how healthy the population in general, and the fighting forces of the North Korean in particular, actually is and what this could mean in the event of a future military crisis. Past reporting has always indicated that the leadership in Pyongyang has always made sure that the military is well-fed, well-supplied, and given special treatment not available to the general public. In part, of course, this is attribute to saying originally attributed to Napoleon that an army "travels on its stomach," meaning that a malnourished military will not be in proper shape to fight should the need arise. Additionally, though, there has likely always been a concern among those in the inner circle of the Kim regime that the biggest threat to their power would come from a military that was not treated sufficiently well. This isn't a concern unique to North Korea, of course. As we can see from the events currently going on in Zimbabwe, as well as past example of a military rising up against an authoritarian regime, the biggest threat to the power of a ruler like Kim Jong Un doesn't come from the people in the street or the American and South Korean military forces on the other side on the DMZ, but from the people around him, including the military. This is why dictators try to keep potential sources of rebellion happy and under control, because of the fear that they will rise up and threaten the dictators hold on power. The fact that this soldier, who was presumably among the supposedly elite forces stationed on the tripwire of the DMZ border, is malnourished and infected with worms is, potentially, a sign that things aren't quite as good for the military in the DPRK as we've been led to believe.
The other takeaway from this, of course, is what it tells us about the probable condition of the civilian population inside North Korea. We don't often get to see what's going on there, of course, and when we do it's from reports from western news agencies taken on carefully guided tours of the country. These tours inevitably show us seemingly healthy, happy people making their way around Pyongyang and perhaps some limited views of the countryside, but that's about it. We don't get to ee what life is like for the average North Korean, much less what conditions people who live in the rural and mountainous areas of the country might be dealing with.Suffice it to say, though, that if members of the military stationed at the DMZ are malnourished and infested with parasitic worms, then one can only imagine what the general population is going through.