A Question About Mark Kelly's Decision To Return To Space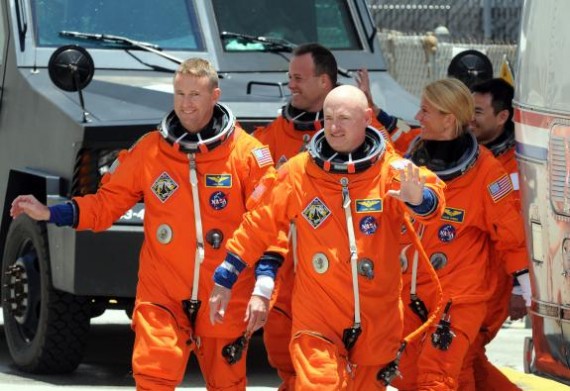 As I noted yesterday, Mark Kelly, the husband of Congresswoman Gabrielle Giffords, will command the final mission of the Shuttle Endeavour, currently scheduled for April but possibly being pushed back to June. Today, The New York Times has an article up discussing the supposed controversy that this decision has created in some circles:
That decision marked the latest breathtaking turn in a marriage between two accomplished people that through the intrusion of tragedy has become part of the public domain. They have become the nation's couple, this wounded congresswoman and this duty-bound astronaut, in ways that transcend their shared commitment to public service — so much so that many turned to the Internet to suggest what was best for this husband and wife.

Should he stay by his wife's side? Or should he lead the mission he had trained for well more than a year to lead? Is it bullheaded of him to go on such a risky business trip? Or is this what she wants him to do, expects him to do? And how does a two-week trip to space compare to a yearlong tour in Afghanistan by soldiers with complicated domestic situations of their own?

Though a few criticized Captain Kelly's decision — saying his duty was to be at his wife's side, not in space — the general consensus appeared to be that the astronaut had made the correct and courageous move.

"I imagine a woman of strength and character such as hers wouldn't have wanted it any other way," wrote Joellelevand on Jezebel, a pop-culture blog geared to women. And on the NASAWatch blog, Jsonova99 wrote, "He's a pro and I have no doubt he'll bring his A game to the mission."

Meanwhile, in the real and not virtual world, the congresswoman's staff members were elated with the commander's announcement. "We all were kind of hoping this would be the decision he would make," said Pia Carusone, the chief of staff for Ms. Giffords. "There's no doubt in anyone's mind that this is what Gabby would want."

Still, some people questioned the choice. "The truly courageous and strong thing to do is to be an accessible partner to your disabled wife who is now relearning almost every function of her body and intellect," one reader wrote to The New York Times Web site. "Just sayin'."

When asked about his "just sayin' " critics, Captain Kelly said that many people do not know what the Giffords and Kelly families know about Ms. Giffords's condition, her support system and her admiration for the space mission. "I think if they had more details about those things, you'd probably have less people being critical," said the astronaut, who wore a blue wristband decorated with a peace sign, a heart sign and the name "Gabby."
On some level, I think that anyone who would presume to judge Kelly for this decision is really being incredibly presumptuous. It's unlikely that anyone knows Gabrielle Giffords as well as he does, and when he says that she'd want him to go, then it's something that should be believed. Especially when it's combined with the fact that the Congresswoman's friends, staff, and family are all saying that they support the decision. Nonetheless. as with every high-profile event in this country, people feel the right, if not the need, to chime in with their own opinion.
So, I'll throw this one out for comment. Are people making too much of this, and shouldn't we just leave Giffords and Kelly alone at this point?