A Reminder of the Gutless and Feckless
A number of GOP politicians criticized Trump over 1/6 and some resigned.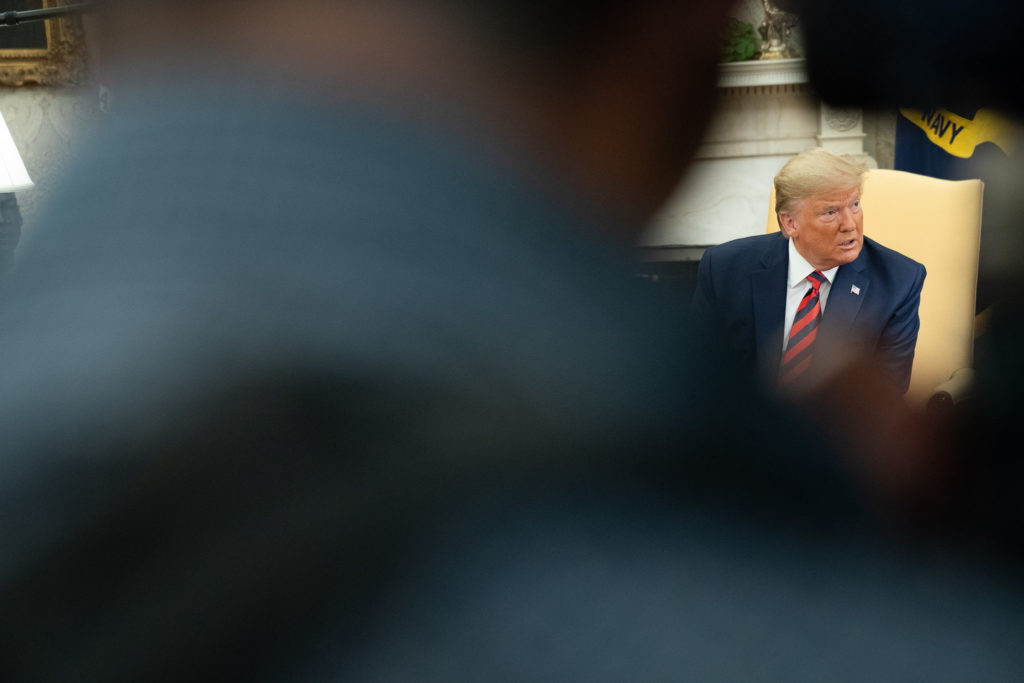 Politico has a piece, They resigned in protest over Jan. 6 — then never went after Trump again, that reminds us all that a number of GOP politicians, including members of the Trump administration, publically decried 1/6 and directly linked Trump to the actions of that day. Many, in fact, resigned over those events in an attempt to separate themselves from Trump. While it was obvious at the time that many of those resignations (a mere two weeks before they would be out of jobs anyway) were just rats leaving a sinking ship, there was some hope that the shock of the day had awakened some in the GOP to what they had wrought. Of course, as soon as it was clear that the political winds were still pro-Trump, all of that stopped (and in many cases, the rhetoric reversed).
Here, for example, is the fearless leader of the GOP in the House, Kevin McCarthy in the immediate aftermath:
On the House floor that day, Republican House Minority Leader Kevin McCarthy said Trump "bears responsibility" for the "attack on Congress by mob rioters" and advised Congress to censure the president.
Of course, it didn't take long for McCarthy to be a supplicant at Mar-a-Lago.
And here's Senator Backbone himself, Lindsey Graham:
"Count me out," said Trump's closest confidante in the Senate and favorite golf partner, Sen. Lindsey Graham. "Enough is enough."
By May, WaPo was reporting: Lindsey Graham says Republican Party can't move forward without Trump: 'We can't grow without him'.
Other examples of the immediately critical, and yet ultimately silent are as follows (with fuller discussions in the linked piece). This is a true roster of the feckless, who knew in the moment what the right thing to do and say was, but time has revealed their true characters:
Former attorney general William Barr called Trump's behavior "a betrayal of his office and supporters."

[…]

In the aftermath of the riots, then-Transportation Secretary Elaine Chao was the first cabinet official to resign.

[…]

Education Secretary Betsy DeVos submitted her letter of resignation the day after the Jan. 6 riots and wrote to Trump, "There is no mistaking the impact your rhetoric had on the situation, and it is the inflection point for me."

[…]

After serving as Trump's acting chief of staff, Mick Mulvaney accepted the role of U.S. special envoy to Northern Ireland. But following the Jan. 6 riots he announced during a live interview on CNBC he was stepping down. "I called [Secretary of State] Mike Pompeo last night to let him know I was resigning from that. I can't do it. I can't stay," Mulvaney told CNBC's "Squawk Box." Mulvaney said Trump was "not the same as he was eight months ago."

[…]

Deputy national security adviser to Trump, Matt Pottinger, resigned on the afternoon of Jan. 6 as the riots unfolded on Capitol Hill.
Stephanie Grisham, the First Lady's Chief of Staff, resigned wrote a book, and has continued to criticize. She has not re-entered politics at this point. She is the only example of someone resigning and continuing to criticize.
Again I would stress that they knew immediately that the right thing to do was to distance themselves and to denounce Trump. But once it was clear that large numbers of their co-partisans either didn't really care or, worse, saw the 1/6 insurrection as just part of the lies about the election, the right thing to do was tossed out the window.
The piece concludes with this list as less well known members of the administration:
Other officials who resigned over Trump's behavior on Jan. 6 included one of Trump's top economic advisers, Tyler Goodspeed; deputy press secretary Sarah Matthews; White House social secretary Rickie Niceta; and John Costello, a deputy assistant secretary of Commerce who now serves in the Biden administration. Goodspeed and Matthews did not respond to a request to comment. Niceta and Costello declined to comment.

Elinore McCance-Katz, who was assistant secretary of the Department of Health and Human Services for mental health and substance use; Eric Dreiband, assistant attorney general in charge of the civil rights division; Ryan Tully, senior director for European and Russian affairs at the National Security Council; and FAA officials Arjun Garg, Brianna Manzelli, Kirk Shaffer, Bailey Edwards and Andrew Giacini also all resigned in the aftermath of Jan. 6. Garg, Manzelli and Giacini declined to comment, while McCance-Katz, Dreiband, Tully, Shaffer and Edwards didn't respond to a request for comment.
Look, the notion that a number of people have chosen to get on with their lives is not the real story here. The real story is that after the dust of 1/6 settled, the narrative in broader GOP circles is that it didn't matter and, worse, that it wasn't something that should be criticized or even seriously investigated. This created the climate that meant the lower-level types who resigned ended up choosing being able to work and earn a living over continuing to speak out. That may well be a critique of their characters, but the real problem is that people like McCarthy, Graham, Barr, and others decided to either be utter opportunists (or, in Barr's case to quietly go into retirement) and wash their hands of the whole thing that they helped build.
It is hardly shocking to learn that people in politics are self-centered and amoral. What is disappointing and concerning, however, is that the prevailing reaction to 1/6 by far too many GOP primary voters, in particular, has been shrugged shoulders or the belief that it was all a false flag operation ginned up by Antifa. What should have been enough to shock most people into deep concern about the direction of the GOP (as the initial reaction of this parade of people shows) has become, along with the lies about the election itself, part of a false narrative that combines denial and acceptance of what should be unacceptable. Those voters have created the context in which McCarthy and his ilk see their ticket to re-election and, in his case, the Speakership.
I fear we will see more of this this week as we hit the anniversary of those events.