A Republican Senate In 2013?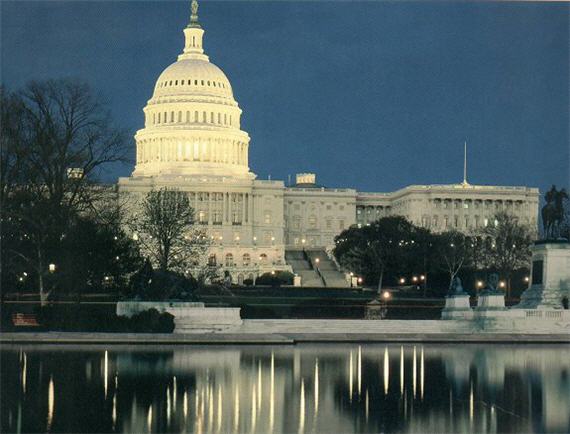 The GOP is becoming more confident of their ability to attain a Senate majority in the 2012 elections:
WASHINGTON — Just two years after watching Democrats claim a 60th seat in the Senate, Republicans are heading into the 2012 election season well positioned to challenge them for control of the chamber, giving the party reason for optimism even as it worries about the strength of its presidential field.

With Democrats defending 23 seats to their 10, top Republicans believe they have a built-in advantage in their drive to pick up at least the four seats that would vault them into the majority even if President Obama wins a second term and Vice President Joseph R. Biden Jr. remains able to break Senate ties. And they calculate that their chances are enhanced because important races will be in relatively conservative states like Montana, Nebraska and North Dakota.

"With our encouragement, I do think people are focusing on the Senate and how that can be the place where we can pick up the most yardage in 2012," said Senator John Cornyn of Texas, chairman of the National Republican Senatorial Committee.

Democrats are hardly conceding the Senate, and even though the election is 18 months off, campaigns are quickly moving into high gear and contenders are scurrying to raise the millions of dollars they will need.

In Montana, Senator Jon Tester, the Democratic incumbent, is already engaged in a full-blown fight with his Republican opponent, Representative Denny Rehberg. An advocacy group is advertising in Massachusetts against Senator Scott P. Brown, a Republican and a top target of Democrats. Potentially vulnerable incumbents are busily crisscrossing their states.

"I am going like there is no tomorrow," said Senator Bill Nelson, Democrat of Florida, who faces a tough race in a major battleground state.

The announcement Friday by Senator Herb Kohl, the four-term Wisconsin Democrat, that he would not seek re-election only added to the difficulties facing Democrats, depriving them of a relatively popular incumbent who could have financed his own campaign. Mr. Kohl's exit instead left Democrats with another open seat to protect — their sixth — and added Wisconsin to the list of more than a dozen high-wattage races that will decide control of the Senate, which is now split 53 to 47.

Republicans are even trying to turn concerns about their uncertain prospects in the presidential race into an opportunity in the battle for Senate supremacy, arguing that a Senate takeover could fundamentally alter the balance of power in Washington even if Mr. Obama won a second term. They are making the case to donors and voters that winning a Senate majority would give the party control of Congress and a united front against the president from Capitol Hill if Republicans hold the House.

It is not lost on Republicans that the last time a Democratic president won a second term, when Bill Clinton was re-elected in 1996, Senate Republicans still expanded their numbers.

"I am hoping he is not re-elected," Senator Mitch McConnell of Kentucky, the top Senate Republican, said about Mr. Obama. "But it is notable to look back at 1996, when we gained two seats even when we did not succeed. We are focused like a laser on trying to get over the top in the Senate, and we have a reasonable shot."

Reince Priebus, the chairman of the Republican National Committee, said that the fight for control of the Senate was among the highest priorities for the party, and that while activists were eager to reclaim the White House, the Senate provided an easier path to changing the direction of Washington.

"The fact that Democrats are running for the hills is making it easier for us to win back the Senate and take full control of the legislative agenda," Mr. Priebus said in an interview.
Given the propensity that American voters have shown for divided government, it wouldn't be all that surprising if they re-elected Barack Obama while at the same time giving the GOP control of both Houses of Congress. Can you say gridlock?