Abu Khattala Will Be Tried In A Criminal Court, As He Should Be
The justice system works, there's no need to scrap it.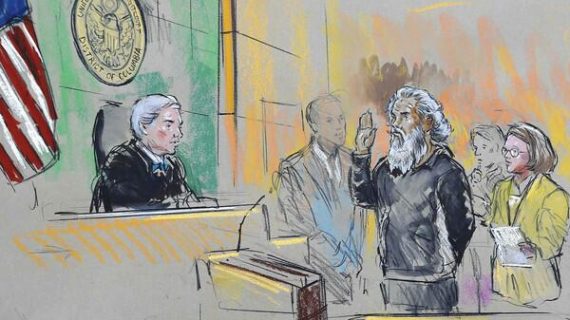 Some ten days after he was captured, Ahmed Abu Khattala, a prime suspect in the September 2012 attack on the U.S. diplomatic outpost in Benghazi was brought to a courthouse in Washington, D.C. to appear before a Federal Judge, this beginning the criminal process against him:
WASHINGTON — The Libyan militia leader charged in connection with the 2012 attacks in Benghazi that killed the United States ambassador and three others was brought to Washington early Saturday, where he entered a not guilty plea at the federal courthouse, formally opening one of the most complicated terrorism cases the Justice Department has mounted in recent years.

The suspect, Ahmed Abu Khattala, was flown to Washington by helicopter from a Navy warship that had steamed across the Atlantic Ocean from the Mediterranean Sea after he was captured by American commandos at a seaside villa near Benghazi two weeks ago.

Moving Mr. Abu Khattala to Washington to face charges was a significant step for the Obama administration, which had been criticized for moving too slowly to apprehend suspects. Both Democrats and Republicans had injected partisan statements into the debate over proper embassy security and accurate assessments of militant threats. Some also questioned the decision to prosecute Mr. Abu Khattala in civilian court, rather than through a military tribunal at Guantánamo Bay, Cuba.

Mr. Abu Khattala's appearance at the United States District Court here spurred a scene that rarely unfolds at the court. In the hours before the hearing, federal marshals wearing bulletproof vests and holding machine guns roamed the streets outside the courthouse, about a mile from the White House, while marked and unmarked government vehicles patrolled nearby.

At the hearing before Magistrate Judge John M. Facciola, the first two rows of the courtroom were filled with senior federal prosecutors and plainclothes F.B.I. agents. Among the prosecutors was the United States attorney for the District of Columbia, Ronald C. Machen Jr., who rarely attends trials, let alone arraignments.

The hearing lasted about 10 minutes and was uneventful. Instead of the jail uniforms defendants typically wear, Mr. Abu Khattala wore a long-sleeved, black shirt with a hood and black pants. He listened through a headset to an interpreter who translated the proceeding into Arabic.

Mr. Abu Khattala said only two words at the hearing. Speaking in Arabic, he answered "yes" when asked whether he swore to tell the truth and "no" when asked whether he had any difficulty understanding what was being said.

Prosecutors have indicted him on one count of conspiring to provide material support and resources to terrorists that resulted in a death; a conviction can carry up to a life sentence. But that single count is a placeholder for more charges the government is expected to file in the coming weeks, and it allows the government to hold Mr. Abu Khattala now without revealing its entire case against him.

A public defender, Michelle Peterson, entered the not guilty plea for Mr. Abu Khattala.

Several minutes after the hearing, marshals blocked off the streets around the courthouse. A motorcade of black sport utility vehicles and a police car with its siren blaring sped from the courthouse to the jail where Mr. Abu Khattala will be held.

The judge scheduled a detention hearing for Wednesday and a status hearing for July 8.
During the ten days between Abu Khattala's arrest and his arraignment, he was held aboard a U.S. Navy vessel as it made its way back to the United States. While onboard, he was questioned multiple times by American law enforcement and intelligence and, while some reports have described him as having been cooperative during this period but that they believed he was holding some information back. In any event, Abu Khattala received his Miranda Warnings before leaving this ship. That, along with the fact that he is being tried in a criminal court at all is causing some conservatives to criticize the Administration:
 While the suspected mastermind of the 2012 attack on a U.S. diplomatic mission in Benghazi is now on U.S. soil, the political fallout related to his prosecution may just be beginning.

The criminal complaint against Ahmed Abu Khatallah was filed nearly a year ago, and he was nabbed two weeks ago in eastern Libya. He appeared in a federal court in Washington on Saturday – much to some Republicans' chagrin.

"I have serious concerns that conducting a rushed interrogation onboard a ship and then turning Abu Khatallah over to our civilian courts risks losing critical intelligence that could lead us to other terrorists or prevent future attacks," Sen. Kelly Ayotte, R-New Hampshire, said in a statement Saturday. "I've asked the Defense and Justice Departments for an update on his status-including whether he has been told he has the right to remain silent."

Shortly after the White House announced Abu Khatallah's capture on July 17, Republicans like Florida Sen. Marco Rubio began to criticize President Barack Obama's administration because they believed the alleged terrorist should go through a military tribunal at Guantanamo Bay instead of being tried in a federal court.

"If they bring him to the United States, they're going to Mirandize this guy and it would be a mistake for the ages to read this guy his Miranda rights," said South Carolina Sen. Lindsey Graham.

But the White House has defended its decision, saying that they have successfully tried a number of terrorists domestically and that no new captives have gone to the Guantanamo Bay detention facility in years.

"We have not added a single person to the GITMO population since President Obama took office, and we have had substantial success delivering swift justice to terrorists through our federal court system," National Security Council Spokeswoman Caitlin Hayden said in a statement the day the capture was announced.
Power Line's Paul Mirengoff makes a similar argument:
Our government desperately needs to learn about the terrorist networks that have emerged in North Africa. The capture of Abu Khattala provided a golden opportunity. Reportedly, he has been a "spiritual leader and financier" for various Libyan terrorist groups, including Ansar al-Shariah.

I consider it scandalous that the Obama administration would compromise our ability to obtain information from Abu Khattala on an ongoing basis just to secure a criminal conviction in federal court. In a nation whose president and Congress are serious about protecting the U.S. from attacks — be they in Libya or New York City — this terrorist would go straight to Gitmo and, if necessary, be subjected to enhanced interrogation techniques.

The Obama administration is perennially surprised by the terrorism that occurs in North Africa and the Middle East. Will it surprised by terrorism exported from these regions to our homeland?
In many respects, the complaints about the idea that Abu Kattala is being tried in a civilian court rather than sent to Gitmo is identical to the same complaints we heard just over a year ago when Dzhokar Tsarnaev was finally caught in the Boston Marathon bombing case. At that time, many of the same people complaining now about the treatment of Abu Khattala were arguing that Tsarnaev should be treated as an enemy combatant not a criminal, even though the attack that he took part in occurred on American soil and he was captured on American soil. Others objected to the idea of Tsarnaev being read his Miranda Warnings within days after his arrest, arguing that CIA and FBI interrogation teams should be given more time to interrogate him to see if there were confederates in the plot that he and his brother Tamerlan had undertaken. At least initially, Tsarnaev was not read his Miranda rights, an action which the Justice Department justified under the "public safety exception" to the general Miranda rule. owever, within three days after he was captured hiding in a boat in a backyard in Watertown, Massachusetts, Tsarnaev was read his Miranda rights and the criminal case proceeded forward.
There are differences between Tsarnaev and Abu Khattala, obviously. Tsarneav was a naturalized American citizen who committed a crime on American soil. Abu Khattalah is a citizen of Libya who committed a crime against Americans on Libyan soil, although it's worth noting that diplomatic outposts are, at least in some technical sense, American soil and the murders committed on those premises clearly fall within the confines of Federal Law. For the most part, though, the differences between the two men and their criminal acts is irrelevant from a legal point of view. Abu Khattala committed a crime under American law, and indeed he was indicted for that crime long before he had been captured in Tripoli earlier this month. Because of that fact, a process was set in motion regarding how matters against him would proceed in much the same way they were from the moment that the Criminal Complaint was filed against Tsarnaev shortly after he had been captured. American intelligence officials had nearly two weeks alone with the man to question him and, to the extent that he was going to be cooperative all, it's likely that they got everything out of him that they were going to get. There was no reason to delay legal procedures any longer.
As for the argument that Abu Khattala should have been sent to Gitmo and treated as an enemy combatant, that is an argument that is based in the end on the view held by many Republicans that in the "War On Terror" is a battlefield. Abu Khattala was not captured on a battlefield, though, he was arrested by American forces in the capitol of a nominally friendly nation. There is no rational reason to throw him into a prison with dubious legality to begin with. Instead, as we have done with dozens of terror suspects since September 11, 2001, we should put him on trial before the world and let our justice system deal with him. That system isn't perfect, but it has served us well for 200 years now and there's no reason to abandon it in the name of the "War On Terror."