Acceptable Ukraine End States?
What will Zelensky, Putin, and the West settle for?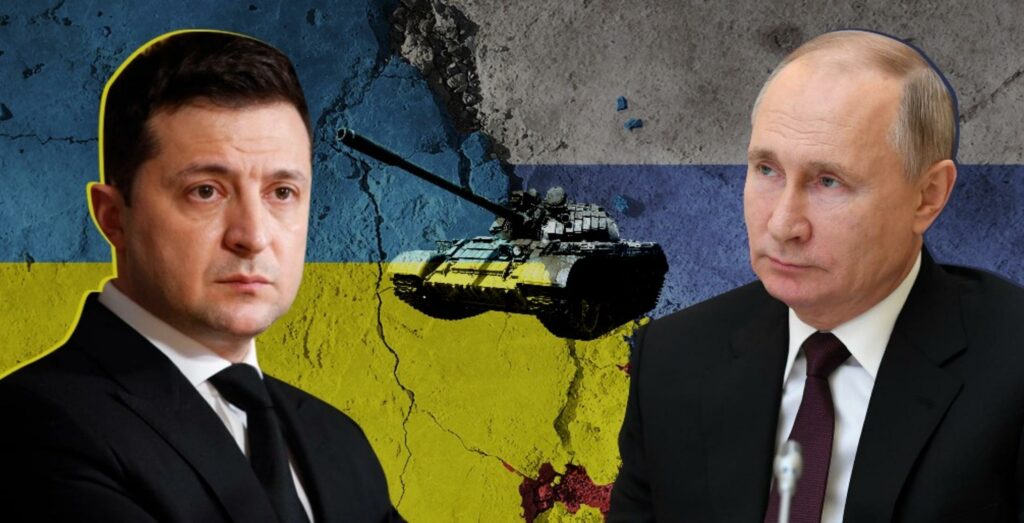 Since Russia invaded Ukraine, and especially once it became clear that Putin's forces were not going to achieve an easy victory, I have been struggling to figure out how the conflict could be resolved. Ideally, for pretty much everyone except Putin, Russia would suffer a humiliating and total defeat that sent all its troops scurrying back across the border, with Ukraine restored to its pre-2014 state of sovereignty, and with Putin dead or in irons awaiting international war crimes trials. But, to put it mildly, that's incredibly unlikely. Putin will almost certainly avoid that humiliation down to the last Russian soldier.
Any negotiated settlement, on the other hand, requires Ukraine to concede enough to allow Putin to declare victory. And, not only is President Zelensky loathe to give up anything to the monster who has killed so many of his people but the Western countries backing him may not be willing to lift sanctions on Russia if that appears to reward Putin's crimes.
John Hudson, Michael Birnbaum and Karen DeYoung encapsulate a lot of this in a longish analysis for WaPo ("Mixed signals from Ukraine's president and his aides leave West confused about his end game")
The mounting death toll in Ukraine has forced President Volodymyr Zelensky to consider concessions to Russia in order to bring an end to the devastating conflict, but the specific elements of any peace deal his government may be discussing with Moscow remain a mystery to Western leaders, said U.S. and European officials.

[…]

The conflicting forecasts have led to some confusion among Western leaders who see limited movement toward reconciling Russia's demands with what Ukraine would find acceptable. Moscow has called for the full demilitarization of Ukraine and for Kyiv to recognize the Crimean Peninsula, annexed by Moscow in 2014, as Russian territory and the breakaway regions of Donetsk and Luhansk as independent countries. Moscow has also called for the "de-Nazification" of Ukraine, a Kremlin term believed to mean the dissolution of the Zelensky government. Ukrainian officials have said all four demands are non-starters but have been open to discussing the issue of neutrality and the country's relationship to NATO.

"There's no indication on our end that the Ukrainians are suing for peace. They want to fight," said a senior U.S. official.

When asked to account for some of Ukraine's optimistic messaging about a deal, the official said "we've been puzzling over this too. We've been getting mixed messages."

A second U.S. administration official said Ukraine's statements suggest that Zelensky and his top aides haven't come to a firm conclusion on what the Ukrainian people are willing to concede in exchange for a cease-fire and withdrawal of Russian troops.

[…]

Others close to Zelensky say he is under extraordinary pressure to convey progress in negotiations with Russia even if the reality is less sanguine.

"Many Ukrainians are now suffering enormously. That puts our delegation under pressure to show some kind of progress in the talks," said Yuri Vitrenko, the CEO of Naftogaz, the country's largest state-owned oil and gas company.

"There are people in Ukraine who say 'we don't want to hear about talks, we want to fight until the end.' But others are saying 'at least try to negotiate.' That's why for the negotiating team, it's important to be constructive," he said.

[…]

Speculation about an emerging peace deal surged on Wednesday following a report in the Financial Times that Ukrainian and Russian negotiators discussed a 15-point draft on Monday that would see Kyiv renouncing its ambitions to join NATO and swear off hosting foreign military bases or weaponry in exchange for security guarantees from countries such as Britain, the United States or Turkey.

That same day, Russian Foreign Minister Sergei Lavrov said that Ukraine's "neutral status is now being seriously discussed" and said the two sides "are close to agreeing." A day earlier, Zelensky said Ukrainians "must admit" that the West has indicated Ukraine won't be a member of NATO — remarks that seemed designed to prepare the Ukrainian people for concessions.

But officials from Russia and Ukraine later denied that the 15-point plan represented a possible solution, and Ukrainian officials said most of the reported document was merely a restatement of Russian positions.

Zelensky will have to sell any peace deal to his own people — a tricky task if he is forced to concede too much. He has been a wildly popular wartime president, but he was an unpopular peacetime one. And Ukraine's westward ambitions have only been strengthened by Russia's assault. Before February, many residents of cities like Kharkiv were sympathetic to Russia. Now much of the city has been reduced to rubble, and pro-Russian voices have turned into fiercely pro-Kyiv ones.

In Ukraine's second-largest city, a furious rain of bombs and rockets takes a toll: 'There are no coffins left'

Any potential deal will also require buy-in from the West, which will need to lift sanctions on Moscow in exchange for its withdrawal of Russian forces.
Maj. Gen. Mick Ryan, who recently retired from the Australian Defense Forces, argues that "Putin needs a revised theory of victory that excludes the capture of Kyiv."
American scholar Eliot Cohen describes this as "a story line explaining why we think things will turn out the way we wish". The Russian President needs a story line that preserves his presidency, relaxes some of the sanctions strangling his country, and gives the appearance that the massive military failure in Ukraine bore some success for Russia.

Kyiv, the capital of Ukraine and the heart of the resistance to the Russian invasion, might seem to be the answer to Putin's wishes. It is currently the main effort for the Russian military campaign as it slowly approaches, attempts to encircle and then capture the city.

This is an unlikely outcome, however. The Russian forces in Ukraine are under severe strain. According to official US sources and news agencies, the Russians have lost about 10 per cent of their manpower killed or wounded in the past three weeks. At the same time, their logistics have been found wanting, their soldiers are going hungry, they are being targeted because of the use of insecure communications and are probably running out of precision weapons.

[…]

Putin may need to look elsewhere to satisfy his theory of victory. The south and south-east of the country are probably where he will look to for his "victory".

Russian forces have seized almost all of Ukraine's coastline. This includes a large proportion of Ukraine's ability to trade with the outside world. The only city remaining in the path of the Russian military in the south is Odessa. But the Russians probably don't need to seize that city to declare a successful campaign in the south. It has already delivered a corridor from Crimea to Russia, and a larger defensive buffer for Russia north of the Crimean Peninsula.

In the south-east, the Russians have made steady progress. Russians, and their proxies, continue to pressure Ukrainian forces in Luhansk and Donetsk, while advancing from the north and the south in a pincer movement to encircle all Ukrainian forces east of the city of Dnipro.

If the Russians were able to achieve this – and it is no foregone conclusion that they can – they might then destroy Ukraine's military forces defending the south-eastern part of the country. And it might give the Russians a large swathe of territory that can be a bargaining chip in negotiations over an armistice or peace treaty. Of course, they might also want to keep it, but it is almost certain they would then face a Ukrainian insurgency.
Ultimately, Ryan doesn't provide a precise solution, just a direction: accepting half a loaf based on territory already controlled.
The obvious settlement is one in which Ukraine concedes Crimea, which is already a fait accompli, as well as Eastern Ukraine to Russia along with a pledge to never join NATO. That would be a bitter pill, indeed, for Zelensky. But he's more-or-less made the NATO pledge already and Crimea was gone years ago.
Would President Biden and other Western leaders go along with this? I'm not so sure. While far short of his original war aims, it would be a clear victory for Putin and a massive reward for his atrocities.
Then again, the West has very little skin in this game. We're supplying massive amounts of weapons to help the Ukrainians fight on. But will that be enough to achieve a total victory? If not, how many Ukrainians do we want to die by prolonging this fight for months, or even years?
Which leaves me where I've been for weeks: I simply don't know the answer to these questions.