Achieving Workplace Diversity
It takes a whole lot of work to net small gains for underrepresented groups.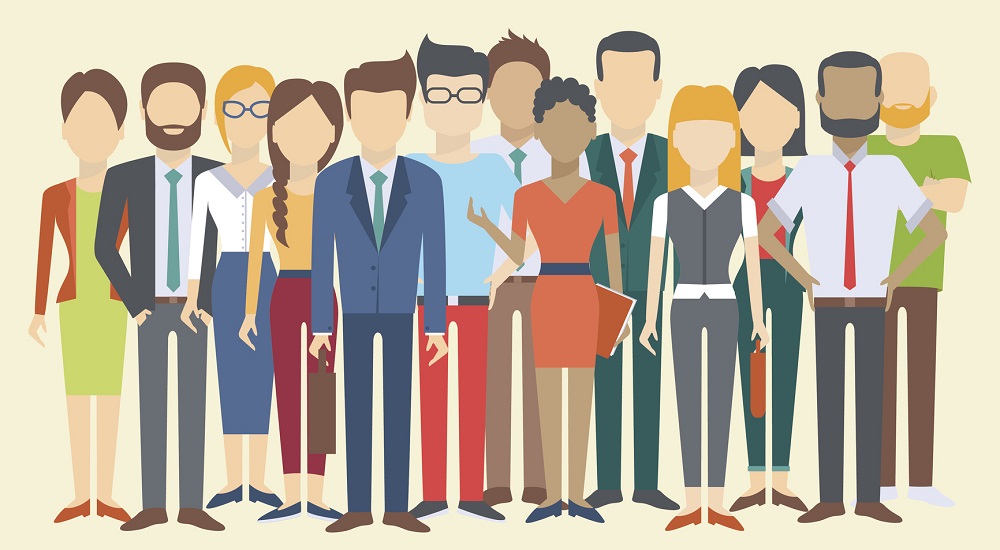 Jessica Nordell's report on "How Slack Got Ahead in Diversity" demonstrates that it takes a whole lot of work to net small gains for underrepresented groups. The setup:
Slack has been outperforming other Silicon Valley companies, and its current numbers show that the trend has continued. At Google, Facebook, and Microsoft, women hold between 19 percent and 28 percent of leadership positions and between 19 percent and 20 percent of technical roles, according to those companies' most recent figures. At Slack, women make up 31 percent of leaders and hold 34 percent of technical roles. Also, in Slack's U.S. workforce, percentages of underrepresented minorities (including black or African-American, Hispanic or Latino, or American Indian or Alaskan employees), are, in some cases, triple that of peer companies. At Google, Facebook, and Microsoft, underrepresented minorities hold between 4 and almost 8 percent of technical roles and make up less than 11 percent of all employees. At Slack, by contrast, underrepresented minorities make up almost 13 percent of technical roles and roughly 13 percent of all employees; they also make up 6 percent of leadership. The number of Hispanic women at the company has more than doubled since last year. The number of Hispanic men more than quadrupled.
These are rather stark differences. It wasn't easy:
For one thing, the company has, since 2015, proactively sought out candidates from outside traditional programmer pipelines like Stanford and MIT, recruiting through all-women's coding camps like Hackbright, as well as programs that focus on training black and Latino programmers such as Code2040. Recruiters are trained to look at skills rather than a candidate's university pedigree. In 2015, Slack worked with Textio, a company that analyzes job descriptions to ensure they appeal to the widest possible audience. (Slack's job descriptions feature phrases like "care deeply" and "lasting relationships," which statistically draw more applications from women. Microsoft's, by contrast, feature words like "insatiably" and "competing." Amazon's keywords: "maniacal" and "wickedly.")

The company has also worked to eliminate opportunities for bias to creep into its hiring process. The "whiteboard interview," for instance, is a classic part of software hiring in which candidates are asked to solve a coding problem in real time. But tracing one's thought process with a dry-erase marker in front of a live, skeptical audience can create extra stressors for people from underrepresented groups. Interpersonal phenomena like stereotype threat, in which people from stigmatized groups spend mental energy grappling with negative stereotypes about those groups, can lead women and minorities with the same skills to perform more poorly.

So, from the beginning, Slack forwent whiteboard interviews in favor of a blind code review—modeled on the blind auditions that orchestras hold—in which candidates are given a problem to complete at home. All personal identifiers are wiped from each candidate's homework, which is then evaluated against a rigorous checklist. Not only does this help eliminate stereotype threat, but it assures candidates they'll be judged fairly. When it became clear, last year, that this approach presented additional challenges for candidates who cared for children and didn't have dedicated time for homework, the company shifted gears again. Candidates now have the option to do the assignment in the office if they prefer. "It's a huge competitive advantage to be empathetic," Grace told me. "Candidates know that the company is excited to accommodate them."

In 2016, Slack also revamped how it interviews candidates. Bias has the potential to wreak havoc on that process: Interviewers may inadvertently favor candidates who resemble themselves, and if criteria for a job are ambiguous, interviewers may mentally rejigger those criteria to fit whatever a favored candidate has. The technical term for this is "redefining merit," and it's a classic manifestation of bias. (In one study, people evaluating candidates for police chiefs were asked whether education or experience were more important for the job. When the male candidate had more education, they said education was more important. When the female candidate had more education, they preferred experience.)

So a team at Slack rebuilt the interview process. For each role, the team determined what characteristics and skills a successful candidate should have—communication skills, say, or capacity for teamwork. Then, for each of these, they defined what information they needed to assess those skills, and then devised a list of behavioral questions expressly aimed at sussing out that information, questions like "Tell me about a stressful situation, and how did it go?" or "Tell me about a change to your code base." Each candidate now faces the same set of questions. "If you ask every candidate the same question," Grace told me, "you start to see what a good answer looks like."

Finally, interviewers were asked to do mock interviews with existing employees, the way doctors practice on fake patients. The interviewers themselves became more skilled—and less likely to introduce biases that could filter out good candidates.

This approach, in aggregate, seems to be working: Women in technical roles, for instance, are up almost 5 percentage points from last year. "Folks on my team very regularly talk about how this is the most diverse company that they've ever worked at," Grace told me.
In order to make slow but steady gains in diversity, then, Slack has had to upend the entire culture of the tech industry and, indeed, most of the business world.
Hiring mostly from Stanford and MIT (and a handful of other great tech schools) is perfectly understandable, since their selection processes ensure people with strong aptitude and work ethic. But, in a world where women have outnumbered men in the undergraduate student body for decades, the reverse is true at both Stanford and MIT. Both schools have done a reasonable job of attracting African American and Hispanic students but they're still underrepresented. (Stanford hits above the national average for Hispanics, but well below California's demographics).
The other steps taken are intriguing and likely wouldn't have ever occurred to me.
Having applied for a handful of jobs in the media sector, I always took signals in the job announcement that they expected the eventual hiree to work an inordinate amount of hours for not that much money as a helpful sign that it would suck to work there. But it's likely true that more men than women have the flexibility and desire to apply for jobs with words like "insatiable" and "maniacal" in the announcements. Conversely, if I saw "care deeply" and "lasting relationships" in the announcement, I would take them as virtue signaling, not a thing for which they were actually screening.
Speaking for myself, I find questions like "Tell me about a stressful situation, and how did it go?" incredibly frustrating. My brain just isn't wired to answer that sort of thing off-the-cuff. I don't have a catalog of "stressful situations" in my memory banks; I just deal with things as they come and move forward. There's no obvious reason, though, that the question would have implicit gender or cultural biases.
While the tech world has to overcome "bro culture" and underrepresentation of women in the academic pipeline, achieving diversity there may actually be an easier task than it is in more people-oriented industries. With some work, it would seem relatively easy to figure out what skills one needs in a coder or designer and systematically test for those.
Having sat on numerous hiring committees, we all bring implicit and explicit biases to the table. Granting that academic and think tank hiring is somewhat different from that in Silicon Valley, most of us genuinely want to diversify our team. But we certainly privilege candidates from prestige schools, for example; that's true even of those, like myself, who did not graduate from one. We look for certain career paths on the CV, tending to weed out those that deviate too much from the norm.
We don't have a whiteboard coding demonstration but we do have a teaching demonstration. Given that our students are mostly uniformed military officers in their 30s, that's almost certainly to the disadvantage of women and very young candidates. But I haven't the foggiest idea what we would substitute for that exercise to suss out those who lack the personality to be effective in the classroom.
The interview process is problematic all the way around since it's nearly impossible to recognize our own biases. We do in fact use standardized questions for each candidate in the pool but we certainly don't do multiple rounds of practice interviews ahead of time. Since we do the interviews ourselves, rather than outsourcing to a human resources team, that would be an unreasonable burden. But, of course, the interview process rewards those who are comfortable in the setting and penalizes the awkward and introverted. Then again, the whole process advantages extroverts; I'm not sure how to fix that—or whether we'd even want to.
Additionally, we live in a social media world. We can make résumé scanning and test evaluation blind by removing names and other signifiers of gender and ethnicity. Presumably, though, firms will do due diligence in searching for LinkedIn, Twitter, Instagram, and other open accounts. I suppose doing so later in the process rather than earlier would minimize the bias reintroduced by the search.