Administration Claims Success In Effort To Fix ObamaCare Website, But Victory Far From Clear
The Federal Exchange website seems to be functioning better, but many questions about implementation of the PPACA remain to be answered.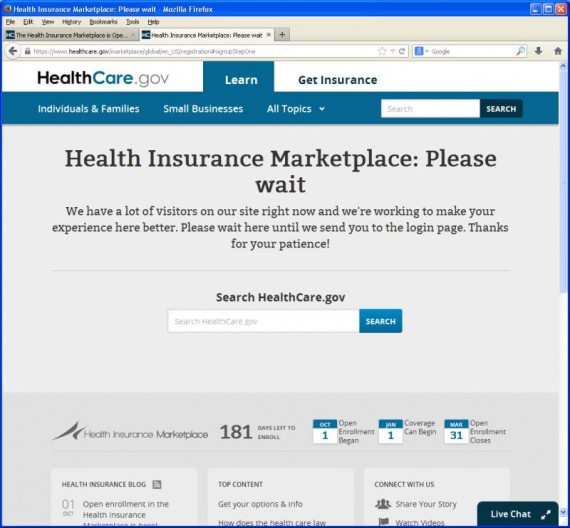 Not surprisingly, the White House is claiming that it has largely succeeded in delivering on its promise to fix the issues that made the website serving the Federal Exchange nearly impossible for most people to use:
The White House announced Sunday it has met its goal to make its troubled Healthcare.gov website operate smoothly for most users, fueling hope among Democrats that attention can now turn to successes of the underlying health care law.

"The bottom line is health care.gov on December first is night and day from where it was October first," said Jeffrey Zients, the president's appointee to fix the website's problems. "The site is now stable and operating at its intended capacity at greatly improved performance."

When the site — which allows people to compare private plan benefits and costs before buying an insurance policy — launched Oct. 1, millions of people were disappointed by slow or frozen pages, an inability to log in, and incorrect or missing information. The White House tapped Zients to lead a team to fix the site.

At the beginning of November, Zients said the site had an "up time" of just 43%. As of Nov. 30, the site's up time was 95%.

"We have a much more stable system that's reliably open for business," he said in a Sunday conference call with reporters.

The news was met optimistically by Democrats and with trepidation from Republicans Sunday.

Sen. Robert Menendez, D-N.J., said on CBS's Face The Nation that the updates were good news, and compared the exchange's previous performance to a store advertising a sale but forgetting to unlock the doors.

"It sounds like the front door has been opened successfully now," Menendez said.

But Sen. Bob Corker, R-Tenn., said the health care law still puts "downward pressure on employment" and "upward pressure on the deficit."

"I don't know how you fix the many fundamental problems of this program," he said.

The Republican governor of Wisconsin, Scott Walker, said the GOP needs an alternative, market-driven plan for health care.

"We just have to have the courage to stand up and do it, and we're doing it in the states," he said.

Rep. Adam Schiff, D-Calif., said the backlash is to be expected, but that he's relieved to hear the website is now operating smoothly.

"Clearly by any metric, the website is much better than it was," he said on MSNBC. "Let's hope that this is now the end of the botched website — we can move into a new phase where people are enrolling, where people are seeing the benefits of expanded coverage."
Whether these claims measure up as true, of course, will depend in no small part on experience that users face in the days and weeks ahead, and whether or not they are able to successfully able to create an account, browse for information regarding plans available to them in their state, select a plan and pay for it, and receive actual confirmation from an insurance company that they have indeed been enrolled in a plan. While we're not hearing the same number of reports of complete inability to access the site that we did the first day it became available back on October 1st, it's still fairly early in the process again so I suppose its worthwhile waiting to see how Rollout Part Two actually goes. In that regard, it's worth noting that getting the website experience for customers working is only part of the equation, perhaps more important than that is what goes on out of view of the individual consumer, particularly the delivery of data to insurers that they need in order to properly set up coverage and ensure that it will be in place on January 1st. Even when most of the media attention was being paid to the front end problems that the web site was experiencing, there were several reports that insurance companies were receiving corrupted data files that made it impossible for them to process applications. At least according  to a report in today's New York Times, those problems appear to be persisting:
Weeks of frantic technical work appear to have made the government's health care website easier for consumers to use. But that does not mean everyone who signs up for insurance can enroll in a health plan.

The problem is that the systems that are supposed to deliver consumer information to insurers still have not been fixed. And with coverage for many people scheduled to begin in just 30 days, insurers are worried the repairs may not be completed in time.

"Until the enrollment process is working from end to end, many consumers will not be able to enroll in coverage," said Karen M. Ignagni, president of America's Health Insurance Plans, a trade group.

The issues are vexing and complex. Some insurers say they have been deluged with phone calls from people who believe they have signed up for a particular health plan, only to find that the company has no record of the enrollment. Others say information they received about new enrollees was inaccurate or incomplete, so they had to track down additional data — a laborious task that will not be feasible if data is missing for tens of thousands of consumers.

In still other cases, insurers said, they have not been told how much of a customer's premium will be subsidized by the government, so they do not know how much to charge the policyholder.

In trying to fix HealthCare.gov, President Obama has given top priority to the needs of consumers, assuming that arrangements with insurers can be worked out later.

(…)

For insurers the process is maddeningly inconsistent. Some people clearly are being enrolled. But insurers say they are still getting duplicate files and, more worrisome, sometimes not receiving information on every enrollment taking place.

"Health plans can't process enrollments they don't receive," said Robert Zirkelbach, a spokesman for America's Health Insurance Plans.

Despite talk from time to time of finding some sort of workaround, experts say insurers have little choice but to wait for the government to fix these problems. The insurers are in "an unenviable position," said Brett Graham, a managing director at Leavitt Partners, which has been advising states and others on the exchanges. "Although they don't have the responsibility or the capability to fix the system, they're reliant on it."

Insurers said they were alarmed when Henry Chao, the chief digital architect for the federal website, estimated that 30 to 40 percent of the federal insurance marketplace was still being built. He told Congress on Nov. 19 that the government was still developing "the back-office systems, the accounting systems, the payment systems" needed to pay insurers in January.

While insurers will start covering people who pay their share of the premium, many insurers worry that the government will be late on the payments they were expecting in mid-January for the first people covered.

"We want to be paid," said one executive, speaking frankly on the condition of anonymity. "If we want to pay claims, we need to get paid."

Insurers said they had received calls from consumers requesting insurance cards because they thought they had enrolled in a health plan through the federal website, but the insurers said they had not been notified.

"Somehow people are getting lost in the process," the insurance executive said. "If they go to a doctor or a hospital and we have no record of them, that will be very upsetting to consumers."

Thomas W. Rubino, a spokesman for Horizon Blue Cross Blue Shield of New Jersey, which says it has about 70 percent of the individual insurance market in the state, said the company had received "some but not a lot" of enrollments from the federal exchange.
In no small doubt motivated by these problems, there is at least some talk among insurers about finding ways around the Federal Exchanges that would allow people to sign up for policies. Even if they are able to do that the insurance companies, and to some extent the consumers, are still going to be dependent on the Federal website to calculate any tax subsidies that the customer may be eligible for and to ensure that insurers receive those subsidies in a timely manner. As noted above, though, there are still indication that this back end of the website not only isn't fully functional, but that important parts of it have not even been built yet. If that's the case, then the fact that the website is functional is really just an illusion. Given that there are, as of today, just about three weeks left in the period in which people must sign up for coverage to kick in on January 1st, this is a pretty tall order and it seems clear that the President, his staff, and his supporters ought to brace themselves for a new round of functionality complaints that will make mere error messages seem like good news.
The final test of all of this, of course, is whether the supposed fixes to the website lead more people to log on and sign up. We learned today that November saw some 100,000 "signed up" for a plan through the Federal Exchange in November. While this is far better than the roughly 26,000 who had signed up in that manner during October, it is still far short of the projections that had been made before the enrollment process began. Indeed, two months into the enrollment period, enrollment is only at 2.8% of the goal that the Administration had set for the period ending March 31, 2014 even though more than 1/3 of that enrollment period has expired. Additionally, as with October's figures, it's unclear how the Administration is counting "enrollment" when it releases these figures. Today's numbers, for example, include all people who had "selected a plan," which suggests that yet again they are counting people who had picked a plan but had yet to actually sign up for it or pay a single premium. There doesn't seem to be any word about how many of those people had actually taken those final necessary steps that would lead to coverage, but one presumes that it is lower than the 126,000 combined number for the Federal Exchange in October and November. Also unavailable is any demographic information about the people being counted as "enrolled" and whether there are sufficient numbers of the younger, healthier, potential insureds that most people agree are necessary to make the entire risk pool viable without massive premium increases further down the line.
So, notwithstanding the Administration's claims, it's far from clear that the Affordable Care Act implementation process is even on the road to recovery. That's something that only time will tell.