Afghan Airlift Tradeoffs
Humanitarian instincts rightly trumped security concerns.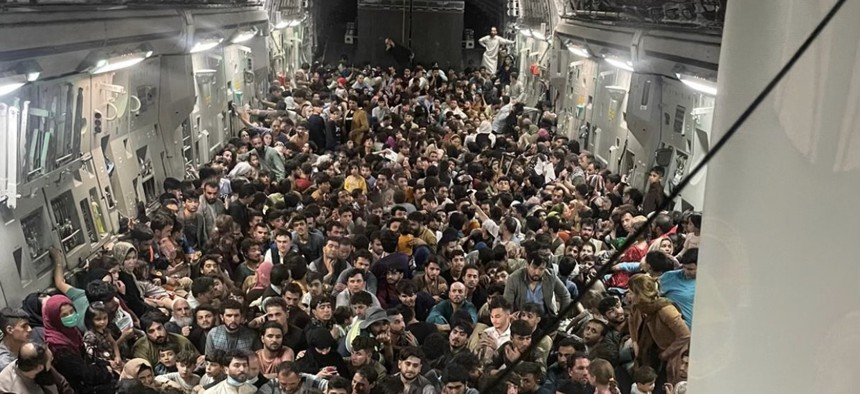 A series of reports point to something obvious but largely overlooked during the mad rush to evacuate Afghan civilians: the problem of vetting.
Bloomberg ("U.S. Struggles to Learn Who's Who in Afghan Airlift of 124,000"):
Days after the Biden administration finished evacuating about 124,000 people from Afghanistan, it's coming to grips with the reality that it doesn't know who many of those people are.

What's emerging, according to government officials and advocates, is that a small percentage of the Afghan citizens who got out are the ones the U.S. pledged to place at the top of its priority list: the thousands who had worked for the U.S. and its allies as well as employees of nongovernmental groups and media organizations.

Instead, initial findings suggest that while some who escaped were locally employed staff, many got out because they were part of the initial crush of people who made it to Kabul's airport as the city fell to the Taliban or secured passage through airport gates thanks to luck or help from people in the U.S. or elsewhere.

[…]

In fact, many of the Afghans who were most vulnerable to the Taliban — applicants for the Special Immigrant Visa program intended for translators and others who aided the American war effort — didn't make it out because the U.S. told them going to the airport would be too dangerous. And they never got a call to come before the last U.S. plane departed to meet President Joe Biden's Aug. 31 departure deadline.

Those findings are provoking new anger from advocates who had taken Biden at his word when he said the U.S. would stay until Americans and the Afghans who worked for the U.S. over the course of the 20-year war were able to escape. Instead, thousands of people who wanted to leave through the SIV program were left behind.
NBC News ("About 100 Afghan evacuees to U.S. flagged for possible ties to Taliban or terror groups, sources say"):
The U.S. plans to send at least two Afghan evacuees back out of the country to Kosovo because of security concerns raised after they arrived at a U.S. airport, said two sources familiar with the U.S. evacuation.

The Afghans will undergo a further review in Kosovo.

The sources caution, however, that federal officials are acting out of abundance of caution, and just because a person is flagged does not mean they are a terrorist or pose a threat. Something in their profile — their name, background or a number in their cellphone — raised enough concern that they could not be permitted to stay in the U.S. pending additional review, according to the sources.

"A lot of people were moved very quickly and the intelligence community has been working hard to evaluate whether any of them pose a threat," said a senior federal law enforcement official. "Some of the vetting occurs while they are overseas, and some of it occurs here … We are not going to allow people to intentionally be released into the community if they have unresolved derogatory information."

Any other evacuees who trigger similar concerns will also be sent to Kosovo, said the sources.

Of more than 30,000 evacuees from Afghanistan to the U.S., about 10,000 needed additional screening as of Friday, said the sources, and of those about 100 were flagged for possible ties to the Taliban or terror groups. Two of those 100 raised enough concern for additional review.

Other evacuees who are currently being evaluated in the D.C. area were found to have been deported from the U.S. previously for past criminal offenses, said two sources briefed on the data. The Department of Homeland Security is now deciding what to do with the individuals.
AP ("Afghan evacuation raises concerns about child trafficking"):
U.S. officials are looking into reports that in the frantic evacuation of desperate Afghans from Kabul, older men were admitted together with young girls they claimed as "brides" or otherwise sexually abused.

U.S. officials at intake centers in the United Arab Emirates and in Wisconsin have identified numerous incidents in which Afghan girls have been presented to authorities as the "wives" of much older men. While child marriage is not uncommon in Afghanistan, the U.S. has strict policies against human trafficking that include prosecutions for offenders and sanctions for countries that don't crack down on it.

One internal document seen by The Associated Press says the State Department has sought "urgent guidance" from other agencies after purported child brides were brought to Fort McCoy in Wisconsin. Another document, described to the AP by officials familiar with it, says Afghan girls at a transit site in Abu Dhabi have alleged they have been raped by older men they were forced to marry in order to escape Afghanistan.

The State Department had no immediate comment on the documents or the veracity of the details in them. Officials say that they take all such allegations seriously but that many of them are anecdotal and difficult to prove, particularly amid the crush of Afghan evacuees at multiple locations in the Middle East, Europe and the United States.
This was, of course, inevitable. As sad as it is that we didn't get all of "our" people out, it's not obvious how we would have done so given the rapid collapse of the government in Kabul and the takeover by Taliban forces. And there was a huge tension between the slowness of the visa process and the exigency of time; ultimately, humanitarian concerns won out over security concerns. In my judgment, that was absolutely the right call. That the vetting has to take place now that they're here is messy but it rather obviously beats the alternative. (I had feared a suicide bomber getting on one of the evacuation planes and blowing it up in-flight. Thankfully, that didn't happen.)
Depending on one's perspective, this final report tells competing stories.
CNN ("Trump adviser Stephen Miller warned of 'Iraqs and 'Stans' in the US while slow-walking the entry of Afghan allies"):
Stephen Miller seemed floored by the idea, raised during a fall Cabinet meeting in 2018, of  keeping open the doors for Afghan allies and other Middle East refugees to enter the US. 

"What do you guys want?" Miller, then a top adviser to President Donald Trump, asked incredulously, according to one person in the room. "A bunch of Iraqs and 'Stans across the country?"
His words stunned many in the meeting, but they were no accident. Under Miller's guidance, several sources told CNN, the Trump administration was purposefully slow-walking the entry of all refugees — including allies who aided American soldiers in Afghanistan.

Now, after the end of America's longest war, "the majority" of Afghans who worked for the US during its two-decade military campaign have likely been left behind in Afghanistan, according to State Department estimates, at the mercy of the country's new Taliban regime. And Republicans are criticizing President Joe Biden for the chaotic withdrawal and for vetting allies too loosely.

But the mayhem in Kabul, as crowds of Afghans tried desperately to flee the country in the final days of August, was due in no small part to the slowdown during the previous administration, according to former officials who argue more allies could have been admitted in the years prior.

The Trump administration's suspicion of refugees stalled an already cumbersome system of approval for Special Immigrant Visas for Afghan allies, these officials said, and the Biden administration ultimately inherited a significant backlog of more than 17,000 SIV applicants.The SIV program for Afghan nationals has been plagued with management problems and low annual caps for years leading up to the withdrawal by US forces. But while Congress and the Obama and Biden administrations share some of the blame, the Trump administration — specifically Miller, according to former administration officials — did much to hamper the process long before the US ramped up its efforts to withdraw from the country.
I suspect most OTB readers will, like me, see this as further evidence that the main cause of our shameful abandonment of so many of our Afghan partners was a function of decisions made by the Trump administration. I had already been telling my Trump-supporting friends on Facebook who were blaming Biden that Trump had done nothing to get them out when he'd left office on January 20 and that his own deadline for the exodus was May 1—a little more than three months away. Biden unilaterally extended the deadline to August 31 but the die had been cast. Now, we have further confirmation that racial bias played a significant role in the previous administration's policies.
But, of course, Trump supporters can point to the other reports as evidence that Miller was right to be concerned and that the policy was therefore justified. Foreign policy involves tradeoffs and, if you prioritize security over decency, the Trump policy was certainly safer.
Still, I'll take the relatively small risk that a terrorist or child trafficker or two gets through our screening processes in exchange for 100,000 people scared for their lives being safe. It seems the least we can do.