African Solidarity in the World Cup
Africans are rallying around the Ghanaian World Cup team, putting aside stark differences. Should we be surprised?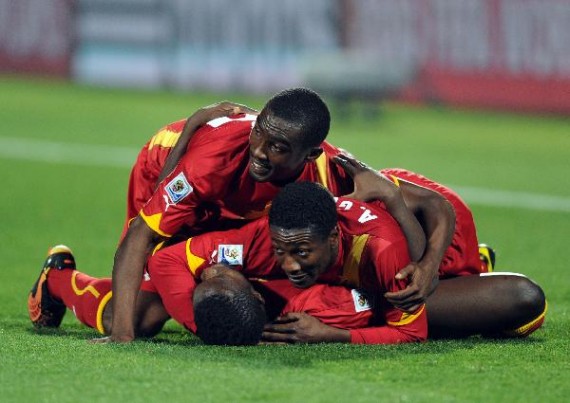 Andrew Sullivan passes along Dayo Olopade's observation,
As someone who usually snaps "Which country?" when "Africa" is mentioned, I confess that the World Cup is making me lose my edge. After Nigeria became one of the five African teams that flamed out in the first round, my cohort in Lagos decided to back the Black Stars from neighboring Ghana. The barroom logic: If our team can't get it together, then we'll root for the next best thing. After Saturday's victory over the United States, the Black Stars–only the third African squad (after Cameroon in 1990 and Senegal in 2002) to make the quarterfinals–quickly became the team of choice for other friends in the black diaspora, and a standard-bearer for the promise of the first African tournament.

[…]

Suddenly, pan-African solidarity appears to trump major differences in culture, history and geography. But why? In similar circumstances, would the United States (out of the running) cheer the Mexican team (out), or the South Koreans (out) root for Japan (still kicking)? The answer is probably not–and suggests that the myth of "Africa" is more seductive than even Africans want to admit.
I am reminded of Donald Horowitz' observation, passed along in Samuel Huntington's  1993 classic "The Clash of Civilizations?"
An Ibo may be . . . an Owerri Ibo or an Onitsha Ibo in what was the Eastern region of Nigeria. In Lagos, he is simply an Ibo. In London, he is a Nigerian. In New York, he is an African.
As to the World Cup manifestation of this, I'm not sure what the American analogue would be.  Certainly, there's no reason we'd cheer for Mexico, South Korea, or Japan absent some sort of personal connection, whether it be family ancestry or having served there in the military.
Moreover, despite vast cultural differences and even a history of antipathy, there's a commonality within Black Africa owing to the colonial heritage that provides a natural Us Against Them mentality.   Again, there's not much reason for Americans to have similar feelings.
I am, however, slightly amused that some Ghana supporters were carrying "OBAMA WE ARE SORRY" placards.   The apology seems unnecessary.