After First Seeing Communists, Allen West Now Sees Nazis (Or Something)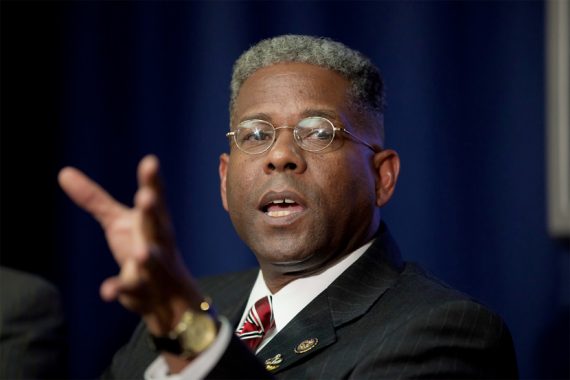 As we've detailed here before, Congressman Allen West has a history making bizarre and sometimes down right nutty statements. Most recently, he claimed that nearly half the membership of the House Democratic Caucus were members of the Communist Party. Now, he is looking at President Obama's Afghanistan policy and seeing the ghosts of Munich:
Rep. Allen West, a tea party Republican from Florida, on Monday compared the draw down of U.S. troops in Afghanistan to the appeasement of Nazi dictator Adolf  Hitler, according to Right Wing Watch.

On May 1, President Barack Obama signed a ten-year security agreement with Afghan President Hamid Karzai. Under the agreement, the majority of U.S. troops will be withdrawn by 2014 but the U.S. will continue to have a role in Afghanistan for a decade.

"I look at what happened between President Obama and President Karzai as a 1930s, Chamberlain, Hitler moment," West told radio host Frank Gaffney. "There is not going to be peace in our time."
All of this has Peter Wehner at Commentary confused:
I'm not quite sure what this analogy is supposed to prove. Is Karzai supposed to be Hitler? Whatever complaints one has with Karzai – and I have plenty of my own – he's clearly no Hitler, and he doesn't appear to have designs for world conquest.

As a general matter, the Chamberlain-Hitler-appeasement analogy is much overused and is often a sign of lazy thinking, as is the case here.
I will admit to being as puzzled as Wehner is at West's comments. How one can characterize an agreement that is likely to lead to some kind of American military presence in Afghanistan until 2024 as appeasement, which clearly what West was trying to say here, is beyond me. More likely than not it is just another example of the lazy thinking and simplistic worldview that West has demonstrated before, a quality which oddly seems to endear him to the Tea Party.
Wehner concludes:
West would do himself, his party and his cause a world of good if he decided to jettison the corrosive and insulting rhetoric.
Yes he would, but then he'd have nothing to offer.