Air Force Academy Gets First Female Superintendent
Lieutenant General Michelle Johnson will be the first woman to lead a service academy.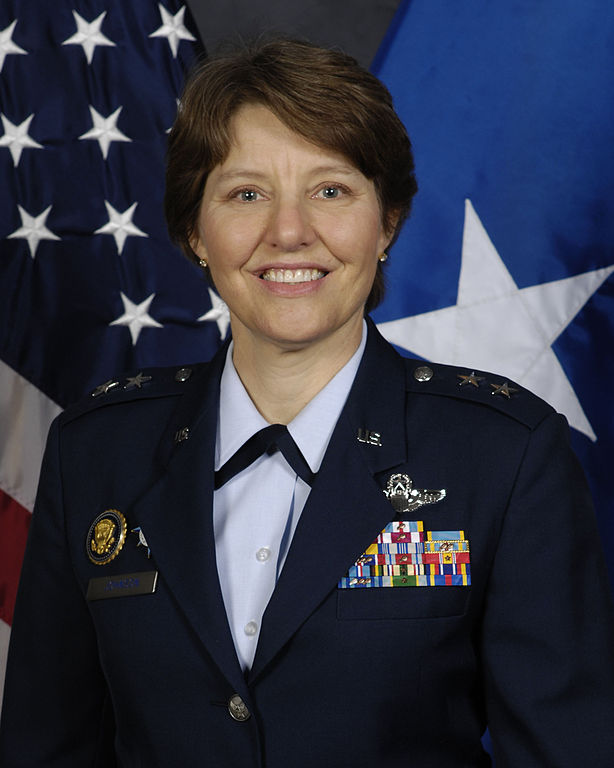 Lieutenant General Michelle Johnson will be the first female superintendent at the Air Force Academy–and the first woman to lead any of the service academies.
Denver Post ("Air Force Academy's First Female Supervisor Takes Command Monday"):
The U.S. Air Force Academy's first female cadet wing commander and its first female Rhodes Scholar on Monday will become the academy's first female supervisor.

Lt. Gen. Michelle D. Johnson, a 1981 graduate of the academy near Colorado Springs, was formerly the deputy chief of staff for operations and intelligence at the Supreme Headquarters Allied Powers Europe at NATO headquarters in Casteau, Belgium.

She replaces Lt. Gen. Michael C. Gould, the superintendent since June 2009 who is retiring Tuesday after 37 years in the Air Force, the academy stated.

A native of Spencer, Iowa, Johnson also played basketball at the academy and is second all-time in scoring for the women's team with 1,706 points. She was a two-time academic all-American and was inducted into the Academic All-American Hall of Fame in 1996.

Johnson is a command pilot with more than 3,600 hours in a variety of aircraft. She served as an Air Force aide to President George H.W. Bush and President Bill Clinton.

She also has been the director of personnel for the Air Mobility Command and director of Air Force Public Affairs, according to a statement this weekend from the academy.
This is a historic choice and an important symbol, especially given the problems that the armed forces in general and the Air Force Academy in particular have had with sexual assault and gender issues.
Recall that the Class of 1980 was the first in each of the three service academies with female graduates. Resistance to the presence of women was fierce, with at least one superintendent resigning in protest. Indeed, the atmosphere within the Corps of Cadets at West Point was still toxic when I arrived in 1984; hell, I contributed to it. We've thankfully come a long way over the past three decades but, as recent events have shown, not far enough.
Johnson's credentials are impressive, indeed. To have excelled in all phases—leadership, academics, and athletics—as a cadet, especially with the pressures women faced at that time is truly remarkable. And, certainly, her achievements in the Air Force since have been stellar.