Air Force Now Accepting Single Parents, Pregnant Women
The Air Force will now allow pregnant women and single parents to join.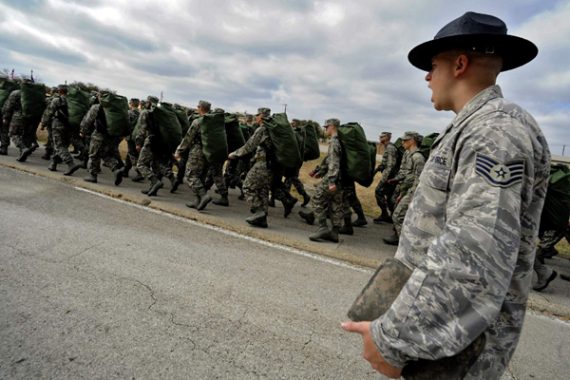 The Air Force will now allow pregnant women and single parents to join.
Air Force Times ("Air Force Opens Doors To Single Parents, Pregnant Women"):
Aspiring airmen who are single parents or the spouses of military service members will be able to join the Air Force under a policy change announced Wednesday.

"It's important for us to attract the highest caliber men and women to serve in today's Air Force," said Brig. Gen. Gina Grosso, director of force management policy. "These policy changes open our doors to more individuals who are highly qualified, but whose family obligations would have previously disqualified them."

The Air Force will now allow single parents and parents with military spouses, who have up to three children, to enter officer training school, as long as they have an approved care plan for their children. All applicants who have one or two children — but not more — under the age of 18 who cannot care for themselves also will be able to enlist with an approved child care plan.

Cadets with dependents who are single parents or are married to military spouses also now may sign contracts to join the Air Force's Reserve Officer Training Corps with an approved child care plan. There is no limit on dependents for ROTC cadets, and cadets who are married to civilian spouses do not have to submit a child care plan.

The Air Force also is changing its pregnancy policy for Officer Training School and Military Training School. Trainees will now be allowed to return to their programs after pregnancy upon receiving medical clearance. ROTC cadets can be commissioned and proceed to follow-on training once they are cleared to do so by a medical authority, the Air Force said.
While I support the general trend of making military life more family friendly, it's hard to make an argument for bringing in new officers whose priorities are divided. While families and children are a part of the human condition that the military has learned to work with, even considering them a support base for the troops, there's a good reason that we've preferred unencumbered junior officers and enlisted personnel.  The transition to military life is arduous enough when fully focused on that task.
Two decades ago, Marine Corps commandant Carl Mundy issued an edict banning the enlistment of married recruits. His boss, Secretary of Defense Les Aspin, overturned the order "within hours" after a predictable backlash. But Mundy's motivation was logical.
Mundy said that 40 percent of Marines on their first enlistment are married and are bearing the brunt of a fierce schedule of overseas deployments that would put an enormous strain on more mature married personnel, much less on an 18- or 19-year-old Marine with a teenage spouse.

"We keep them in high motion a lot, sometimes nine months out of the year," Mundy saaid.

While some Marines were critical of the way Mundy has tried to come to grips with the problem, they all agreed difficulties exist.

The number of married Marines on their first enlistment reportedly has been increasing about 10 percent every five years. As a result, unit commanders have been faced with an increasing number of personnel problems, including financial hardships, domestic violence and a soaring divorce rate.

A lieutenant colonel who requested anonymity said, "Our platoon leaders are just overwhelmed with a large number of young Marines with family problems. You have a situation where kids are having kids."
Obviously, the Corps adapted to that reality. But that mostly meant accepting the problems as part of the package.  And having a spouse at home is far less demanding than having an infant with no spouse. It's true that our troops deploy to war zones all the time leaving pregnant wives and small children behind. But leaving the kid with friends or relatives is a different thing altogether.
This seems a particularly odd change to make at a time when we're going to not only start taking in fewer new officers and recruits but forcing out many veterans of our wars in Iraq and Afghanistan who would prefer to continue to serve.  Apparently, it was motivated by one egregiously handled case:
Air Force spokeswoman Laurel Tingley said the case of Rebecca Edmonds, an aspiring nurse who was kicked out of the Air Force in 2011 when she became pregnant before being commissioned as an officer, prompted the service to re-examine its rules.

Edmonds discovered she was pregnant in March 2011, a few weeks before her graduation, her attorney, Daniel Conway, said. She was commissioned that July and reported to her nursing transition orientation program, where she reported her pregnancy. Soon afterward, Air Force ROTC began investigating her, concluded she was fraudulently commissioned, and summarily discharged her as an airman basic. The Air Force also billed her about $90,000 for her scholarship.
Now, obviously, charging Edmonds with fraud and billing her for the cost of her education was boneheaded. But that doesn't mean that it made sense for the Air Force to commission a single, pregnant woman as a second lieutenant.