Airline Fees: What's Reasonable?
Chuck Shumer wants to force airlines to let families sit together for free.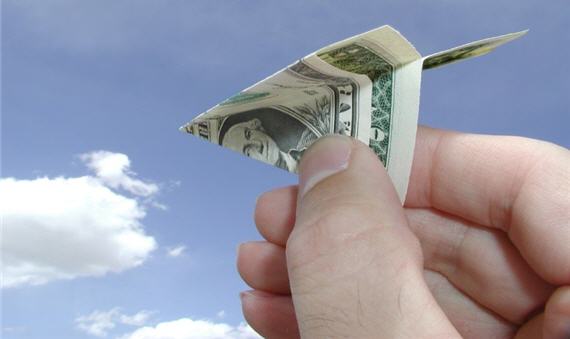 Researching an entirely different issue, I stumbled on an Atlantic piece from a few days ago titled, "How to Tell a Dumb Airline Fee From an Immoral One." The subtitle: "Dear airlines: parents and kids should really be able to sit together for free."
Having flown quite a bit over the last three-and-a-half years on multiple airlines with my oldest daughter and, now, with both of my daughters, I was completely unaware that there was a fee for parents and kids to sit together. For good reason: there isn't.
America's airlines have stumbled into yet another controversy over the extra fees they charge travelers, and this one's a bit of a doozy. As both the Associated Press and Reuters have recently pointed out, many carriers are now essentially forcing parents to pay more in order to sit with their children on flights.
"Essentially" does a lot of work here. What's actually happening is that airlines are increasingly charging more for their more desirable seats. In addition to premiums for First Class and Business Class, which have been standard for decades, airlines now charge "upgrade" fees for bulkhead rows (which offer extra legroom) or to seat closer to the front of the plane (which means earlier boarding and thus makes it more likely that there will be room in the overhead for your roller bag). Aisle and window seats are, in some cases, also slightly more expensive.
So, a family that wants to sit together in the same row either has to book early, sit further back in the plane, or pay extra for aisle and window seats. Just like everyone else. So, what's the problem? According to Reuters:
Jamie Bartosch of Arlington Heights, Illinois, says she and her family were on a recent flight from Grand Cayman Island, where they were in the cramped back row for five hours because they didn't pay the $39 per seat upgrade fee. Meanwhile, other seats sat empty.

All these fees, says Bartosch, who writes a travel blog on TravelingMom.com, have had an impact on families. "To me, all of these fees unfairly hurt family travelers, because it's nearly impossible to travel with kids and put everything into one carry-on. So we are basically forced to pay the luggage fees. To travel comfortably, with food and legroom, now adds at least another $100…Traveling by air is so unpleasant these days, unless you're a first-class business traveler."
Hey, that's me! When I flew to Orlando a couple weeks back to take my oldest to Disney, I paid $25 to check our large duffel bag, another $2 for the privilege of checking it curbside rather than standing in line, and we sat in Zone 4 rather than pay $50 or so to sit in a better row.
Now, I happen to think that charging for a single checked bag is chintzy. Especially now that security regulations conspire to force us to either check bags or leave behind things that we need for a long trip but aren't allowed in carry-on luggage. But it's only discriminatory against families in a very roundabout way.
Further, I fully agree with Bartosch that flying is miserable these days. The combination of the delays and indignities of airport security theater, cutbacks in service, cramped quarters, rude waitstaff, and incessant delays on the tarmac make me willing to drive further and further to avoid flying. And, with two kids, the cost factor is there, too, since the marginal cost per traveler goes way down when driving.
On the other hand, I have zero problem with charging extra for more desirable seats. Indeed, I always tried to grab an aisle seat in bulkhead back in the days when that wasn't more expensive in order to get a bit more leg and elbow room. And everyone knows that the middle seat sucks.* So, why shouldn't the airlines price accordingly?
Additionally, while the airlines clearly cater to more lucrative business travelers, they actually accommodate families in important ways. For example, one can side-check a stroller or check it in the cargo hold for free.   And most still allow families with small children to board early. (United, oddly, recently stopped this, as I learned on my Orlando flight.)
Senator Chuck Shumer is actually pushing legislation that would force airlines to seat families together without additional fees. That seems not only unreasonable but likely to backfire; they'll simply raise prices across the board to make up the difference, hurting those traveling alone without helping families.
It seems to me that there are other issues with airlines far more deserving of government oversight. For example, the reason aisle and bulkhead seats can command extra money is that the other seats are simply too small to comfortably fit the modern American man.  At a little over 6'1″ and 200 pounds, I'm neither freakishly tall nor morbidly obese; and yet I'm miserable on a coach flight of any duration. Additionally, something really needs to be done about the increasingly common practice of boarding a plane, taxiing out to the tarmac, and then keeping the passengers hostage for an hour or more before actually taking off. Especially given the aforementioned crowding issues.
To me, those are far more problematic than charging a measly $39 extra for an aisle seat to someone who can afford to take their family to Grand Cayman for a vacation.
_______________
* Indeed, when my late wife and I traveled together and on my recent trip with my daughter, I always book an aisle and a window seat in the same row, knowing that the middle seat is the last to fill and hoping to thereby luck out and get the row to ourselves. When it doesn't work out, people are invariably happy to trade their middle seat for a window seat.