Airlines Profit More By Flying Less
After years of flying people for less than it cost and trying to make it up with volume, the airlines have changed course.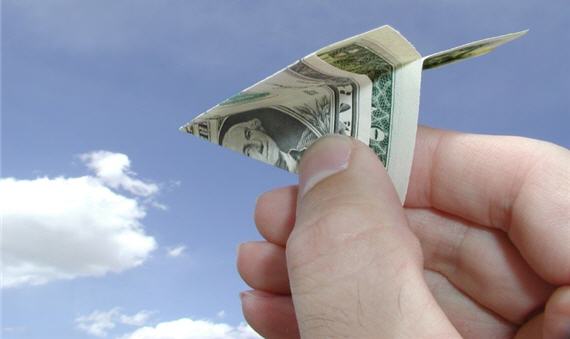 After years of flying people for less than it cost and trying to make it up with volume, the airlines have changed course.
After a decade of multibillion-dollar losses, U.S. airlines appear to be on course to prosper for years to come for a simple reason: They are flying less.

By grounding planes and eliminating flights, airlines have cut costs and pushed fares higher. As the global economy rebounds, travel demand is rising and planes are as full as they've been in years.

Profit margins at big airlines are the highest in at least a decade, according to the government. The eight largest U.S. airlines are forecast to earn more than $5 billion this year and $5.6 billion in 2012.

[…]

Fares in the U.S. have risen 14 percent from a year ago, according to travel consultant Bob Harrell. Flights are more crowded than they've been in decades. On domestic flights, fewer than one in five seats are empty. Space is even tighter over the summer and holidays. That's why it took a week to rebook all the travelers who were stranded by a snowstorm that hit the Northeast over Christmas weekend.

Travelers also face fees these days for services that used to be part of the ticket price, such as checking luggage (usually $25 to $35 per bag) and rebooking on a different flight (usually $150 for a domestic flight, more when flying overseas).

[…]

The industry was profitable in 2000, 2006 and 2007, when the economy was roaring. But those boom years masked the industry's underlying problems, including high costs and more seats than travelers demanded. During 2008 and 2009, airlines lost a combined $23 billion, but they were also attacking their problems, setting the stage for a comeback in 2010.

They eliminated money-losing flights. When travel demand recovered, airlines could raise ticket prices for the smaller supply of seats.
They grounded older, gas-guzzling airplanes. The government says the major U.S. airlines, plus freight delivery companies FedEx and UPS, used 11.39 billion gallons of jet fuel in the first nine months of 2010, down 11.4 percent from the same period a year earlier. The price of a gallon of jet fuel jumped 20 percent year over year, but overall fuel spending rose just 6 percent.
They added fees. In the first nine months of 2010, airlines collected more than $4.3 billion from fees for checking baggage and changing tickets, up 13.5 percent from the comparable period in 2009.
They consolidated. Delta Air Lines Inc. bought Northwest in 2008, and United and Continental combined last year. That leaves four so-called network carriers that operate from hub airports, down from six. And Southwest Airlines Co.'s pending purchase of AirTran Airways will combine two of the biggest discount carriers. Fewer airlines should mean higher fares.
So, while flying has become increasingly expensive and aggravating, it's gotten increasingly profitable.  It's a bizarre business model.