Al Gore Places Infant Son In Rocket To Escape Dying Planet
Al Gore Places Infant Son In Rocket To Escape Dying Planet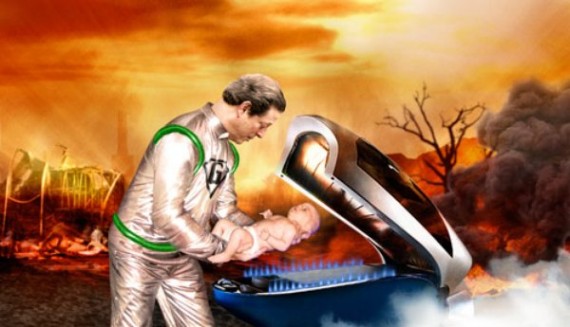 This Onion bit is three years old but making the rounds again: Al Gore Places Infant Son In Rocket To Escape Dying Planet
Former vice president Al Gore—who for the past three decades has unsuccessfully attempted to warn humanity of the coming destruction of our planet, only to be mocked and derided by the very people he has tried to save—launched his infant son into space Monday in the faint hope that his only child would reach the safety of another world.

"I tried to warn them, but the Elders of this planet would not listen," said Gore, who in 2000 was nearly banished to a featureless realm of nonexistence for promoting his unpopular message. "They called me foolish and laughed at my predictions. Yet even now, the Midwest is flooded, the ice caps are melting, and the cities are rocked with tremors, just as I foretold. Fools! Why didn't they heed me before it was too late?"

Al Gore—or, as he is known in his own language, Gore-Al—placed his son, Kal-Al, gently in the one-passenger rocket ship, his brow furrowed by the great weight he carried in preserving the sole survivor of humanity's hubristic folly.
Presumably, the renewed interest comes from this:
Former Vice President Al Gore will renew his 30-year campaign to convince skeptics of the link between climate change and extreme weather events this week in a 24-hour global multi-media event.

"24 Hours of Reality" will broadcast a presentation by Al Gore every hour for 24 hours across 24 different time zones from Wednesday to Thursday, with the aim of convincing climate change deniers and driving action against global warming among households, schools and businesses.

The campaign also asks people to hand over control of their social networking accounts on Facebook and Twitter to it for 24 hours to deliver Gore's message.

"There will be 200 new slides arguing the connection between more extreme weather and climate change," Trewin Restorick, chief executive of the event's UK partner Global Action Plan, told Reuters on Monday.
The rocket ship thing might be more effective.