Al-Jazeera Finds Western "Troops" On The Ground In Libya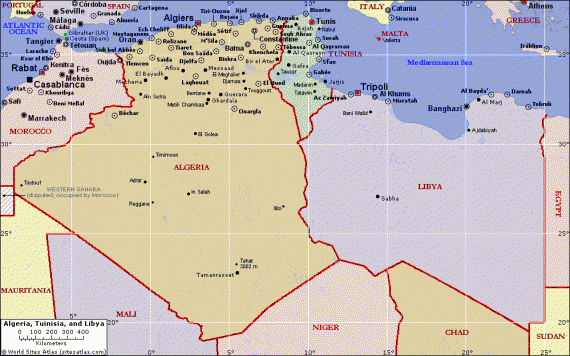 An al-Jazeera film crew came up with the first direct evidence of Western military advisers on the ground in rebel-controlled Libya:
Armed westerners have been filmed on the front line with rebels near Misrata in the first apparent confirmation that foreign special forces are playing an active role in the Libyan conflict.

A group of six westerners are clearly visible in a report by al-Jazeera from Dafniya, described as the westernmost point of the rebel lines west of the town of Misrata. Five of them were armed and wearing sand-coloured clothes, peaked caps, and cotton Arab scarves.

The sixth, apparently the most senior of the group, was carrying no visible weapon and wore a pink, short-sleeve shirt. He may be an intelligence officer. The group is seen talking to rebels and then quickly leaving on being spotted by the television crew.

The footage emerged as South Africa's president, Jacob Zuma, arrived in Tripoli in an attempt to broker a ceasefire. He described reports that he would ask Muammar Gaddafi to step down as "misleading", and said he would instead focus on humanitarian measures and ways to implement a plan concocted by the African Union for Libya make a transition to democratic rule but not seek Gaddafi's exile.

The westerners were seen by al-Jazeera on rebel lines late last week, days before British and French attack helicopters are due to join the Nato campaign. They are likely to be deployed on the outskirts of Misrata, from where pro-Gaddafi forces continue to shell rebel positions to the east.

There have been numerous reports in the British press that SAS soldiers are acting as spotters in Libya to help Nato warplanes target pro-Gaddafi forces. In March, six special forces soldiers and two MI6 officers were detained by rebel fighters when they landed on an abortive mission to meet rebel leaders in Benghazi, in an embarrassing episode for the SAS.

The group was withdrawn soon afterwards and a new "liaison team" sent in its place. Asked for comment on Monday, a Ministry of Defence spokeswoman said: "We don't have any forces out there."
This shouldn't come as too much of a surprise, really. In addition to the spotters noted above, we've also heard reports of CIA teams being sent into the country to at least gather intelligence on the rebels. What seems different about this report, though, is that these Westerners seem to be providing direct tactical support to the rebels, if not fighting alongside them. Whether that's wise is, of course, a question that nobody seems to be bothering to ask.
Here's the al-Jazeera video: