Al Pacino To Play Joe Paterno In BioPic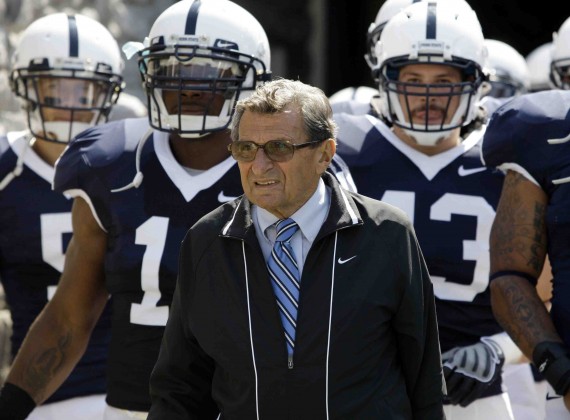 Legendary actor Al Pacino, best known for playing Michael Corleone in The Godfather movies and Tony Montoya in Scarface, has signed on to play late Penn State coach Joe Paterno in a planned film:
Al Pacino is reportedly adding another controversial role to his list of upcoming biopic projects: in addition to playing convicted murderer Phil Spector in a television movie about the music producer's life and portraying gangster Aniello Dellacroce in a film about crime boss John Gotti, the Oscar-winning actor has signed on play Joe Paterno, the Penn State football coach who was mired in scandal prior to his death in 2011.

The Paterno movie project, which is being shopped around Hollywood this week by agency ICM Partners, was announced in a Deadline exclusive late last Friday. According to the report, the film (which could be for theatrical release or cable television) is still not set in stone and doesn't yet have a script or director, but will be based on the biography Paterno by Joe Posnanski. Posnanski is the 2012 winner of the Best Sportswriter in America award from the National Sportswriters and Sportscasters Hall of Fame, and was already reporting on Paterno's life when news broke that Penn State's former defensive coordinator, Jerry Sandusky, had been arrested for child sex abuse

Unsurprisingly, the announcement—which comes less than a year after the Penn State scandal became public—is already causing uproar, even before the movie is a sure thing. "Rarely have I gotten so many emails on a story that has struck a nerve among former students of Penn State," wrote Deadline's Mike Fleming in a Sept. 8 update to the story, adding that some of those alums claimed to be able to "squash" the movie's Hollywood chances, believing that the former coach would not be fairly treated despite the fact that the book covers the whole life story of Paterno—from his WWII army service to his years as one of the winningest college football coaches in history. But the assumption that the movie will focus on the scandal makes sense: the book is a more detailed telling than seems possible for any one movie to be, and the accusations that the coach assisted in a cover-up provides a focused plot. The Deadline update also lends credence to that possibility: the coach's failure to stop Sandusky's crimes, writes Fleming, is "Paterno's enduring legacy now."
Indeed, it is, and it would seem impossible to imagine a movie about Paterno that didn't concentrate heavily on the Sandusky scandal and Paterno's role in it. I can see ways that a movie like this could work very well, sort of as a morality tale take on the story that focuses on the dangers of holding up living men as heroes, but I can also see many, many ways that it could end up being an utter disaster. The choice of Pacino is an interesting one, and it continues a recent trend where he's taken on some fairly controversial roles. In addition to the roles noted above, he portrayed Dr. Jack Kevorkian in an HBO film several years ago that earned him both an Emmy and a Golden Globe Award for Best Actor. At the very least, it would be a very interesting performance to watch.