Alabama Bans Most Abortions
We've soon see whether the current Supreme Court will overturn Roe v Wade.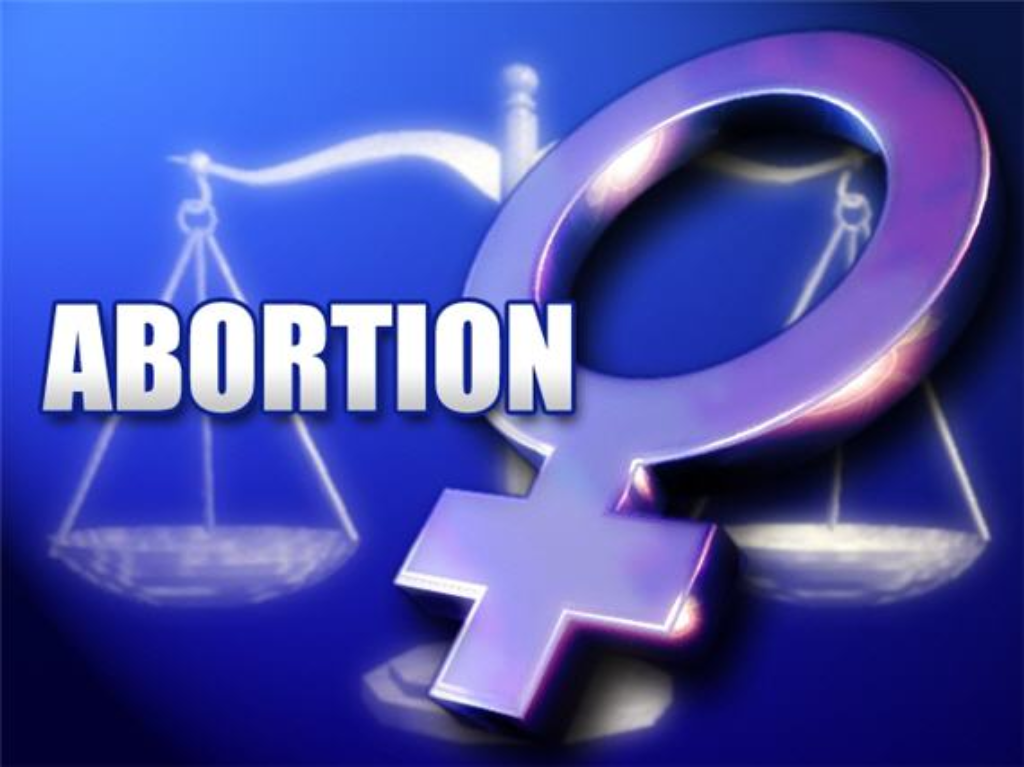 My former home state has passed the most draconian anti-abortion law in the country, with no exception for rape or incest. It seems clearly designed to create a test case to overturn decades of legal precedent making abortion a Constitutional right. Its extreme nature may defeat that goal, however.
The Washington Post:
Alabama lawmakers voted Tuesday to ban virtually all abortions in the state — including for victims of rape and incest — sending the strictest law in the nation to the state's Republican governor, who is expected to sign it.


The measure permits abortion only when necessary to save a mother's life, an unyielding standard that runs afoul of federal court rulings. Those who backed the new law said they don't expect it to take effect, instead intending its passage to be part of a broader strategy by antiabortion activists to persuade the U.S. Supreme Court to reconsider the landmark 1973 Roe v. Wade ruling, which legalized abortion nationwide.


"This bill is about challenging Roe v. Wade and protecting the lives of the unborn because an unborn baby is a person who deserves love and protection," Alabama state Rep. Terri Collins (R), the sponsor of the bill, said after the vote Tuesday night. "I have prayed my way through this bill. This is the way we get where we want to get eventually."

Senate Majority Leader Greg Reed (R) said the legislature was carrying out "the express will of the people, which is to protect the sanctity of life," noting that Alabama voters approved declaring the state officially pro-life. The bill, he said, "simply recognizes that an unborn baby is a child who deserves protection — and despite the best efforts of abortion proponents, this bill will become law because Alabamians stand firmly on the side of life."

[…]

The Alabama bill, which passed 25-6, is even more restrictive than prior state-level abortion laws, and it includes a penalty of up to 99 years in prison for doctors who perform abortions. Six of the Senate's Democrats voted against the bill — one abstained — and they staged a filibuster into Tuesday night after debating the bill for more than four hours, with senators discussing the role government should play in legislating what a woman can do with her body and the definition of life.

— "Alabama Senate passes nation's most restrictive abortion ban, which makes no exceptions for victims of rape and incest"
The New York Times adds:
The House approved the measure — the most far-reaching effort in the nation this year to curb abortion rights — last month. It now moves to the desk of Gov. Kay Ivey, a Republican. Although the governor has not publicly committed to signing the legislation, many Republican lawmakers expect her support.


In an email on Tuesday night, a spokeswoman for the governor, Lori Davis Jhons, said Ms. Ivey would "withhold comment until she has had a chance to thoroughly review the final version of the bill that passed."

Opponents have vowed to challenge the measure in federal court if it becomes law. Even the legislation's supporters expect that a lower court will block the measure. But it was drafted with exactly that in mind. The ban's architects, reflecting the rising confidence of abortion critics nationwide after the appointment of Brett M. Kavanaugh to the Supreme Court, hope that the justices will use the case to reconsider the central holding in Roe and allow the Alabama measure to take effect.


"Until now, there was no prospect of reversing Roe," said Eric Johnston, who founded the Alabama Pro-Life Coalition and serves as its president, and has spent more than 30 years trying to ban abortion.

— "Alabama Lawmakers Vote to Effectively Ban Abortion in the State"
While Alabama has gone the furthest, they're part of a trend:
Governors and lawmakers across the country are rushing to pass highly restrictive abortion bills in hopes of attracting the attention of what they see as the most anti-abortion U.S. Supreme Court in decades.


Sixteen states have passed or are working to pass bans on abortion after a doctor can detect what they call "a fetal heartbeat in the womb," usually at about six weeks, before many women know they are pregnant. That includes Georgia, where Republican Gov. Brian Kemp signed a "heartbeat bill" into law on Tuesday.

In a countermove, lawmakers in a growing number of states are racing to amend their constitutions to provide a backstop for the possible overturn of Roe v. Wade.
I'm skeptical that the current Supreme Court will vote to overturn Roe. Chief Justice John Roberts, in particular, seems keenly aware of the need to preserve the legitimacy of his institution. Overturning arguably the most noteworthy precedent of the last half century would signal that the Court is simply a partisan body, not a group of wise elders earnestly interpreting a sacred text.
Still, a lot of us see Roe as the archetypal case of judicial overreach. The notion that the 14th Amendment contained a hidden right to abortion that laid undiscovered for over a century is absurd. And the simultaneous invention of a quasi-legislative formula based on trimesters was simply bizarre. Even liberal scholars hated it:
In a highly cited 1973 article in the Yale Law Journal, the American legal scholar John Hart Ely criticized Roe as a decision that "is not constitutional law and gives almost no sense of an obligation to try to be." Ely added: "What is frightening about Roe is that this super-protected right is not inferable from the language of the Constitution, the framers' thinking respecting the specific problem in issue, any general value derivable from the provisions they included, or the nation's governmental structure." Professor Laurence Tribe had similar thoughts: "One of the most curious things about Roe is that, behind its own verbal smokescreen, the substantive judgment on which it rests is nowhere to be found."
Despite its origins, however, the basic principle is widely considered to be settled law. And the eventual abandonment of the trimester formula with a more fluid and scientific "viability" test is solid public policy that still gives the several states flexibility to have different standards based on community values.
Linda Greenhouse, the longtime Supreme Court correspondent for the New York Times now teaching at Yale Law, shares her thoughts in an interview with Isaac Chotiner. Some key insights:
When you look at the history of abortion law in the United States, is there anything about this law in Georgia or the proposal in Alabama that you find interesting, or new, or different?


Well, they're shockingly aggressive. They purport to take us back to the pre-Roe regime, where abortion was criminal until the mid-sixties in all fifty states—despite the fact that, by the time the Court decided Roe, Gallup and other polls showed that a strong majority of the public believed that abortion should be left as a matter between a woman and her doctor. And the pro-choice majority held throughout all demographics: men, women, Catholics, Republicans. Republicans were the pro-choice party at that time. So what's happening today is pretty breathtaking, actually.

— The New Yorker, "A Supreme Court Reporter Defines the Threat to Abortion Rights"
Now, that strikes me as a bit disingenuous. We're a Federal union. Abortion was never a national issue before Roe so the aggregated sentiments are largely irrelevant. Still, the reverse is also true: abortion was not a hot button national issue before Roe and, indeed, for a few years after.
What specifically in these laws do you see as the biggest challenge to Roe?


I don't think these laws per se are challenges to Roe because they're so extreme. I actually think the challenge to Roe will come with ostensibly milder measures that will let the courts find cover in seeming not to be extreme even though these laws can have the extreme effect of destroying the abortion infrastructure and cutting off access for most women. I'm referring to, for instance, the laws that Louisiana passed to require doctors who provide abortions to have admitting privileges at local hospitals. A challenge to that law is right now pending before the Supreme Court, and it is a complete twin to the Texas law that the Court overturned in 2016, before Justice [Neil] Gorsuch and Justice Kavanaugh joined the Court. The vote in that case was 5-3, Justice [Antonin] Scalia having died.
That's an interesting take. It seems politically shrewd, for reasons already discussed, not to simply overturn Roe. Then again, it's arguably easier to simply say Roe was bad Constitutional law and that abortion is a matter for the states.
And Greenhouse is almost certainly right here:
So you don't interpret the aggressiveness of these laws as conservatives feeling emboldened and thinking they're going to overturn Roe?

Well, I think they're doing a couple things with these laws. They're appealing to a base. These are politicians who are passing these laws, and these are elected governors who are purporting to sign them. It's a way of keeping issues hot and alive. It's also a way of, as we've seen throughout this battle, carving abortion out of normal medical practice by turning doctors into criminals for providing a medical service that something like thirty per cent of all American women will avail themselves of during their reproductive lifetimes.


If over-the-top in the next breath:
So, there's something very strange going on here, and I'll just say that I think laws like this have almost nothing to do with the fetus, or the embryo, or the fertilized egg, and everything to do with the role of women in society today. It's all about the dignity and agency of the female half of the population. And that's what's at stake, frankly.
I think it's fair to say that women are at the forefront of the abortion debate—on both sides. There's essentially no difference in the polling on abortion by sex (or race, for that matter). The regional differences, however, are vast.
This is fascinating:
It seems like we're now at a place where this is largely an issue for John Roberts, or is likely to be. So you see almost no chance that he would uphold these laws?


Yes, I think that's accurate. And I'm not sure the Court would even take such a case, because they'll be struck down in district court, and that will be upheld in the court of appeals. And Georgia and Alabama are in the same circuit. So there'd be no conflict in the circuits, which is the marker for the Court's willingness to hear a case. The easiest thing for the Court to do is just to deny review. The Court doesn't have to say anything.


There have been three strains of thinking about Roberts. One is that maybe he won't overturn Roe. He doesn't want to upset the apple cart. The second is that he does want to overturn Roe but will find a sort of subtle way of doing it. And the third is that, now that conservatives are in strong control of the Court, he will just overturn Roe. Do you have a sense, from studying him, of which of those three things is likely to happen?

Well, I'm assuming he thinks Roe was wrongly decided. I'm assuming he wishes it was not precedent. He does have a dilemma about what to do about that. And I think taking the path that I suggested of upholding laws that present substantial obstacles to the right to abortion but don't write the right to abortion off the face of the statute books would be a more appealing thing for him to do.


He was a dissenter in the 2016 decision that struck down the Texas admitting-privileges law. He was a fifth vote with the four people to his left back in February to grant a stay of Louisiana law to allow the abortion clinics in Louisiana to file their Supreme Court appeal. So that was pretty interesting, because, had he not joined them over four dissents to his right, I think all but one abortion clinic in Louisiana would have had to shut down. And he didn't want that to happen. I can only infer he didn't want that to happen without giving the clinics a chance to make their case before the Supreme Court. That doesn't bind him to agreeing with their case. But at least it shows us some awareness of the optics of the Court letting something as drastic as that occur without any kind of oversight by the Justices. So it's a kind of interesting data point.


These laws like the Louisiana law don't specifically go against Roe. They just kind of neutralize it. But is your sense that passing these laws would be enough for abortion opponents? Or is your sense that, at some point, despite all these laws, Roe would have to be formally overturned?
Overturned by the Supreme Court, you mean?
Yeah.
I think one template we might take for that is a case that has absolutely nothing to do with abortion. It's a decision called Janus [v. AFSCME], in the area of labor law, that the Supreme Court issued, last June. This is a case in which the Court overturned a forty-year-old precedent by a vote of 5-4. The precedent had said that a public employee who doesn't want to join the public-employee union doesn't have to join the union, but they can be required by state law to pay that portion of the union dues that goes to the union's bargaining and representation function because that benefits everybody in the workplace. And so it was deemed a fair share that they
It would be interesting, indeed, if the Supreme Court simply declined to take these cases because the 11th Circuit followed their existing precedent. And the strategy Greenhouse suggests strikes me as prudent in that it would have the effect of neutering Roe without obvious damage to stare decisis.
Intellectually, though, it would have the opposite impact. It would be dishonest in the extreme to claim to adhere to a precedent saying women have a Constitutional right to choose an abortion prior to fetal viability while simultaneously upholding a series of absurd restrictions on that right. Indeed, I'd prefer the opposite: overturning Roe and thus returning abortion to be regulated by the several states—but striking down absurd restrictions that are capricious and lacking a rational basis.