Alabama First at Something
Sadly whenever Alabama is first at something (save perhaps in football) it is never for something good.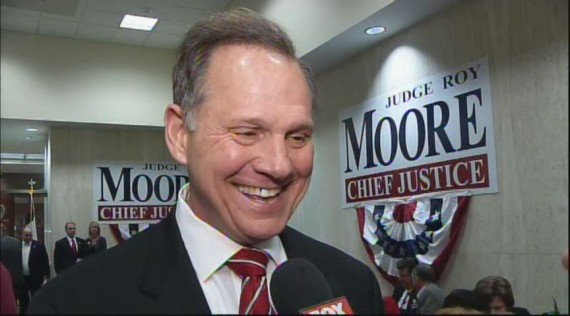 Via al.com:  Alabama Supreme Court first in nation to defy federal court gay marriage order
The Alabama Supreme Court this week became the first state high court in the nation to challenge a federal court order allowing same-sex marriage, legal experts say.

[…]

"It certainly seems to be the most extreme example of a state court refusing to follow the orders of a federal court regarding marriage equality," said Stratton Pollitzer, deputy director and co-founder of Equality Florida. "It looks pretty ridiculous to the rest of the country."

For others, the Alabama Supreme Court's order is a necessary step in defending states' rights to determine the definition of marriage.

"Not only are we the first state to do that, our motto is 'we dare defend our rights'," Alabama Supreme Court Chief Justice Roy Moore said in an interview with AL.com.

"I can't explain why more than 20 other states have bowed down to unlawful federal authority but Alabama is not one of them," Moore said. "A federal judge has no authority to overturn a state constitutional amendment in the face of a state court's opinion on the same matter."
A few thoughts:
1.  Justice Moore clearly thinks some rights are worth defending, while others aren't.  It is highly unfortunate that the right he wants to defend is to deny rights to some Alabama citizens.  Of course, this tends to be an Alabama tradition, unfortunately.
This leads into:
2.  It seems as if every time a state is asserting its rights that it is never to actually expand rights of citizens in that state.  "States' rights" has been deployed to defend slavery, Jim Crow, school segregation, and unequal voting rights.  It is now being deployed to defend treating homosexual couples differently from heterosexual couples.  I cannot, in fact, think of a case in which a "states' rights" argument was used to protect the rights of the citizen of a given state from the federal government.
Anyone have any examples that I am missing?
The Alabama Supreme Court's ruling here is going to be moot rather soon, as SCOTUS is going to rule on this matter one way or another quite soon.  I do wonder if Moore (and now his colleagues) are going to suffer any consequences for this rather remarkable flaunting of the supremacy clause of the US Constitution.