Alabama Reaches #1 for 13th Year in a Row
A mind-boggling statistic.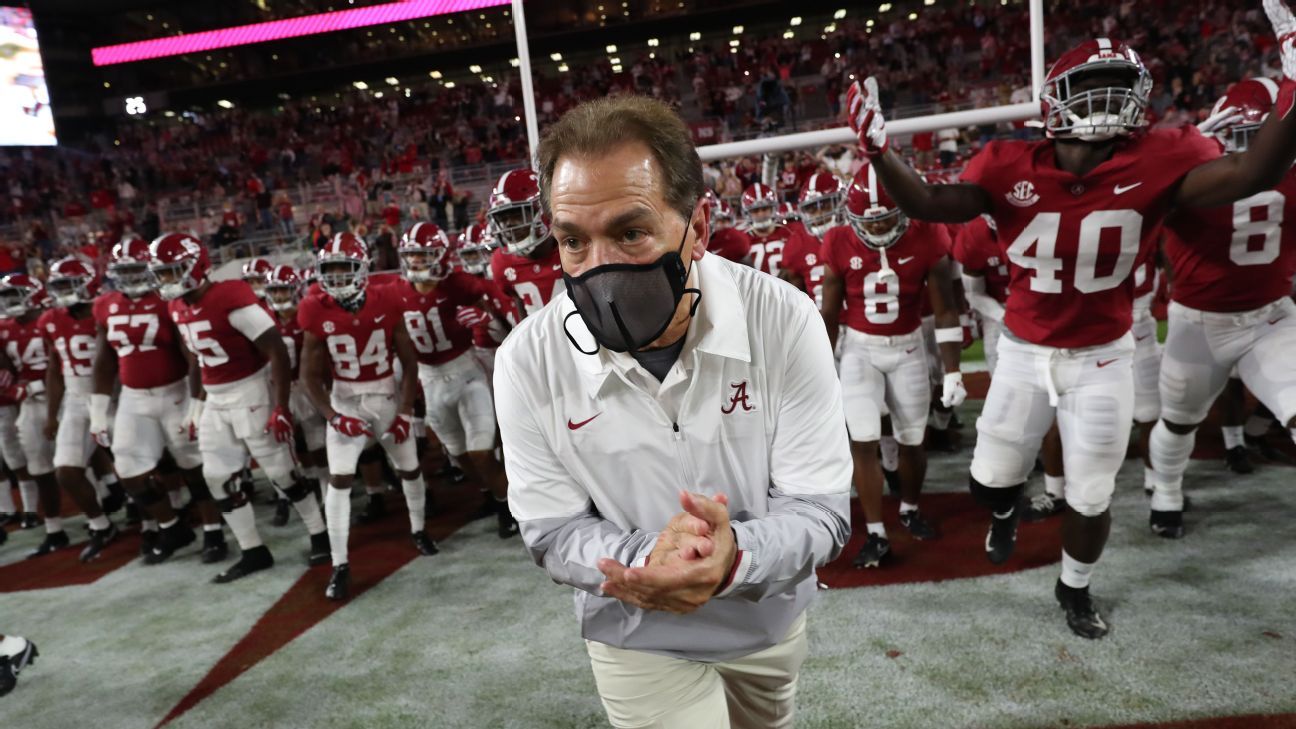 When Nick Saban took over as head coach at Alabama in 2007, the team had been a long line of lackluster seasons since its last national championship in 1992. After a hot start, the team collapsed down the stretch in that first year. Every year since, though, it has been in contention for Southeastern Conference and national championships—being ranked #1 by the Associated Press at at least some point in the season.
ESPN ("Alabama earns No. 1 spot in college football poll for 13th straight year"):
Alabama is No. 1 in The Associated Press college football poll for the first time this year, extending its record of consecutive seasons with at least one week on top of the rankings to 13.

[…]

It's no surprise when Alabama reaches No. 1, but it's always historic. The Crimson Tide's streak of seasons with at least one appearance at No. 1 started in Nick Saban's second year as coach in Tuscaloosa. The Tide reached the top of the poll for the first time under Saban on Nov. 2, 2008, the day after beating Arkansas State.

No. 1 Texas lost that week at Texas Tech — Graham Harrell to Michael Crabtree in the final seconds as the Red Raiders shocked the Longhorns — to open the door for Alabama to ascend. The second-longest streak of consecutive years appearing at No. 1 in AP poll history belongs to Miami, which went seven seasons from 1986 to '92. This No. 1 appearance is the 92nd under Saban and Alabama's record 123rd overall.

Take away Alabama's other No. 1 appearances and just Saban's appearances at No. 1 would rank as the fourth most in college football history behind Ohio State's (105), Oklahoma's (101) and Notre Dame's (98). That's also one more than Southern California (91) has ever had.
Alabama has a lot of advantages that most programs don't have, in terms of tradition, geography, and resources. And, since success begets success, it's been easier to keep recruiting top talent to the school.
But the fact that the next longest streak is a mere seven seasons shows how hard it is to sustain success. Last year's national champions—the remarkable Joe Burrow-led LSU team that went 15-0—has a mediocre 2-3 record thus far this year, having lost their Heisman winner and several other stars to the NFL.