Alabama Town Forces Criminals To Go To Church To Avoid Jail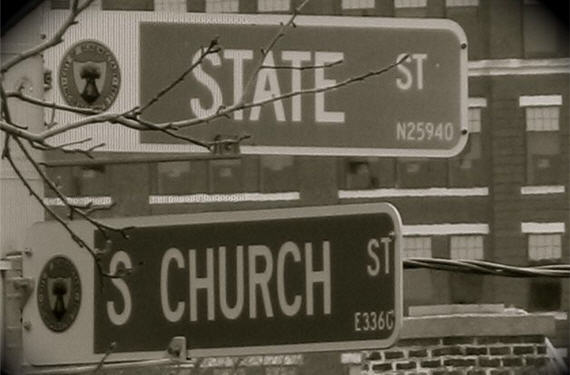 A local Alabama television station reports on what clearly seems to be a violation of the First Amendment:
Non-violent offenders in Bay Minette now have a choice some would call simple: do time behind bars or work off the sentence in church.

Operation Restore Our Community or "ROC"…begins next week. The city judge will either let  misdemenor offenders work off their sentences in jail and pay a fine or go to church every Sunday for a year.

If offenders elect church, they're allowed to pick the place of worship, but must check in weekly with the pastor and the police department. If the one-year church attendance program is completed successfully, the offender's case will be dismissed.

(…)

[Bay Minette Police Chief Mike] Rowland says the program is legal and doesn't violate separation of church and state issues because it allows the offender to choose church or jail…and the church of their choice.
Not so fast there Chief. As Eugene Vololkh points out, this go-to-church-or-go-to-jail rule is clearly a violation of the Establishment Clause:
Both conservative and liberal Justices agree that coercion of religious practice violates the Establishment Clause. And while they disagree on what counts as coercion of religious practice (e.g., does being exposed to prayer, and socially pressured to stand and remain silent, at a high school graduation ceremony that isn't legally required, qualify as coercion?), this is not a close case: Just as it would coerce religious practice to say someone who hasn't been convicted of a crime, "go to church or we'll send you to jail," so it coerces religious practice to say someone who has been convicted of a crime, "go to church or you'll stay in jail."
Volokh goes on to point out that there is case law from elsewhere in the country establishment that such provisions as a condition of bail are unconstitutional, so there's no reason to believe the law would be different with respect to persons who have been convicted. In neighboring Mississippi, another local judge was recently suspended for 30 days after ordering church attendance as a condition of bail. Moreover, the Alabama Constitution seems to speak very clearly on this issue:
That no religion shall be established by law; that no preference shall be given by law to any religious sect, society, denomination, or mode of worship; that no one shall be compelled by law to attend any place of worship; nor to pay any tithes, taxes, or other rate for building or repairing any place of worship, or for maintaining any minister or ministry; that no religious test shall be required as a qualification to any office or public trust under this state; and that the civil rights, privileges, and capacities of any citizen shall not be in any manner affected by his religious principles.
This is clearly illegal, and will presumably stop now that attention has been brought to it. One wonders, though, how often things like this happen in small towns without anyone finding out.