Alan Simpson Calls Out His Fellow Republicans
Alan Simpson is imparting wisdom to his fellow Republicans. I doubt they will listen.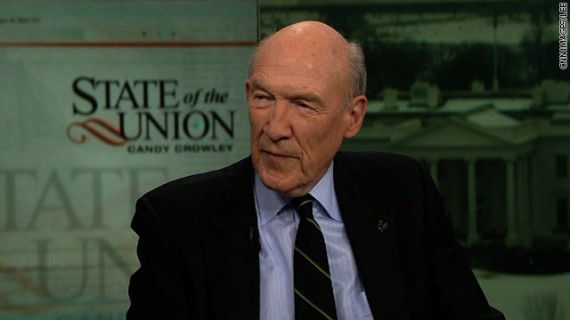 Alan Simpson has always been the kind of guy who says what's on his mind with little regard for what people might think about him, including his fellow Republicans. Quite honestly, that's one of the reasons I always liked him when he was in the Senate, and why I've appreciated his role over the past two years in connection with the Bowles-Simpson Commission and the nation's ongoing conversation about how to solve our obvious fiscal problems. Over the past two years, Simpson has fought back against those in the GOP who criticized him for suggesting that taxes should be on the table in any conversation about the budget, held his own quite nicely against those on the left who refuse to acknowledge that entitlements need to be on the table as well, taken on the critics of the plan he developed with Erskine Bowles, denounced the anti-gay rhetoric that seems pervasive in the Republican Party, and criticized those on the right who reject the idea of compromise. 
Today, he was on CNN's Fareed Zakaria GPS calling out his fellow Republicans for their adherence to a "no new taxes" orthodoxy that makes governing impossible in Washington:
In remarkably colorful terms, former Sen. Alan Simpson (R-WY) on Sunday lashed out at members of his party for their unyielding opposition to new tax revenues, whom he described as stymieing a debt reduction agreement.

"I guess I'm known as a RINO now, which means a Republican in name only, because, I guess, of social views, perhaps, or common sense would be another one, which seems to escape members of our party," said Simpson, a co-chair of President Obama's fiscal commission, on CNN's "Fareed Zakaria GPS."

"For heaven's sake, you have Grover Norquist wandering the earth in his white robes saying that if you raise taxes one penny, he'll defeat you," he added. "He can't murder you. He can't burn your house. The only thing he can do to you, as an elected official, is defeat you for reelection. And if that means more to you than your country when we need patriots to come out in a situation when we're in extremity, you shouldn't even be in Congress."

(…)

"You can't cut spending your way out of this hole. You can't grow your way out of this hole. And you can't tax your way out of this hole. So put that in your pipe and smoke it, we tell these people. This is madness," Simpson said. "If you want to be a purist, go somewhere on a mountaintop and praise the East or something. But if you want to be in politics, you learn to compromise. And you learn to compromise on the issue without compromising yourself. Show me a guy who won't compromise and I'll show you a guy with rock for brains."
Referring to the criticism that President Obama has received from many observers, including yours truly, for his failure to embrace the Bowles-Simpson plan in 2010, Simpson made this argument:
"If he had embraced our plan, he would have been ripped to shreds," the former senator said. "[H]e would have been ripped by the Democrats, say, why, you rotten — you're digging into these precious, precious Medicare. And the Republicans would have rejected — if he'd have embraced it, the Republicans en masse in the House would have rejected it. So either way, he's going to get hammered. So he is playing the waiting game."
With regard to the tax issue, Simpson is, of course, completely correct.
Given the size of the Federal Government's fiscal problems and the fact that the nation still remains closely divided on the whole issue of what the proper role of government ought to be, it is quite simply politically unrealistic to walk into negotiations about a long-term deal on the budget saying that one of the largest contributors to the problem is off the table. That's true whether we're talking about taxes, entitlements, or defense spending because without these three items all being part of the conversation, it's going to be impossible to come up with a package that actually accomplishes anything. For confirmation of that one need only look back in time one year to the largely pointless negotiations that resulted from the need to raise the nation's debt ceiling. Unwillingness by one side to put taxes on the table, and by the other to put real entitlement reform on the table, meant that we ended up wasting two months on non-negotiations only to end the whole process with a non-deal deal and the creation of a "super committee" that everyone knew would never accomplish anything. And now, we have to deal with not only a debt ceiling increase, but also the expiration of the Bush Tax Cuts, the expiration of the Payroll Tax Cut, the extension of unemployment benefits, and the extension of the Medicare "Doc Fix" by the end of this year. The odds that we'll just get another round of pointless posturing is enhanced by the fact that we're already in election season and any deal that a Lame Duck Congress makes will be largely influenced by posturing for the new terms to begin in January 2013.
I'm not sure I agree completely with Simpson essentially letting Obama slide on his failure to do anything in response to the Simpson-Bowles plan. To some extent, it is true, the President's options were limited by the fact that the report came out just weeks after he and his party had suffered a rather large defeat in the mid-term elections. However, this was a Commission that he created, with members that he appointed, and which he sighted repeatedly as something that he supported in the months during which it was holding its hearings. The manner in which he, and everyone else in Washington, essentially took the plan that had been produced and threw it in the trash before the ink was even dry was an astounding act of political cowardice, especially considering that Obama could have used the plan as political ammunition in the battle with the GOP over the extension of the Bush Tax Cuts at the end of 2010. Perhaps something along the Bowles-Simpson framework will eventually be what all parties agree to in a year or two, but it won't be because of any profile in political courage out of 1600 Pennsylvania Avenue.
I fully expect that Simpson will once again be denounced for speaking the truth. His fellow Republicans, however, would be better off actually listening to what he has to say.