All Our Candidates Are Unpopular
Literally no current candidate for President has a net favorable opinion rating.
CNN's Harry Enten observes, "YouGov's latest poll finds that no person running for president right now has a positive net favorable rating with the general electorate."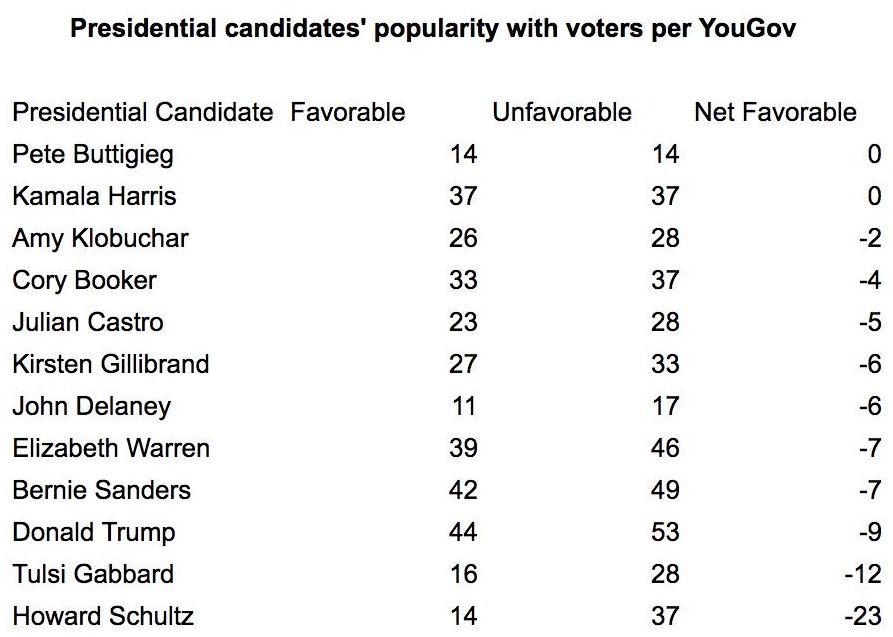 While I can't find the survey in question on their site, I have no reason to suspect Enten's chart is inaccurate.
I'm going to go out on a limb here and predict that, despite his current high standing, Pete Buttigieg will not be the next President of the United States. You heard it here first. Must cite OTB.
As to the other higher-ranking candidates, I'm not sure there's any reason for Kamala Harris, Amy Klobuchar, Cory Booker, Julian Castro, Kirsten Gillibrand, or even John Delaney (whoever the hell he might be) to be concerned by these numbers. Essentially, they tell us that most Americans have vague and soft opinions about them. One suspects that the negatives are mostly Republicans who are going to view pretty much any Democrat negatively. That's more or less true of the two bottom-dwellers on the list: Tulsi Gabbard is a relative unknown and Howard Schultz is a non-entity as a politician, mostly famous in that regard for the wave of backlash from Democrats apoplectic that he's somehow going to pull away enough votes to ensure Donald Trump's re-election.
That leaves us with three very-well-known candidates: The sitting President, Elizabeth Warren, and Bernie Sanders. All of them are viewed negatively by half the country. (Not having access to the original poll, I can't tell whether this represents "adults" or "likely voters.") That's a hell of a hill to climb.
As I've noted before, it's entirely possible that Donald Trump is somehow re-elected. As much as I want that not to be the case, re-electing our Presidents is the default position in American politics. We've had three straight two-termers, last having failed to re-elect a President in 1992–a streak that will have lasted twenty-eight years at the time of the next election. Further, as dismal as his numbers are right now, we've had Presidents with huge negatives at this point in their first term pull off re-election.
I can't imagine, however, how Warren and Sanders (neither of whom I happen to dislike, by the way) manage to overcome these deficits. They're both household names and underwater. That strikes me as unrecoverable.